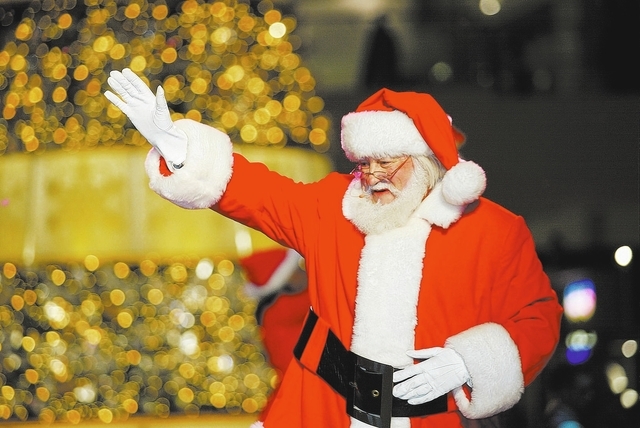 Listen up, kids. You've only got a few days left to see Santa.
And while there are plenty of places where you could sit on his lap, admit it, you're a little jaded by now. You've been around the block. You're even tying your own shoes.
So why not seek out a Santa with a little pizazz?
You can get your picture made with Santa Claus and Santa Jaws at the Shark Reef at Mandalay Bay, 3950 Las Vegas Blvd. South, from 10 a.m. to 4 p.m. Saturday through Tuesday.
Or you can visit the underwater Santa Claus in the 117,000-gallon aquarium at the Silverton, 3333 Blue Diamond Road, from 11 a.m. to 1 p.m. Saturday and Sunday.
But for our money, it's hard to top the dancing Santa — complete with dancing reindeer, dancing toy soldiers and the ever-so-Christmas-y dancing hula girls — in "Believe in Magic." See the show at noon, 2 p.m. and 4 p.m. daily through Tuesday on the runway at Fashion Show mall, 3200 Las Vegas Blvd. South.
Just be sure to tell your parents where you're going.
Cannoli Monday
No such thing as a free lunch? How about a free cannoli? During the fourth annual Ookie's Pet Tree celebration at Annie's Gourmet Italian, 1716 W. Horizon Ridge Parkway in Henderson, anyone who brings in a bag of cat or dog food or anything pet-related by Monday will get a free cannoli. Donations will be given to local pet shelters in time for Christmas. For more information, call 702-254-3663.
Calling jazz lovers
Jazz cats don't seem like the type to worry about missing the last shopping Saturday at the mall. They'd rather be at the E-String Bar and Grill, 2031 Sunset Road, Henderson, watching saxophonist Gary Anderson, who played in the Berklee Saxophone quartet, team with Tom Hall to pay tribute to Paul Desmond and Gerry Mulligan with their "Two of a Kind" show, fronting the Lighthouse All-Stars from the famed jazz club in Hermosa Beach, Calif. Admission is $10 from 1 to 4 p.m.; call 702-453-8451.
Fretboard frenzy
Expect plenty of fretboard fireworks when former Ozzy Osbourne guitarist Jake E. Lee throws down with his latest project, Jake E. Lee's Red Dragon Cartel, at 9:30 p.m. Friday at Count's Vamp'd, 6750 W. Sahara Ave. Tickets are $10; call 702-220-8849.
Seasonal music
And now for something completely different (and somewhat more seasonal), the Las Vegas Library concludes its free "Holiday Favorites" concerts at 1 p.m. Saturday with Duo Mystique — a flute and harp ensemble — playing traditional holiday tunes. Classical and Celtic pieces also appear on the musical menu at the downtown library, 833 Las Vegas Blvd. North; call 702-507-3500.