February 15, 2008 - 10:00 pm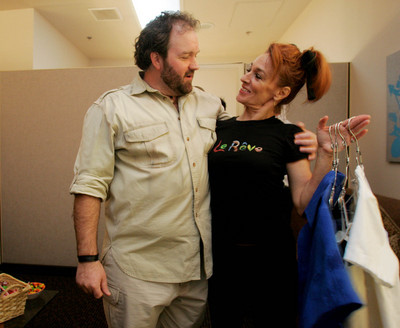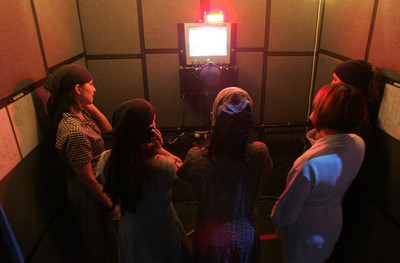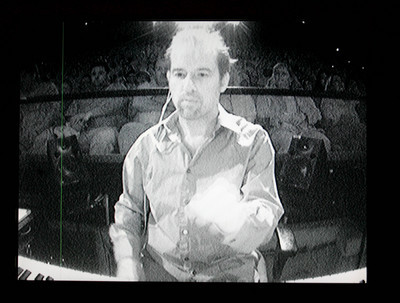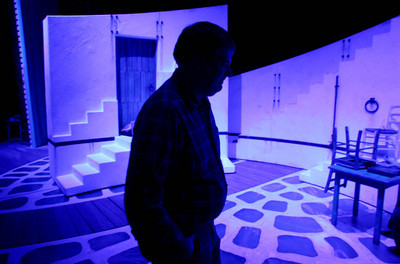 Last Saturday must have been an emotional time backstage for the final performance of "The Producers" at Paris Las Vegas.
But across the street at "Mamma Mia!," two guys were playing backgammon for the 1,914th and 1,915th time on this two-show day.
The men at the rear of the stage portray townspeople frittering away another sunny afternoon on an idyllic Greek island. The extra irony is that the ensemble members, Rick Pessagno and Tim Tucker, are two of the only three cast members to have gone the distance with "Mamma Mia!" for all five years it celebrated at Mandalay Bay this week.
Only a few can comprehend the full depth of the achievement. One of them is Victor Wallace, who opened the show as the young groom-to-be. Now he's the first actor in "Mamma Mia!" history to come back as the bride's possible father.
But everyone can get behind an anniversary cake instead of a goodbye party. The ABBA musical has outlasted not just "The Producers," but Broadway transplants of "Hairspray," "Avenue Q" and another British "jukebox musical," "We Will Rock You!" during its run on the Strip.
But "every gig ends eventually, that's the one thing that's guaranteed," says Ron McClary, one of the show's male leads. And the goodbye party for "Mamma Mia!" has been announced for Jan. 4.
Probably.
Producers have taken the unusual step of proclaiming their endgame so cast and crew members can plan around it, but not yet shouting it too loudly. "Last chance" ads might prove premature if July's movie adaptation of the musical, with Meryl Streep and Pierce Brosnan, provides an even bigger boost than expected.
"I think 'Mamma Mia!' has kind of proved itself. Because it's held its own, we get to stay," explains Judy Craymer, the British producer who first steered the ABBA songbook to the London stage in 1999. "We'd never want to peter out. We'd always want to go out as kind of a celebratory moment," she adds.
Various end dates were contemplated, including this week's anniversary or some time around Labor Day. But Craymer says the ultimate answer to the question, "Should we end?" proved to be, "Figures prove we shouldn't. That's a kind of polite way of putting it, I think."
It can't hurt that Cirque du Soleil, the presumed heir to the theater, has its plate full trying to open two other productions on the Strip. But that shouldn't diminish "Mamma Mia!'s" holding its own with what Craymer calls "a very sensible ticket price."
The adage that "ABBA is the star" makes it convenient to pay actors instead of name stars, and the show is said to be profitable with a third-capacity house.
The countdown may be under way, but the anniversary otherwise was just a blip in a well-established routine. "As a stage manager, boring is fine," Jeff Norman says as he leads a backstage tour on a recent weeknight.
It's quiet, dark and roomy in the carpeted areas surrounding the part of the stage visible to the audience. At times, you can forget there's a show going on out there. The production gets new bursts of energy periodically, as it did a few weeks ago, when new principals take over some of the roles. Once they settle in, "the organized chaos starts to turn into a natural rhythm again," Norman says.
Props are dispensed in orderly fashion and returned; the luggage is real Luis Vuitton, but even the cheap stuff is kept under lock and key. Years ago, empty liquor bottles used on the set kept vanishing, until someone finally figured out the cleaning crew was getting rid of them each night — apparently convinced that all those tales of alcoholic show people were true.
Swim fins are set out in careful pairs for one campy production number; as the actors leave the stage, they flip them into a laundry basket to be re-sorted for the next show.
The real burst of backstage activity in this low-tech production comes at the end, when the three female leads bound down a ramp already unbuttoning their shirts, then pull into a quick-change area where six wardrobe assistants help them change into platform-booted disco-ABBA suits for the show's encore.
They load onto an elevator that looks like a carnival midway ride for a quick one-way lift back to the stage. Another night, another show.
"Sometimes you wish it was a bigger show backstage (in terms of technical activity) and sometimes it's OK," Norman says with a smile.
The one thing that sets "Mamma Mia!" apart is the five broadcasting booths backstage, which resemble old-time radio stations to the point of having "On Air" signs above the microphone. Craymer developed the idea with ABBA's original songwriters, Benny Anderson and Bjorn Ulvaeus, to solve a problem: How to make the songs sound like ABBA tunes even when they were sung in a theatrical context.
"To get that full rich studio sound, all those harmonies, you had to have that amount of voices," she notes. So when ensemble members aren't singing onstage, they're singing in the vocal booths. Or rather, they will sit, reading books or working crossword puzzles, then suddenly stand and cluster in small groups to sing a few lines together, then sit down and go back to the puzzle.
A fixed end date has mixed blessings for cast members. "I've been with the show so long, there's a part of me that's slightly relieved they're calling it," says Carol Linnea Johnson, who heads the cast as Donna, the innkeeper and mother of the bride.
After two years in the lead role, "It would kill me to give my notice and leave, but it would kill me not to be asked back," she says.
But Robin Baxter, who plays Donna's funny friend Rosie, points out that the future is only set on one end. "I will need more flights back to New York (to look for the next job) if I'm staying the whole year," she notes.
Guitarist Jimmy McIntosh and other musicians already are giving up their gigs for the upcoming production of "Jersey Boys." If they want the potential security of another potential long run, they have to leave now.
For longtimers Pessagno and Tucker, the nightly backgammon games go on. Yes, they're really playing up there. Each says the other one usually wins.
Contact reporter Mike Weatherford at mweatherford@reviewjournal.com or (702) 383-0288.
what: "Mamma Mia!"
when: 7:30 p.m. Sunday-Thursdays; 6 and 10 p.m. Saturdays
where: Theatre at Mandalay Bay, 3950 Las Vegas Blvd. South
tickets: $49.50-$110 (632-7580)