Lorde does more with less during show at Cosmo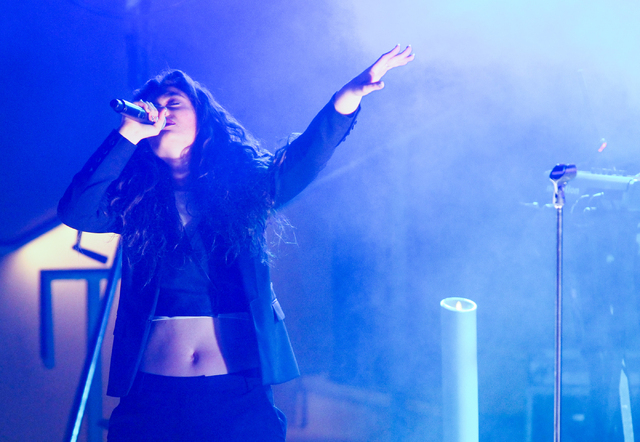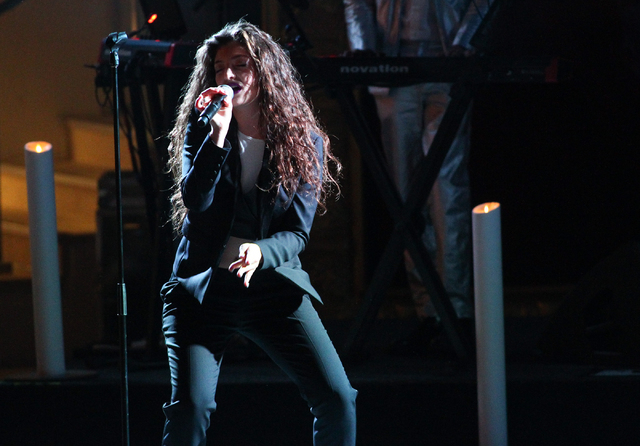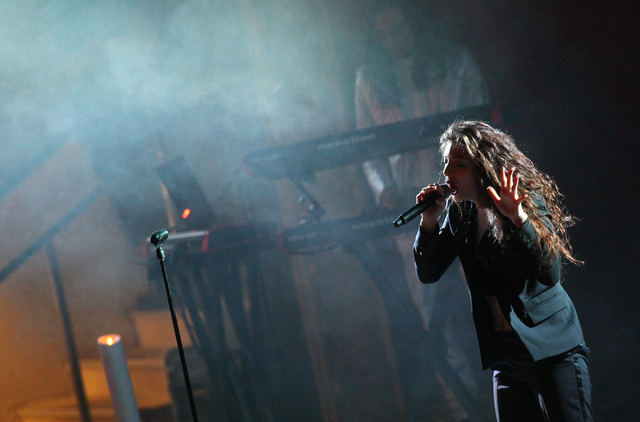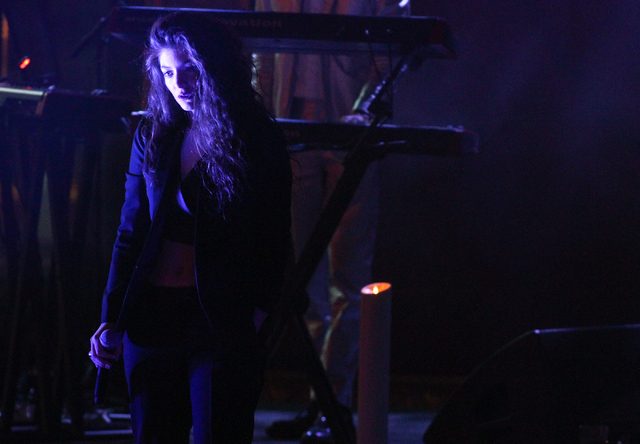 She's a teenager, and she works the stage uninhibitedly, as if alone in her bedroom singing into a hairbrush instead of a microphone, serenading an assembly of stuffed animals in place of the flesh-and-blood audience before her.
Lorde throws herself into her performances — literally, elbows and hair flying every which way like a flock of startled birds — as if to make herself forget that she's performing at all.
"I was raised up / To be admired, to be noticed," she sang over the chunky, asymmetrical beats of "Bravado," a song that belied its title. "But when you're withdrawn, it's the closest thing / To assault when all eyes are on you."
More than 3,000 pairs of eyes were fixated on the 17-year-old New Zealander at the Boulevard Pool at The Cosmopolitan of Las Vegas on Tuesday, when Lorde (Ella Yelich-O'Connor) played the first of two sold-out shows at the venue.
Despite such an intense gaze, Lorde was un-self-conscious about being self-conscious, as her physical bearing indicated, certain that she would find a way to come to terms with her uncertainty.
"I'm faking glory," she continued on the song question, her voice Kathleen Turner-husky. "But I can take it from here / I'll find my own bravado."
By the looks of it, she already has.
And it didn't take long: Lorde's debut, "Pure Heroine," an album of maximalist aspiration and minimalist sound, was released just last September, and already, she's pledging in song to remain steadfast in the face of stardom.
"I won't be her, tripping over onstage," Lorde announced on "Still Sane," a track released on the extended version of "Pure Heroine" in December, after her profile had already risen greatly. "Still like hotels, and my newfound fame."
Lorde's songs, both in form and function, are about doing more with less: Her sound is pointedly threadbare, often little more than icy synth drips and dribbles and prowling, hip-hop-derived beats frequently evocative of The Neptunes' sinewy, stripped-down production values on rap duo the Clipse's celebrated debut "Lord Willin'."
Live, the visuals matched the music's austerity: Clad in a black blazer and matching top, midriff bared, Lorde was flanked only by a keyboardist and drummer, both in white, who performed in front of what looked like large gold picture frames.
Together, they turned the immediacy that lies at the heart of much of contemporary pop music on its head, favoring delayed gratification over urgency, siphoning the blood from The Replacements' "Swingin' Party," turning it into a funereal waltz, and coming up with something like codeine's sonic equivalent on the pulse-slowing "400 Lux," where Lorde sang of killing time as time seemed to stop.
There were plenty of more invigorated moments: the beat that powered "Tennis Court" resounded with such force, it sounded like a hammer striking an anvil, while the physically domineering bass levels of "Buzzcut Season" worked the body like a deep-tissue massage.
Mostly though, Lorde and her bandmates valued understatement over aplomb, allowing the songs to really sink in and gestate without much ceremony.
To wit, even Lorde's biggest hit, "Royals," came and went like the clouds of dry ice that lingered in the air before dissipating.
It didn't feel like the band had just played a worldwide smash following the completion of the tune, and that's a credit to both "Royals" and Lorde herself.
This is what distinguishes her from her peers, her skill at crafting big songs on a small scale, songs capable of rousing like anthems without following an anthem's predictable pacing.
It's a sophisticated approach, though labeling it an "approach" may be putting too fine a point on things: Like pretty much everything Lorde-related, from her songs to her stage moves, it just seems to be what comes naturally to her.
Besides, she doesn't have herself figured out yet — so how could any of the rest of us?
"I think that sometimes I'm an adult, and sometimes I'm a kid," she smiled at one point. "Right now, I feel like a kid."
Standing in the crowd, watching her make it all up as she went, it was easy to feel the same.
Contact reporter Jason Bracelin at jbracelin@reviewjournal.com or 702-383-0476. Follow on Twitter @JasonBracelin.
Review
Who: Lorde
When: Tuesday
Where: Boulevard Pool at The Cosmopolitan of Las Vegas, 3708 Las Vegas Blvd. South
Attendance: 3,200 (sold out)
Grade: B