Maloofs credit father, upbringing for success
February 22, 2014 - 8:50 am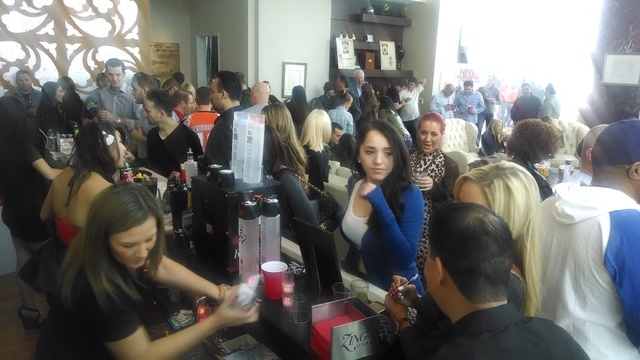 The Maloof brothers invited me to their swanky Super Bowl party in the sky, so I rode a ground-floor elevator to the 58th floor of Palms Place, gave my name to a tall gentleman, then boarded a private elevator for the 59th floor penthouse.
I stepped into a family condo. Glamorous. Windows everywhere overlooked a spacious balcony so large, my newspaper's newsroom could fit on it.
The Maloofs built the Palms and ran a basketball team, but the recession took away basketball and much Palms power.
However, a year ago, Maloof Ventures launched Zing vodka, and it's already retailing for $25 a bottle in 29 states and selling by the cocktail at 150 Applebee's. The Maloofs sold 13,000 cases during Zing's first year.
Recently, the family launched a "hangover-prevention drink" called Never Hungover, and it's already on the shelves of 1,400 GNC stores.
This Super Bowl party was, as one would expect, adorned with pretty women wearing slinky outfits, and dapper men. I sat next to Gavin Maloof. I hadn't seen him in ages.
"I like parties like this that have a lot of girls with guys that shouldn't be with them," I joked.
He laughed. I asked about the booze business.
He said the family finally decided to create their own brand after decades of having helped build Coors, Jagermeister and Grey Goose, as a regional alcohol distributor.
I asked him how the Maloof family always makes things happen. He smiled that Maloof smile, genuine and easy, as if he would rather be talking to me than anyone else in the world.
"One of our advantages is, we grew up delivering beer on the trucks. We grew up sweeping the warehouse, cleaning floors, putting up repacks.
"We understand the common man. Our story isn't a rags-to-riches. We've always had money. But still, my father worked us from age 10 up, until he passed away.
"We worked holidays. Even when we were out of school, we were working — Fourth of July, Christmas, New Year's."
Their dad, George Sr., would tell them, "You have to know the bottom before you can know the top."
"I remember one story: Joe and I worked all week at our liquor warehouse, Quality Import Company, for I don't know how many hours. We worked from 7 in the morning until 12 at night, the whole week.
"And my Uncle Tom — he gave Joe a $20 bill and me a $20 bill for the whole week. I said, 'Oh my gosh. Thanks, I think.' "
Maloof smiled big again, lost in memory.
"It was hard work. But it was good for us."
I asked if family members ever got jealous of all the attention brother George has earned at the Palms.
"No, no, no, no. We're not jealous of each other. My father taught us early on. He said, 'The only way you can be a successful family business is if you all stay together.'
"There are five of us. He used to say, 'Which finger do you not want?' And he would hold up his hand. We've always been close. We always supported one another. We fight the competition. We don't fight each other."
I asked what he gets out of the alcohol business.
"It's fun to go to the bar and tell people, 'This is my alcohol,' or 'This is my vodka.' It's fun to see people buying it and drinking it.
"I've got all the money I need. But are we gonna retire? Are we gonna live on a desert island? That's not a Maloof. We want to work. We want to accomplish something.
"We always knew what we wanted to do. People would say, 'What do you want to be when you grow up.' I said, 'I want to work for my dad.'
"My dad was a realist. He would say, 'If you guys don't work for it, I'll leave it all to charity. I don't care.' So we worked. We had to go to work.'"
So, they worked even at this spectacular Super Bowl party, where the chef in the kitchen, cooking for hundreds, was none other than Britney Spears' father. I talked to father Spears. That interview is coming next week. Oh yes, it is.
Doug Elfman's column appears on Page 3A in the main section on Mondays, Tuesdays, Thursdays and Saturdays. He also writes for Neon on Fridays. Email him at delfman@reviewjournal.com. He blogs at reviewjournal.com/elfman.