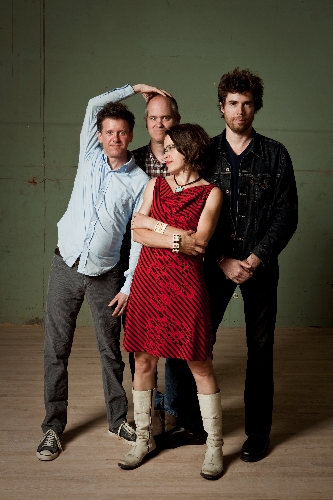 It was like the Good Housekeeping Seal of Approval, at least for those "High Fidelity"-types who spent way too much time in record stores.
Beginning in the late '80s, the sight of a Matador Records logo on the back of an LP, CD or cassette (remember those?) meant one thing: that the sounds contained within were more often than not some of the most vital and essential in independent music.
It didn't necessarily suggest much about the music itself, because Matador's roster long has been defined by its lack of definition.
The artistic breadth inherent in the Matador lineup is suggestive of what you might randomly hear on the jukebox in a particularly hip college bar, as the label has issued staples of noise rock (Unsane's "Scattered, Smothered and Covered"), progressive electronica (Boards of Canada's "Geogaddi") and grimy U.K. hip-hop (Dizzee Rascal's "Boy in Da Corner") along with some of the most influential indie rock albums of all time — Pavement's "Slanted and Enchanted," Liz Phair's "Exile From Guyville" and Superchunk's "No Pocky For Kitty," records that practically defined the tradition.
If you tried to connect the dots between those acts, you'd get a pretty blurry, incomprehensible portrait.
And yet, for a little more than two decades now, Matador has been the picture of indie rock possibility, which long has made its releases safe purchases if not safe records.
"With those guys, you took their word for it that it was probably going to be good if it was on their label," says Jon Wurster, drummer for North Carolina indie rock favorites Superchunk, who issued their first three albums on Matador.
This weekend, the label celebrates its 21st anniversary with three nights of shows at The Pearl at the Palms featuring some of its most noteworthy acts of the past and present, including Pavement, Sonic Youth, Guided By Voices, Belle and Sebastian and many others (for the full lineup, long onto www.matadorrecords.com/21).
Such big names belie Matador's small origins, as it all began in the New York City apartment of label founder Chris Lombardi with few resources and even less hype.
"When Matador started, it was just Chris Lombardi," recalls Jon Spencer, frontman for combustible rock 'n' roll revisionists Jon Spencer's Blues Explosion, who will be playing The Pearl on Saturday and who released a number of records on Matador. "It really started from nothing and grew very, very quickly."
Some would say too quickly, as Matador was criticized for signing distribution deals with major labels Atlantic and Capitol Records in the '90s.
"I sometimes found myself questioning what they were doing when they were doing deals with some of these major labels," Spencer admits. "There were other times when I would feel a little hurt to see the amount of time or money that was being put into another act on the label. But I do think they're a good label, and I respect those people."
As Spencer alludes to, it's hard not to have some admiration for Matador considering its track record. Throughout the label's history, there's been a palpable lack of inhibition and boundaries in the label's extensive catalog.
"With Matador, it was way more of a real label than just putting your own record out yourself, but there was still that hands-off element," Wurster says. "They weren't going to touch the music or say, 'I don't know about this mix of this song.' They trusted you to make your record, and then you trusted them to get it out there."
Besides, it's clear that the company's business acumen doesn't dictate everything.
If nothing else, the Matador brass has proven that they're music fans first, which is why so many music fans put Matador first.
"There's no real rhyme or reason to what they put out," Wurster says. "Look at the Matador roster, it's just all over the place. There's punk rock, there's country stuff, there's power pop, even some electronic stuff. They're just into music."
Contact reporter Jason Bracelin at jbracelin@ reviewjournal.com or 702-383-0476.
Preview
Matador at 21
7 p.m. today -Sunday
The Pearl at the Palms
Sold out (944-3200)