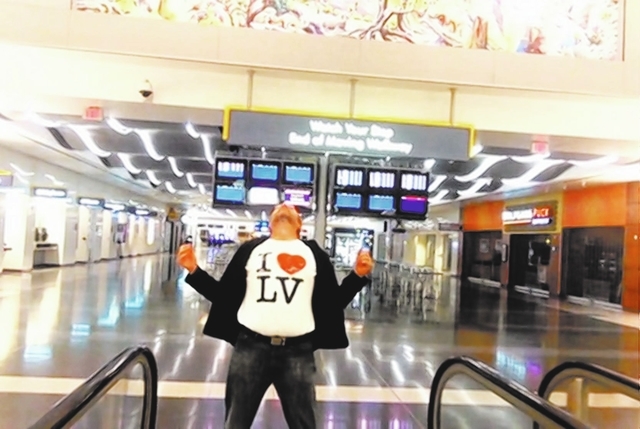 Richard Dunn shrugs off his fame for creating the "All By Myself" viral video that spoofed Celine Dion's hit. But his 2-year-old daughter, Bailey, knows otherwise.
Dunn, his wife, Natasha, and daughter were VIP guests at Dion's Fourth of July show at Caesars Palace.
When Dion began singing "All By Myself," Bailey turned to her parents, and chirped, "Daddy's song!"
"When she gets older, we'll tell her Celine made it famous, and Eric Carmen wrote it," said Dunn, a lighting designer from Atlanta by way of Canada.
Dion invited Dunn's family to her show after the video parody he made on an overnight layover at McCarran International Airport. The video has produced almost 20 million hits. Dunn said if he's famous for anything, it's that he's "always been a guy who makes people laugh."
That he did.
The idea came to him while waiting for his flight back to Atlanta in June when he got bumped from a flight.
"So I thought, why not take advantage of it. And I did. I started Googling songs about traveling and being alone, and I found Celine's song. I knew instantly. It was ingrained in my mind," said Dunn, which explains the near-perfect lip-synching.
Shooting the video entirely on his iPhone, Dunn roamed throughout the airport to position himself in empty backdrops while expressing the angst of a love-sick balladeer.
Taking up Dion's offer, he returned to Las Vegas with his wife and daughter, his parents (from New Brunswick) and his wife's parents. Dion allowed Dunn to shoot a video of the pre-show meet-and-greet, in which Bailey stole the show.
Dion was so smitten with Bailey, he said, that "when we walked into the room, it was if we didn't exist. And I mean that in humorous way. Bailey lit up the room. She waved at Celine and reached out to her. Celine had her giggling."
Dunn said he's been overwhelmed with media attention since posting the orginal video.
"My wife and I figure we are on 14 of our 15 minutes of fame. I ask my wife every day, 'Is this still fun?' When it stops being fun, we stop," he said.
All the major TV networks have asked for follow-up interviews, he said.
The trip, he said, "actually cost me money. They put us up in the hotel and gave us concert tickets." Dining out and other expenses added up, he said.
"I feel like we won the lottery, but no money."
THE SCENE AND HEARD
Best tweet of UFC 175: "I'm both terrified and in love." — ESPN's Michelle Beadle, showing Ronda Rousey in the octagon after her 16-second win over Alexis Davis on Saturday at Mandalay Bay.
SIGHTINGS
Cleveland Browns quarterback Johnny Manziel was back in town over the weekend, no doubt re-igniting the debate over his partying reputation. He was at XS nightclub (Encore) on Saturday. Spies said Manziel and his entourage stayed in the Real World Suite at Hard Rock Hotel. … At UFC 175 on Saturday at Mandalay Bay: Alex Rodriguez, Anthony Bourdain, Beadle, Arizona Cardinals star Patrick Peterson, actors Demi Lovato, Wilmer Valderrama and Kellan Lutz, Liverpool soccer star Daniel Sturridge and mixed martial artist Victor Ortiz. … Chris Weidman, celebrating the defense of his UFC lightweight title on Saturday at Surrender (Encore). Next to Weidman's table was Lutz and MTV star Luke "The Dingo" Trembath. … Khloe Kardashian, at Tao (Venetian) for her 30th birthday celebration, was surprised in true Vegas fashion Friday with a custom cake presented by two showgirls and a serenading Elvis (Steve Connolly). She was joined by her beau, French Montana and friends Malika Haqq and her twin sister Khadijah Haqq McCray. Also at the club was mixed martial artist Georges St-Pierre.
THE PUNCH LINE
"May I see some ID, Mr. Presley?" — From David Letterman's "Top 10 Things Overheard at the Rock and Roll Hall of Fame Induction"
Norm Clarke's column appears Sunday, Monday, Wednesday and Friday. Reach him at 702-383-0244 or norm@reviewjournal.com. Find more at normclarke.com. Follow @Norm_Clarke on Twitter.