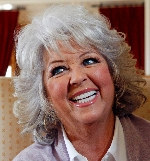 If you love the taste of Paula Deen's recipes, but are not a fan of the calories, check out www.cookinlean.com. The site features revamps of Deen's recipes to make them a little lighter and makes over recipes by other Food Network stars such as Bobby Flay and Rachael Ray.
If you have no desire to eat any of Paula Deen's recipes, light or not, but like things that are a little bizarre, visit pauladeenridingthings.com. The site is pretty much what the address says, as people submit their creations using a miniature photo of Paula Deen doing things such as riding Bambi, riding in the General Lee or astride a KFC Double Down sandwich.
Every office has one: a refrigerator you would never want to put products in because of the stench or rot or whatever's going on in there. Submit your own to officefridges.com, which celebrates the best of the worst of the office fridge.
Do you have a fun or helpful website you'd like to share? Send it to Melissa Sullivan at msullivan@review journal.com.