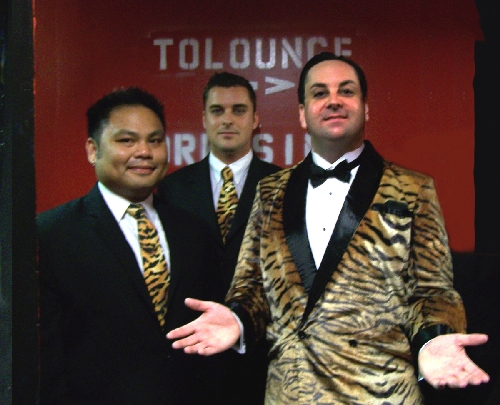 Attention Sarah Palin/Tea Party people: I employed my liberal-media instincts to trick all-American hero Richard Cheese into admitting he's a socialist. You're welcome.
Here's how I did it.
Cheese and I were talking about how he and his band, Lounge Against the Machine, will take any gig for money. They've been regulars on MTV and ABC; headlined sold-out shows on the Vegas Strip for years; and played celebrity house parties.
So I complimented him by calling him a capitalist.
Not so fast, he says.
"It's partially capitalism, but we need this money to reinvest. We can't afford to just record albums out of our own pockets," Cheese says.
"It sounds capitalistic, but ultimately it's socialism. Because I'm asking people to support me — so that I can do something for them.
"I should be using the phrase, 'Lounge, baby, lounge.' That's a good idea," he says of his own idea.
I'm glad Cheese copped to being a socialist, because I thought he was just a good, money-fetishistic capitalist, since his main career is still as an entrepreneur in Los Angeles.
And like a capitalist, he's selling space in his CD credits to fans. For a few dollars, he will print your name on the jacket of his next album.
Plus, Lounge Against the Machine just performed for a kid, for capitalistic cash.
"We played a bar mitzvah a few weeks ago in upstate New York," Cheese says. "I'll take anyone's money.
"I feel bad for the kid — whose father spent all that money on us instead of a college education. But the kid seemed pretty smart. I don't think he had to go to college, after all."
Cheese says the bar mitzvah was appealingly set in an airplane hangar.
"We'll go anywhere if there's an airplane hangar. That's a good gig."
As I reported in an exclusive story last year, Cheese once played a full set in the Malibu living room of Brian Setzer as the opening band (along with Pat Benatar and Devo) for Setzer's old Stray Cats.
Cheese and Lounge haven't played any famous friends' parties recently. But he wishes they'd book him.
"If a friend of us asked us, we'd still charge them a crapload of money, because it's a lot of work."
As successful as his band is, they need money more than ever.
"I don't have a record label funding us, anymore. We're just doing it all ourselves," he says.
Cheese doesn't pocket much cash from album sales. That's not a surprise. Most musicians will tell you the same thing. Band money comes from selling merchandise and from touring (and from radio-type royalties if you're, oh, say, Ludacris).
"There's no such thing as making money releasing albums," Cheese says.
"Where we make our money is selling the plastic that the CD is recorded on, and the cardboard it's packaged on. I'm like a printer. I'm very much like Guttenberg at this point.
"The other thing is: We like selling T-shirts. We have a lot of promotional items we're selling this summer.
"Go to RichardCheese.com. And if you can't do that, go to iTunes; we get money from that. But mostly, put money in an envelope and mail it to us, thanks."
Doug Elfman's column appears Sundays, Mondays, Tuesdays and Fridays. E-mail him at delfman@ reviewjournal.com. He blogs at reviewjournal.com/elfman.
Preview
Richard Cheese and Lounge Against the Machine
8 p.m. Sunday
Wasted Space at the Hard Rock Hotel, 4455 Paradise Road
$42-$75 (693-5583)
Cheese Says Aloha
For a decade, Richard Cheese and Lounge Against the Machine have played rock and rap songs fantastically arranged into lounge versions.
Just two of their inspired standouts: Dean Martin-ish covers of Sir Mix-A-Lot's "Baby Got Back" and OutKast's "Hey Ya!"
But Cheese (aka Mark Davis) has started a new band called Johnny Aloha and the Lavapalooza.
"It's all Hawaiian tiki-music versions of rock and rap songs. The album's pretty much finished. We just have to mix it next month. And it'll be out in the fall," Cheese says.
"Maybe we'll play in Vegas with that Johnny Aloha band sometime around Christmastime. And maybe we'll come back and play some Lounge Against the Machine shows in spring, but that's not 100 percent sure."
Right now, he and the band have been focusing on Sunday's show at the Hard Rock. Lately, they've been covering Lady Gaga's "Just Dance."
"We will have a super celebrity guest" in Vegas, he says. "And that will be — the lead singer from J.J. Fad, the rap band from the '80s. She's gonna come and join us on our lounge version of 'Supersonic,' which is super exciting."
He thinks some members of Slipknot might be there, too.
"I'm pretty excited about that opportunity, if it happens.
"Mostly, we're just looking forward to drinking at the new bar at the Hard Rock," he says. "You know, everyone likes to go to the Circle Bar in the middle of the main casino area. And now they have at the other end something I believe that's called the Trapezoidal Rhomboid bar."
— By DOUG ELFMAN