More than 1,000 attend tribute for Angelil at Caesars Palace
February 5, 2016 - 8:47 am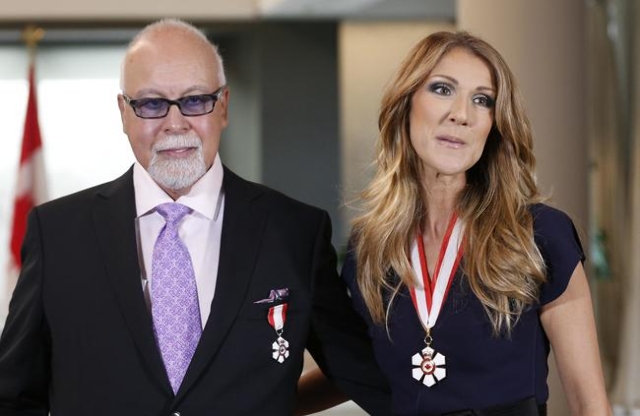 Rene Angelil loved the iconic theme music for "The Good, the Bad and the Ugly," the spaghetti Western starring Clint Eastwood.
Which is why it was the opening music for his celebration of life tribute Wednesday at the Colosseum at Caesars Palace.
More than 1,000 friends and fans gathered for a sendoff that alternated between laughter and tears. The husband and lifelong manager of Celine Dion died Jan. 14, two days before his 74th birthday. He was one of the music industry's good guys.
Among the attendees:
— The family of former Colorado Avalanche President and General Manager Pierre and Coco Lacroix. When Dion and Angelil got married Dec. 17, 1994, at Montreal's Notre Dame Basilica, Pierre Lacroix was his best man and Coco Lacroix co-planned the lavish wedding. The Lacroixs moved to Las Vegas in 1999. It was a jubilant reunion when their best friends, Dion and Angelil, arrived in 2003.
— Flamingo headliners Donny and Marie Osmond. Donny Osmond and Dion go back a long way. He was on a tour in the Midwest in 1989 to promote his hit "Soldier of Love" when the tour promoters lined up Dion, a 21-year-old rising star from Canada, to open for his mini-concert.
— NHL Hall of Famer Denis Savard and Pierre Lacroix's son, Eric, who played eight years in the NHL and also lives in Las Vegas. Angelil loved hockey.
— Bernie Yuman, Siegfried & Roy's longtime manager. "He was a brilliant visionary," Yuman said, "one of the greatest impresarios in the history of entertainment. His vision to bring Celine at her peak is what precipitated what we see now, the Mariah Careys and Britney Spears.
The speakers, in order of appearance: Caesars Palace President Gary Selesner; AEG President John Meglen; Dion's show director and producer, Ken Ehrlich; myself; record producer, writer and musician David Foster; A&R Vice President of Columbia Records/Sony Music John Doelp; Caesars Interactive CEO Mitch Garber, who also is the new chairman of Cirque du Soleil; Opportunity Village chief development officer Linda Smith.
Also: Caesars Entertainment board Chairman Gary Loveman; Dion's business affairs director Paul Farberman; Dion's first and only agent for North America, Rob Prinz from ICM; former Caesars Palace President Mark Juliano, who is now president of Sands Bethlehem Casino in Pennsylvania; former Sony Canada executive Dave Platel; and Las Vegas Sun entertainment reporter Robin Leach.
The Scene and Heard
Airing on KTNV-TV, Channel 13, tonight: "ABC's 20/20: A Dangerous Intersection" explores the bizarre case of Tammy Meyers, the mother of four who was killed in a shootout after giving her daughter a driving lesson. Meyers, 44, died on Feb. 12 in what authorities called a shootout in front of her home. Eric Nowsch, then 19, was charged with murder, attemped murder and battery with a deadly weapon. Meyers' daughter, Kristal, tells her account of the initial incident. Also interviewed: Khatelyn Krisztian, a friend of Nowsch's. …
Looks like Luxor headliner Carrot Top is on board with the possibility of the Oakland Raiders moving to Las Vegas as a tenant in the 65,000-seat stadium announced last week by Las Vegas Sands Corp. and UNLV, which controls the land east of the MGM Grand. He sent me a gag logo of the Raiders that had long red hair flowing out the helmet. …
Need an autograph authenticated? An autograph expert from History's "Pawn Stars" show will be at the Gold & Silver Pawn on Saturday, the day before the Super Bowl. Steve Grad is the principal authenticator at PSA/DNA and serves as the reality show's resident autograph expert. He will be there from 10 a.m. to 4 p.m.
On this day
Feb. 5, 1909: The Nevada Legislature carves a new county out of Lincoln County and names it for Sen. William Clark of Montana, a railroad magnate. Las Vegas, founded four years earlier, is chosen as the county seat over Searchlight, a mining town 60 miles south. Feb. 6, 2011: UNLV's Thomas & Mack Center hosts the Lingerie Bowl, featuring scantily clad women playing tackle football. It's broadcast at halftime of the Super Bowl for men who don't want to watch The Black Eyed Peas. For the record, the Los Angeles Temptation outlasts the Philadelphia Passion, 26–25.
Sightings
Katy Perry, shopping Thursday at the Forum Shops at Caesars Palace. … Actor Matt Damon, with wife Luciana at Piero's Italian Cuisine on Tuesday. Damon has been filming his latest "Bourne" film here for several weeks. … At David Alenik's Pasta Shop Ristorante in Henderson on Wednesday, a summit of entertainers: Domenick Allen, Clint Holmes, Mac King and Earl Turner. Allen was in town to perform with Holmes in their three-night run of "What a Wonderful World" at Cabaret Jazz at The Smith Center for the Performing Arts.
The punch line
"According to a new report, Americans spent more money last year on legal marijuana than they did on Doritos and Cheetos combined. Or as pot smokers call that, 'a salad.'" — Seth Meyers
— Norm Clarke's column appears Sunday, Monday, Wednesday and Friday. He can be reached at 702-383-0244 or norm@reviewjournal.com. Find more online at www.normclarke.com. On Twitter: @Norm_Clarke.