'50/50′ provokes laughter, tears with wry account of cancer
September 30, 2011 - 1:01 am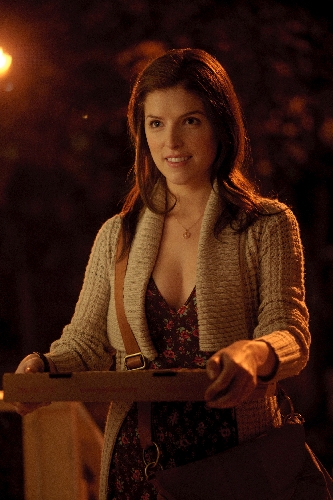 If life were a casino, 50/50 odds might sound pretty good.
But when you're 27 years old and your doctor has just informed you that you have a rare form of spinal cancer, and that your survival odds are about 50/50, the numbers don't seem quite so favorable.
Still, what choice do you have but to hope you're dealt a winning hand and play the game?
Such is the simple, straightforward — and ultimately satisfying — premise of "50/50," a wryly observant and understatedly moving account of one down-to-earth guy's long, strange trip through the unknown territory known as cancer.
Doesn't sound like a fun time at the movies, does it?
Yet "50/50" provokes honest laughter, as well as honest tears, with its clear-eyed approach.
For that, we have screenwriter Will Reiser ("Da Ali G Show") to thank; his own experiences inspired "50/50." (Although I wish the movie had retained its original, far more distinctive, title: "I'm With Cancer.")
And while "50/50" can't resist a few side trips to sitcom-land, at least it's blessedly free of the kind of sanctimonious, seize-the-day sentiment peddled by such manipulative crowd-pleasers as "The Bucket List."
Our introduction to protagonist Adam Lerner (Joseph Gordon-Levitt) takes place on the streets of Seattle, where Adam is jogging — and dutifully waiting, unlike his fellow pedestrians, for the traffic light to change from red to green.
Adam has got a nice job (at a Seattle public radio station), an endearingly motormouth best friend Kyle (Seth Rogen) and an artist girlfriend (Bryce Dallas Howard) who seems comfortable — almost — with their cozy domesticity.
Indeed, Adam's only problem seems to be his inability to stop biting his nails. Unless, of course, you count his smothery mother (Anjelica Huston), who's got her hands full, but not too full, caring for her Alzheimer's-afflicted husband.
Soon enough, they'll all have plenty of reason to bite their nails — when Adam receives a cancer diagnosis and faces a 50-50 battle for survival.
Along the way, he — and we — meet other characters who'll play a role in his treatment.
Fellow chemotherapy patients (crusty Philip Baker Hall, sardonic Matt Frewer) introduce Adam to the joys of medical marijuana.
And the quirky doctoral candidate (Anna Kendrick) assigned as his therapist may not be much of a practitioner, but at least she's got the empathy thing down.
As for Kyle, he may not have the foggiest notion of how to offer emotional support — but at least he's there to try, which is more than you can say for some people.
In its early going, "50/50" seems as in-the-middle as its title, going for easy laughs at least as often as for piercing insights.
Yet as we follow Adam's progress (and, sometimes, the lack thereof), the movie's glib tone shifts, setting the stage for truths both painful and painfully funny.
Throughout, director Jonathan Levine ("The Wackness") maintains a refreshingly low-key approach, treating the high-stakes circumstances with a welcome lack of melodrama. The movie may address literal life-or-death matters, but "50/50" treats them as though they're a part of life (which they are), rather than the very stuff of life.
It's a key distinction, and because "50/50" makes it, we're able to not only identify with but share Adam's struggle. Not only with his battle against cancer, but with all the well-meaning people who want him to comfort and reassure them, rather than the other way around.
There's only so much of that a guy — even a guy as nice as Adam — can stand.
Fortunately, "50/50" has the kind of actors capable of conveying those uncomfortable truths without degenerating into caricature.
Huston delves beneath her role's stereotypical surface to find the deeper truth of a woman doing her best to keep it together — mostly because her husband and son can't.
And between "50/50" and "The Help," Howard has had a dual showcase for her notable ability to sugarcoat sour behavior to telling effect.
Similarly, Kendrick's role recalls her Oscar-nominated "Up in the Air" turn as a fledgling know-it-all who knows, all too well, that she's a long way from knowing it all. At least this time she has the chance to display some beguiling warmth alongside the bravado.
Rogen, who's also traveled similar territory before (in the forgettable "Funny People"), deftly reveals not only Kyle's genuine concern but his determination to be the same goofy guy he's always been — as much for Adam's sake as his own.
Speaking of Adam, "50/50" merely confirms what's been apparent for quite some time: that Gordon-Levitt has matured into an actor of subtle and undeniably affecting gifts.
Some actors cast in "50/50's" lead role would have gone for the hammy, obvious and heart-wrenching stuff; Gordon-Levitt knows that, in this case, less is far more powerful, ably filtering Adam's understandable anguish through layers of sardonic, chin-up humor.
His Adam isn't exactly a life-of-the-party type. Yet, as we get to know him, we come to share his view that merely living from day to day can be the party — and that it's important to join the celebration, no matter what you have to go through to get an invitation.
Contact movie critic Carol Cling at ccling@reviewjournal.com or 702-383-0272.
Review
"50/50"
99 minutes
R; profanity, sexual situations, drug use
Grade: B
multiple locations