Filmmaker Ted V. Mikels has many claims to frame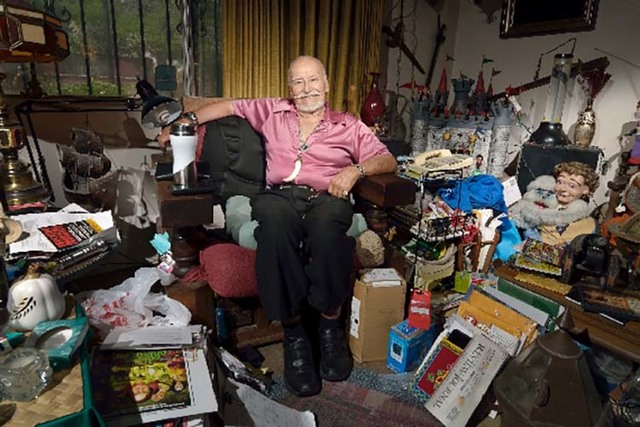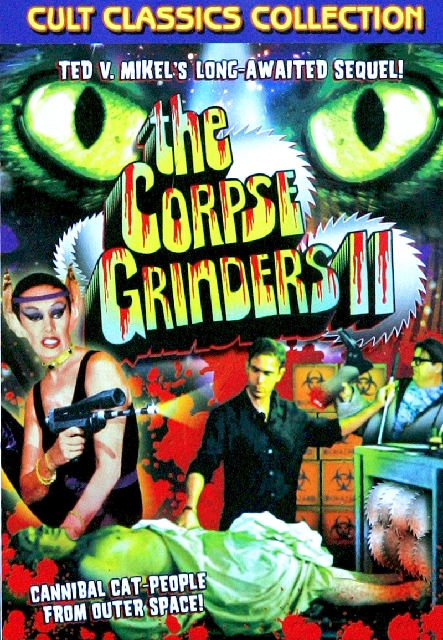 When the owner of the struggling Lotus Cat Food company sought a cheaper source of meat, he found it in the graveyard. But once his fuzzy little customers developed a taste for cadavers, they started chowing down on living humans.
"When people asked me, 'What is it about?' I said, 'It's a movie about cats who love people,' " Ted V. Mikels jokes.
Four decades after he first sent the fur flying with 1971's "The Corpse Grinders," the Las Vegas-based cult auteur is back with "The Corpse Grinders 3."
The international co-production that's part sequel, part remake will have its world premiere in conjunction with the Vegas Indie Film Fest! at 5 p.m. today at theatre7, 1406 S. Third St.
Mikels forged a relationship with Spanish filmmaker Marc Gras, who shot footage of Barcelona landmarks for Mikels' 2012 release, "Astro-Zombies: M4 — Invaders from Cyberspace." When Gras and director Manolito Motosierra were looking to make a feature film, Mikels suggested they try another "Corpse Grinders," thinking they'd be able to capture its camp value.
"I told them, 'Follow the original as closely as possible.' Because you can't really knock success," he recalls. "And the original 'Corpse Grinders' was probably financially the most successful of all of my films. It just did fantastic."
The Barcelona duo wrote better English than they spoke. As the movie's executive producer, Mikels was able to communicate with them only via email and text messages about the footage they shared with him online.
"As we were going along, I would point out to them what should be done, in the lighting, keeping it campy, make it not so gory. If it's going to be gory, make it campy gory," Mikels says. "That sort of advice, I gave 'em all the way through."
But then the 84-year-old Mikels has never been shy about giving advice.
If there's a job on a movie set, the composer of what he calls "a reasonably well-educated guess of a million-and-a-half camera setups" has performed it.
He's produced, directed and edited titles ranging from "The Black Klansman" to "Blood Orgy of the She-Devils," which he also wrote.
He filmed a Brylcreem commercial with Joe DiMaggio and a promotional reel for Chris Rock.
In 1968, he brought the world both "The Astro-Zombies" — which along with "The Corpse Grinders" could be considered his signature films — and a documentary that taught elementary school students how to use a dictionary.
Ever the showman, gimmicks go with Mikels' movies the way popcorn goes with all the others. He sent nurses and ambulances to theaters to drum up interest. He gave away tiny skulls with every ticket to "The Astro-Zombies." Now, he's selling "The Corpse Grinders 3" DVDs with plenty of perks, including "a bag of ground-up cadaver meat from the corpse-grinding machine."
Mikels has worked the lights — he's forgotten more about foot-candles than you'll ever know — the sound and special effects.
He'd done so much at such an early age that, by the time Mikels made it to Hollywood in his late 20s, he says, "I found that the people I could use, the only ones I could afford, were people who didn't have the type of experience that I required. So I had to put some tutoring into them to get what I wanted."
Fans can see the results of his latest round of tutoring tonight. But Mikels cautions that "The Corpse Grinders 3" may not be what they're expecting.
"It's not my camera work. And it's not my directing the actors. And it's not my edit, except it has maybe my influence," he says. "You have to accept the fact that it may not be exactly as I may do it, but then, I've been doing it for fourteen-hundred years."
Fans also can see Mikels, who'll be in attendance. They may even see a tribute to him from a past edition of the film festival that awarded him its first lifetime achievement honor.
"We put his hands in concrete, because you never know how many more films Ted can make," Vegas Indie Film Fest! founding director Derek Stonebarger says. "It's just an honor to have him as a part of our festival and a part of my life."
That Mikels didn't direct "Corpse Grinders 3" should not be taken as a sign that he's slowing down. The grindhouse legend is prepping to begin shooting "Paranormal Extremes: Text Messages From the Dead" later this month.
He's once again soliciting footage from around the world. And he's doing it in the medium that rendered obsolete most of what he'd learned from more than a half-century of making movies.
Mikels got his start as a teenager with a Kodak Brownie still camera, developing the results in his bathtub. He graduated to motion pictures, working with 8 millimeter film, super 8, 16 mm, super 16, 35 mm, half-inch tape, three-quarter-inch tape, Beta and Beta SP. Over the decades, he went through millions of feet of film.
Then the digital revolution changed everything.
"Four years ago this summer, I closed my studio, with great sorrow and agony and pain, because I literally had to Dumpster all the equipment I had gained over the years," Mikels says, his voice tinged with regret. "Big lights that have no more value, equipment that cost tens of thousands of dollars, nobody would touch it. Nobody would haul it away for free, even if I put it in the trunk of their car for them."
But after a rocky introduction, Mikels has learned to embrace the technology.
"I am enjoying the digital world. At first it was an adversary, because it literally altered the entire business that I'd spent my life in. Altered it so completely," he reflects. "And now … I can do things that would cost thousands of dollars and take weeks to do, and I can do it in two seconds with my mouse."
Perhaps the biggest drawback of the digital conversion is that it's diminished the word "director." Now anybody with a cellphone can call himself that.
For most of Mikels' career, even the lowest-budget movies still needed financial backers.
The film alone — by the time everything from the cost of the raw stock to developing it was factored in — cost $1.50 for every second it rolled.
"Now, for a dollar and a half," Mikels notes, "a kid can make a movie."
Contact Christopher Lawrence at
clawrence@reviewjournal.com or 702-380-4567.