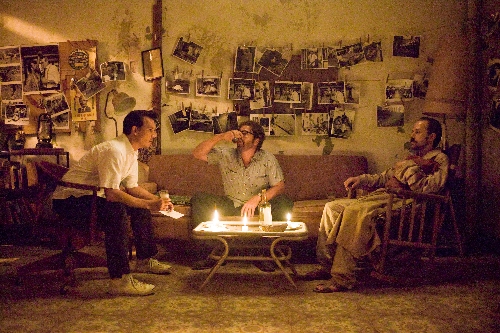 Ah, demon rum. And demon greed.
Hunter S. Thompson gets to know both — and lives to tell the tale — in "The Rum Diary," a portrait of the iconoclast as a young man that offers Thompson disciple Johnny Depp another crack at the gonzo journalist he first played in "Fear and Loathing in Las Vegas."
By the "Fear and Loathing" days, Thompson — known in the book as Raoul Duke — was well established as one of the essential voices of the 1960s.
In "The Rum Diary," by contrast, he's a struggling writer in search of his voice.
How, and why, he finds the "ink and rage" to power that unique perspective provides the movie's purpose — and, on occasion, its focus.
When it can focus at all, that is.
Often, "The Rum Diary" seems as aimless as its in-search-of-self protagonist Paul Kemp — another Thompson alter ego — who seems perfectly willing, if not quite content, to drift along with the tide.
With the sun setting on the Eisenhower era, Kemp (Depp) has fled the stultifying conformity of the U.S. mainland — and its reminders of how he's failed to break through as a writer — for the sunnier climes of San Juan, Puerto Rico.
The smell of money's in the air.
Not in the dilapidated newsroom of a local rag known as the San Juan Star, however.
That's where Kemp reports for freelance duty under the harried and almost nonexistent supervision of desperate editor Lotterman (Richard Jenkins), who's more preoccupied with keeping his bad toupee on straight than running his newsroom.
No, it's on the beaches and nearby islands where mainland interests sense multiple opportunities to exploit the U.S. commonwealth's natural beauty by developing its potential — for the right people.
The smug fat cats never think about the people they're trampling in the process; they're poor, so they don't count.
Besides, it's so much more fun to pay attention to the haves than the have-nots.
People like ambitious American smoothie Sanderson (Aaron Eckhart), who's willing to provide Kemp with all sorts of inducements (a little red Corvette, more than a little cash) in hopes Kemp will provide positive coverage of a highly questionable real estate deal with definite scam/scandal potential.
Assuming Kemp can sober up long enough to focus — and keep his eyes, and hands, off Sanderson's entrancing, and exceedingly flirtatious fiancee Chenault (Amber Heard), who seems at least as captivated by Kemp as he is by her.
When he's not being pulled in other, equally distracting directions by his newsroom partners-in-grime, genially scruffy photographer Sala ("The Sopranos' " Michael Rispoli) and the clearly unhinged Moburg (Giovanni Ribisi), a former Star staffer whose penchants for booze, drugs and extreme oratory (he's fond of listening to Hitler's greatest hits) make him a walking preview of coming counterculture attractions.
"The Rum Diary" carries other portents of the advancing 1960s, from a pivotal presidential debate between Vice President Richard M. Nixon and Sen. John F. Kennedy to a suitably hallucinogenic encounter with a substance everybody will know better in a few years as LSD.
Yet despite such undeniably quirky, occasionally out-there elements, "The Rum Diary" never fully embraces its wild side.
That's a bit of a surprise, considering British writer-director Bruce Robinson's track record, highlighted by 1987's booze-soaked "Withnail & I," a rakish chronicle of two Swinging '60s London losers.
Working from Thompson's autobiographical novel (which Depp reportedly unearthed as an unpublished manuscript while researching his "Fear and Loathing" role at Thompson's Colorado home), Robinson has made several changes in character and plotline, streamlining — or, more precisely, simplifying — Kemp's struggle with corruption's siren call.
It's not that much of a struggle, mind you. Not with the droll, detached Depp playing Kemp.
Decked out in a succession of tropic-weight suits and snappy hats, his presumably bloodshot eyes shielded by omnipresent Ray-Bans — think "Mad Men" goes calypso — deadpan Depp cuts a hip, almost dashing figure as another antic Caribbean adventurer.
But unlike piratical Capt. Jack Sparrow, Paul Kemp is far more observer than active player; in "The Rum Diary" circus, he's usually the ringmaster, describing amazing wonders, rather than commanding the center-ring spotlight and performing them himself.
That's one reason such vivid character actors as Rispoli (in a role Danny DeVito might have played a few decades ago), Jenkins and Ribisi score more strongly. As for Eckhart, he's predictably persuasive; after all, we've already seen him do pretty much the same thing in a much better movie, "Thank You For Smoking."
They're "The Rum Diary's" sharpest, satirical elements, providing sardonic commentary while Kemp and Chenault engage in a far more conventional approach-avoidance mating ritual that's not so far removed from the swoony, many-splendored-thing cliches you might see in a big-screen romance of the day.
Not the sort of thing you expect from a Hunter S. Thompson movie, but perhaps you have to learn to recognize your fear and loathing before you can embrace it.
Contact movie critic Carol Cling at ccling@reviewjournal.com or 702-383-0272.
Review
"The Rum Diary"
120 minutes
R; profanity, brief drug use, sexual situations
Grade: B-
Multiple locations