Las Vegas actor hopes to inspire with charity movie premieres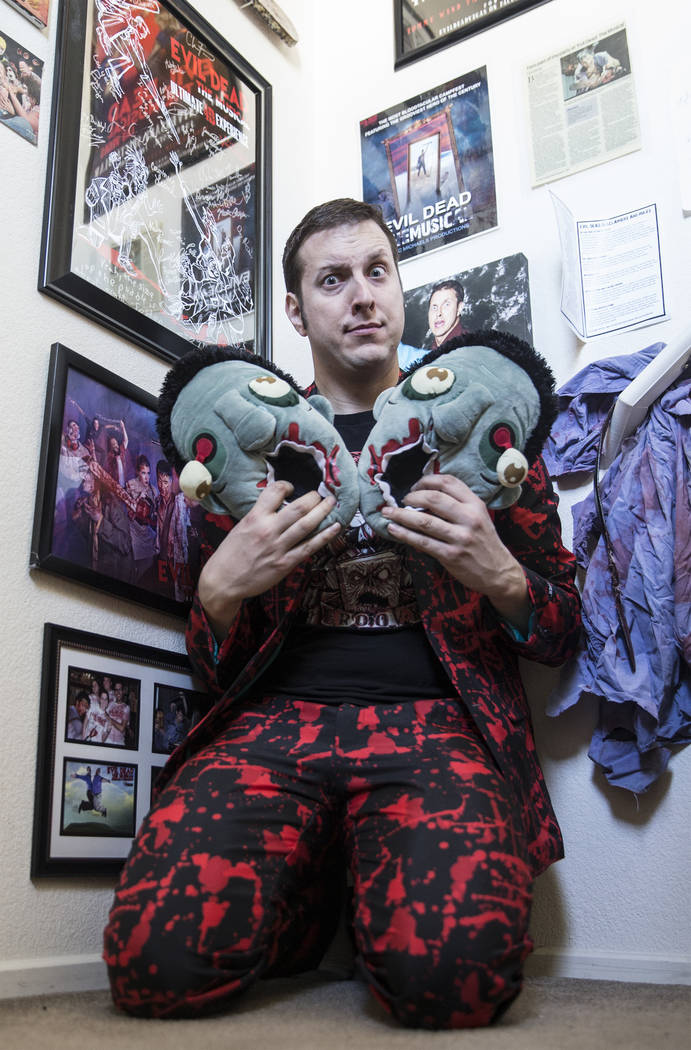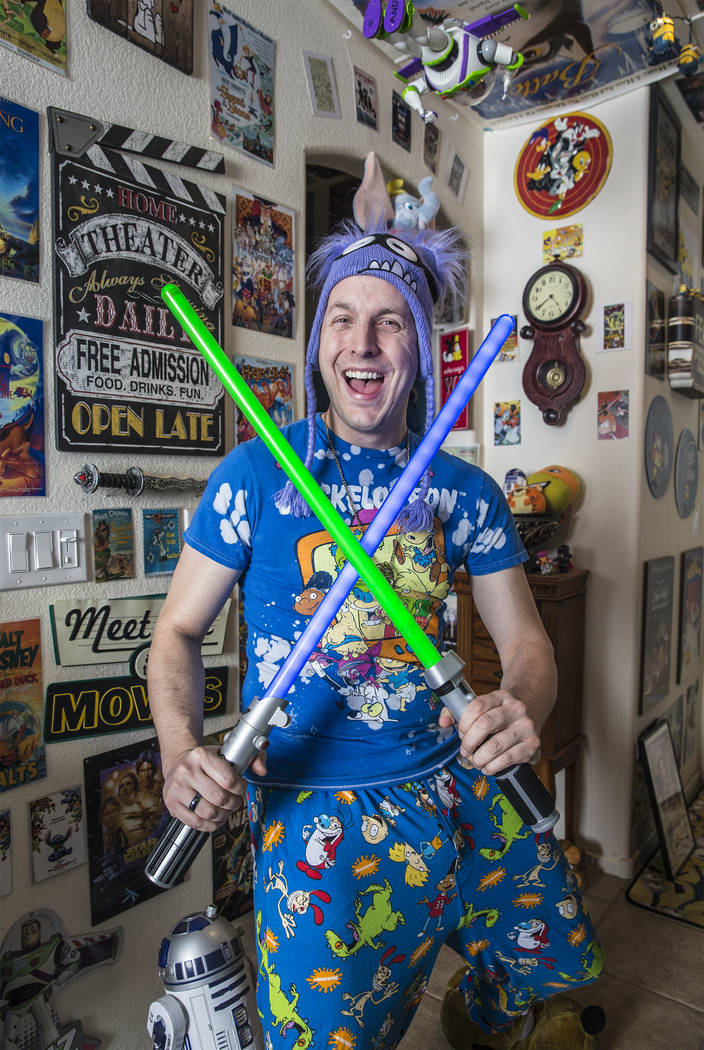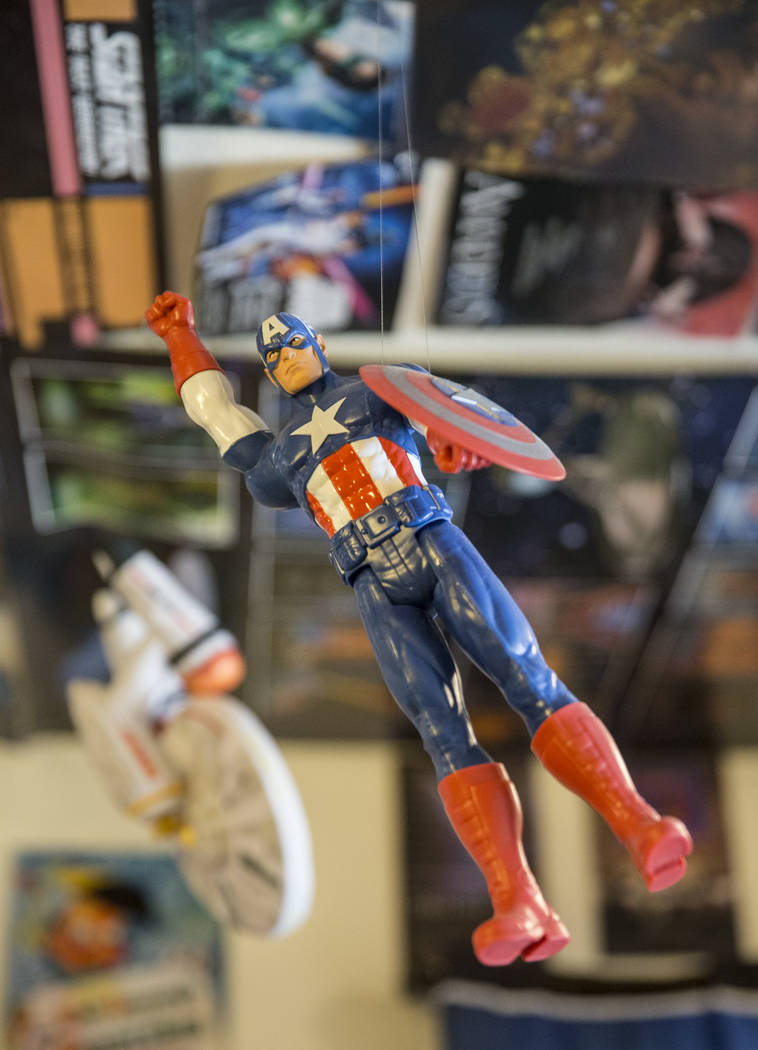 Vegas Voices is a weekly series featuring notable Las Vegans.
Ben Stobber is making up for lost time.
The 35-year-old Wisconsin native always wanted to act in movies, but he didn't make the leap until 2015, when he appeared in a short student film called "Hush." Since then, Stobber has appeared in more than 40 shorts and features, all but two of which filmed in Las Vegas. And he's begun using the local premieres of those movies to give back to the community.
With October's red carpet debut of the Tara Reid movie "Party Bus to Hell," he persuaded the filmmakers and producers to donate the profits from ticket sales — more than $2,000 — to Safe Nest and Heaven Can Wait Animal Society.
The profits from Sunday's premiere of "Unwritten" — a supernatural thriller, written and directed by Las Vegan Dale Neven, about a writer who believes one of his villains has come to life — will be used to purchase books from Amber Unicorn Books, where the movie was shot. Those books will be donated to the reading advocacy group Spread the Word Nevada.
The red carpet begins at 6 p.m. at AMC Town Square with the screening set for 7 p.m. Tickets are available at Amber Unicorn Books, 2101 S. Decatur Blvd., and eventbrite.com. Attendees are asked to bring gently used books to be donated to Spread the Word Nevada.
Those books, Stobber hopes, will "just really spark the imagination. That's what this film, 'Unwritten,' also is focused on. It's the power of a person's imagination."
He's in the process of organizing three more charity movie premieres and hopes to inspire other actors and filmmakers to give back as well. "Our dreams, our passions, they're not a competition, especially in this industry. … When you do make it, you wanna look back and root for the other people to make it and to go back and help others if you can."
Review-Journal: How long have you been acting?
Stobber: I started acting probably before I even went to elementary school. I have home videos of acting in these little Christmas pageants we would put on at home. I always loved to entertain my parents and grandparents when they'd visit for the holidays. … I remember seeing Disney's "The Little Mermaid" when I was 7 years old and enjoying singing the songs and entertaining and putting on shows. And it was that feeling of making people smile and laugh and giving them a moment of escape from the stress and the hardships of the day.
So, Disney, huh?
Even in my karaoke days in Vegas, I brought Disney karaoke CDs to bars, because they didn't have Disney songs in the karaoke catalog. And it's, like, these are the only songs I really knew.
You moved to Vegas in 2002, and your first break was working in "Star Trek: The Experience." What was that like?
At the time, "The Klingon Encounter" was going on, so the actors would play multiple roles, from Star Fleet to the janitor. … We were just living our dreams, being paid actors. That was my first real job as a paid actor.
What came next?
Through a good period of, I would say, seven or eight years after "Star Trek" — of being an usher for Blue Man Group, "Phantom of the Opera," The Beatles' "Love" — I was never living my potential. I got the chance to still be, in a way, slightly part of the experience, to see these amazing shows. But every one of those shows, I always had that desire and dream of wanting to be on stage.
How did it feel to finally act on the Strip, when "Evil Dead: The Musical" moved from community theater to Planet Hollywood?
That was a huge dream come true for me, after all those years being an usher on the Strip in these big spectacles, to take a local theater show and believe that it had the possibility of making it.
Is being a working actor in Las Vegas as hard as I imagine?
Yes and no. I would say being a working actor making a living at it in Vegas is nearly next to impossible, unless you're one of the few actors that's working in a show on the Strip. Then for the most you're making money. If you're in a Cirque du Soleil show, of course you're making a living. … Really, for the general part of my 16 years living in Vegas, I've always worked two jobs. I was working three jobs at one point, going from concierge (at Aria) to Bally's for "Divorce Party: The Musical" to "Evil Dead" at 11:30, midnight, and then starting all over again. You can make a living. It's kind of like a puzzle, if you kind of find the space and piece it all together.
In the past three years, you've made 40-something movies in Vegas.
With the streaming services being the way that they are, more and more filmmakers are finding it possible to create, to make a movie, to take their story, their imagination and say that it is possible, that anything is possible. The tools and the outlets are there for us. It's just having the courage and the drive to say, "Yes. I'm going to make this happen."
And what made you want to turn some of those movies' premieres into charity events?
There's movie premieres every once in a while that pop up with short films and features and film festivals and such, but never really anything to connect it to local charitable organizations. … Why just have another regular movie premiere and be done with it and move onward when you can just really stand out and be something bigger and hopefully instill and inspire others to follow suit?
Getting to know: Ben Stobber
Favorite movie?
"Ben-Hur. It's the classic epitome of an epic that we really don't see so much anymore in Hollywood — a film that has scope and romance and drama and faith and humor and action. … A close second place would be Disney's 'The Little Mermaid.' "
Favorite thing about living in Las Vegas?
"There's always something to do every hour of the day, whether you are going to see a movie or go hiking up at Red Rock or bowling at 2 or 3 a.m. and getting a burger and hitting up some slot machines."
The last show you attended?
"'Masters of Illusions' at Bally's has five incredibly talented magicians with a lot of great energy and variety. There are so many acts that I'd never seen before that just took my breath away."
TV show you're currently obsessed with?
"'The Marvelous Mrs. Maisel' on Amazon Prime is funny, so witty and cleverly written."
Collections?
"My entire house is a museum of collectibles … Disney snowglobes and movie posters."
Contact Christopher Lawrence at clawrence@reviewjournal.com or 702-380-4567. Follow @life_onthecouch on Twitter.
Getting to know: Ben Stobber
Favorite movie: "Ben-Hur. It's the classic epitome of an epic that we really don't see so much anymore in Hollywood— a film that has scope and romance and drama and faith and humor and action. … A close second place would be Disney's 'The Little Mermaid.' "
Favorite thing about living in Las Vegas: "There's always something to do every hour of the day, whether you are going to see a movie or go hiking up at Red Rock or bowling at 2 or 3 a.m. and getting a burger and hitting up some slot machines."
The last show you attended: " 'Masters of Illusions' at Bally's has five incredibly talented magicians with a lot of great energy and variety. There are so many acts that I'd never seen before that just took my breath away."
TV show you're currently obsessed with: " 'The Marvelous Mrs. Maisel' on Amazon Prime is funny, so witty and cleverly written."
Collections: "My entire house is a museum of collectibles … Disney snowglobes and movie posters."