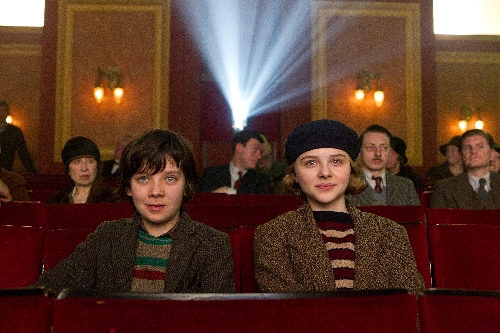 A look at some of the DVDs, CDs and books hitting stores this week.
DVDS
"Hugo" (PG): Winner of five Academy Awards, director Martin Scorsese's latest takes a fanciful journey back to 1930s Paris, where an orphan (Asa Butterfield) finds himself mixed up in mystery with an enigmatic toy shop proprietor (Ben Kingsley).
Elsewhere on the recent-release front, the spoofy "Johnny English Reborn" (PG) revives the clueless title spy ("Mr. Bean's" Rowan Atkinson), who takes on international assassins hoping to trigger global chaos.
Turning to movies that never made it to local theaters, "I Melt With You" (R) features Thomas Jane, Jeremy Piven, Rob Lowe and Christian McKay as buddies pondering their lives during a hard-core party reunion, while Dennis Quaid headlines "Before the Darkness" (not rated), playing a small-town mortician with a deadly secret. A child's abduction impacts a variety of lives in "Answers to Nothing" (R), with Dane Cook, Elizabeth Mitchell and Barbara Hershey. And four teens enjoy the last day of summer vacation in the indie "The Myth of the American Sleepover" (not rated).
Today's TV-to-DVD transfers (all unrated) include Pierce Brosnan's 1981 U.S. miniseries breakthrough, "The Manions of America," plus "Mission: Impossible — The '89 TV Season," "Here Come The Brides: The Complete Second Season," "Here's Lucy: Season Five" and "Law & Order: The 10th Year."
CDS
The Cranberries, "Roses": It's been more than a decade since these Irish pop rockers released an album.
We're looking forward to hearing singer Dolores O'Riordan get back to stretching words out like wet taffy. (Remember when she turned "zombie" into, like, a 10 syllable utterance?)
The title of their new one is pretty clever, too, because even if it sucks, The Cranberries will still come up "Roses."
Also in stores: Celtic Thunder, "Voyage"; Christian Mistress, "Possession"; Corrosion of Conformity, "Corrosion of Conformity"; Estelle, "All of Me"; Ja Rule, "PIL2 (Pain Is Love 2)"; Lyle Lovett, "Release Me"; Craig Morgan, "This Ole Boy"; Mouse on Mars, "Parastrophics"; Oak Ridge Boys and Dukes of Dixieland, "When Country Meets Dixie"; Amy Ray, "Lung of Love"; School of Seven Bells, "Ghostory"; and We Are the Ocean, "Go Now and Live."
BOOKS
"Lone Wolf" by Jodi Picoult: The queen of the plot twist tackles end-of-life decisions with this novel featuring a brother and sister at odds over whether to terminate life support for their comatose father.
Author Jonathan Kellerman adds to his Alex Delaware series with "Victims," in which the psychologist aids the police investigation into a series of gruesome murders.
Also hitting shelves: "Archive 17: A Novel of Suspense" by Sam Eastland; "Barbara Stanwyck: The Miracle Woman" by Dan Callahan; "Cinnamon Roll Murder" by Joanne Fluke; "Coral Glynn" by Peter Cameron; "Dying To Be Me: My Journey from Cancer, to Near Death, to True Healing" by Anita Moorjani; "House of Stone: A Memoir of Home, Family, and a Lost Middle East" by Anthony Shadid; "Let It Go: Forgive So You Can Be Forgiven" by T.D. Jakes; "Outlaw Platoon: Heroes, Renegades, Infidels, and the Brotherhood of War in Afghanistan" by Sean Parnell; "Pandemonium" by Lauren Oliver; "Trail of the Spellmans" by Lisa Lutz; and "You're Not Doing It Right: Tales of Marriage, Sex, Death, and Other Humiliations" by Michael Ian Black.