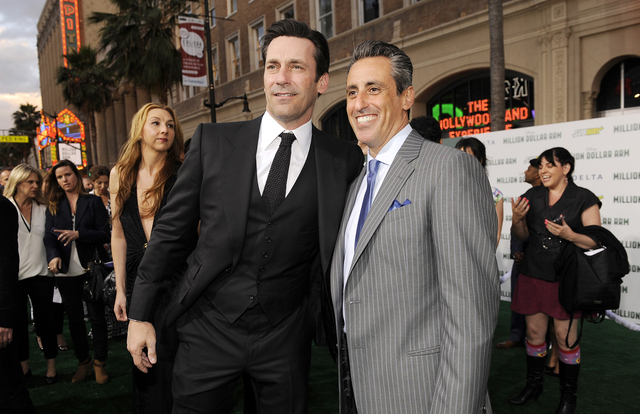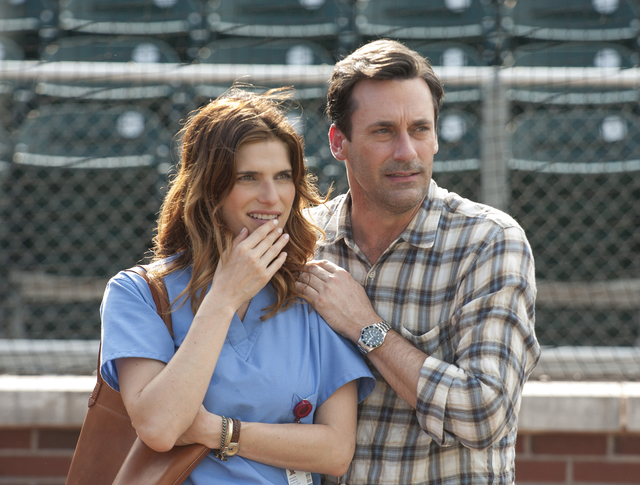 He never rejected the woman who would become his wife simply because she wasn't a model.
Although he admits he would have.
That's the kind of guy J.B. Bernstein was.
Then the sports agent flew to India, scoured that country for pitching prospects as part of a reality show, symbolically adopted the two winners and inspired the upcoming Disney movie "Million Dollar Arm."
Bernstein, who moved to Las Vegas a year ago with his wife, Brenda, and their now 3-year-old daughter, Delphine, says he'd already begun turning his life around when the two met. So the scene in which J.B. (played by Jon Hamm) rolls his eyes at the thought of dating Brenda (Lake Bell) never happened.
"One hundred percent, though, that would have been my response if I had known her before I left for India," he reveals.
"And I'm not even really that good looking, which is the really terrible part," he adds, laughing about his Lothario days. "I don't really even deserve to (have dated) models."
Opening Friday, "Million Dollar Arm" tweaks Bernstein's story a bit. In addition to moving up his introduction to Brenda by about 10 months, Bernstein, 46, says he was never as cash-strapped and desperate as the movie portrays. Having represented the likes of Barry Bonds, Barry Sanders and Emmitt Smith, "unless I had some kind of massive drug habit or gambling or whatever, there's no way that (I) could be in a tough financial spot," he says. "But, mentally, I was in a really, really tough place when my partners and I came up with this idea."
In 2007, Bernstein, a native New Yorker, had become disillusioned with his career, thanks in part to the potential client who, as depicted in the movie, demanded a million-dollar fee just to let Bernstein represent him. So he and his partners set out to create new clients. Having witnessed the lucrative endorsement deals former NBA All-Star Yao Ming had made in his native China, it seemed only natural to explore a similarly large, untapped market: India.
While the idea for the televised competition "The $1,000,000 Arm" wasn't as simple as the scene in which Hamm's J.B. flips channels between a cricket match and Susan Boyle's debut on "Britain's Got Talent" — for one thing, Boyle wouldn't arrive on the scene until two years later — Bernstein says he had noticed the similarities between cricket bowlers and baseball pitchers. From there, he and his partners patterned the show after "American Idol," with a baseball instead of a microphone and a radar gun instead of judges.
Bernstein traveled across India, eventually seeing 38,000 contestants before crowning a winner, Rinku Singh, and a runner-up, Dinesh Patel. But as big of a change as Rinku and Dinesh were in for when they arrived in Los Angeles — coming from remote villages, they'd never seen elevators, never tasted pizza, never even heard of baseball until they were each handed one and hurled it more than 80 mph — Bernstein was in for something truly transformational.
"In the movie they call me a jerk, but I like to characterize it as someone who's kind of one-dimensional," Bernstein says. "I was really myopic. I was focused solely on business. I was pretty superficial and, really, the only pride I ever took was in the deals I was doing."
Others have had more colorful terms for him than "jerk." He and Brenda attended an advance screening at Red Rock Resort, and when J.B. loses his cool at a hospital, one of several scenes Bernstein admits are hard to watch, another moviegoer spoke up.
"The woman sitting in front of us, I just hear her say, 'This guy is such a dick!' " Bernstein says.
But at that point in the movie, J.B. was still treating his new house guests like paychecks instead of people.
"Having Rinku and Dinesh live with me reminded me of things I'd forgotten along the way," Bernstein says, referencing the importance of family and taking pride in the accomplishments of others.
Although, when pressed, he admits he may have lacked those fundamental pieces of humanity from the beginning.
"Obviously, I want to say it's something I forgot. But, if I'm being truly honest, I'm not sure if that's something that I ever had or if Rinku and Dinesh introduced me to it."
In the movie, Rinku (portrayed by Suraj Sharma of "Life of Pi") and Dinesh (Madhur Mittal of "Slumdog Millionaire") question where J.B.'s family is when they see his massive bachelor pad. Later, they pester him about when he'll marry "Miss Brenda," with whom they have formed a makeshift family.
"There are so many parts of this movie that are so close to how they happened, it's amazing to watch," Bernstein says.
It's a heartwarming story that shares a producing team with other Disney sports films, including "The Rookie," "Invincible" and "Miracle." And it's already eliciting strong emotions from viewers. Before screening "Million Dollar Arm" in its entirety at Caesars Palace in March, Disney Studios chairman Alan Horn told the assembled theater owners that the movie scored higher than any he's tested, which, counting his 12 years at Warner Bros., included the first "Harry Potter."
It's a tale Bernstein is humbled Hamm would help tell.
"Right now, pretty much, he had his option of anything he wanted," he says of the "Mad Men" star. "Every studio, every producer, every director, everybody's trying to put him in something. So, the fact that he chose this movie and our story to be part of as his big first leading (movie) role, it's a huge honor."
Family and friends tell Bernstein they see a lot of his reactions and mannerisms in Hamm's performance. But, he notes, that's where the similarities end.
"My mom (and) my wife think it's great casting. But other than those two, most people just kind of laugh and say, 'You look nothing like Jon Hamm.' "
Nearly 500,000 hopefuls will take part in this year's "The $1,000,000 Arm," because Bernstein is still looking for his Yao Ming.
Spoiler alert: Dinesh returned to India after two seasons in the Pittsburgh Pirates organization, while Rinku has battled injuries and is a month or two away from returning to the Pirates' minor league system.
Spoiler alert two: They weren't cricket bowlers but javelin throwers.
But he's gained something far more valuable than commissions.
"I do think of these guys as my kids," Bernstein says. "I love them desperately."
Then there's his real family, Brenda and Delphine.
And, the way Bernstein sees it, he's covered romantically for the rest of his life.
"This DVD, I'm going to get a couple of cases of them from Disney, and I'm just going to give one to my wife every year for Valentine's Day and say, 'I got our love story made into a Disney movie. Top that.' "
Contact Christopher Lawrence at clawrence@reviewjournal.com or 702-380-4567.