The List: Latest DVDs, CDs, books, December 4
December 4, 2012 - 1:59 am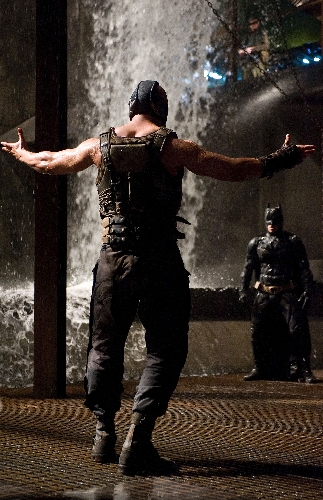 A look at some of the DVDs, CDs and books hitting stores this week:
DVDs
"The Dark Knight Rises" (PG-13): Bruce Wayne (Christian Bale) returns to Gotham, where he encounters Catwoman (Anne Hathaway) and the villainous Bane (Tom Hardy), in the finale of Christopher Nolan's Batman trilogy.
Elsewhere, a 6-year-old named Hushpuppy (Quvenzhane Wallis) fends for herself in a magical Louisiana bayou community known as the Bathtub in "Beasts of the Southern Wild" (PG-13). Trying to spice up her marriage, a woman (Meryl Streep) drags her reluctant husband (Tommy Lee Jones) to a weeklong workshop with a couple's therapist (Steve Carell) in the comedy "Hope Springs" (PG-13). And, unable to conceive, a couple (Jennifer Garner, Joel Edgerton) dream of the perfect son, only to have just such a boy show up on their doorstep, in the family tale "The Odd Life of Timothy Green" (PG).
Topping today's TV transfers: The miniseries "Ken Follett's World Without End" and "Titanic: Blood & Steel" as well as "Eastbound & Down: The Complete Third Season," "The Game: The Fifth Season," "The Donna Reed Show: Season Five" and "Mannix: The Final Season."
CDs
Ke$ha, "Warrior": Pop's pre-eminent party girl is back with beer bong in glittery hand.
This time around, Ke$ha rocks out a bit more, joined by the likes of Iggy Pop and the Flaming Lips' Wayne Coyne.
There is one thing that remains unchanged from her debut, though: the hangover that results from it all.
Also in stores: Blur, "Parklive"; Gavin DeGraw, "Sweeter Live"; Danny Elfman, "Hitchcock"; Hinder, "Welcome to the Freakshow"; and Wiz Khalifa, "O.N.I.F.C."
BOOKS
"Threat Vector" by Tom Clancy: Jack Ryan, back in the Oval Office, faces a new threat as the People's Republic of China plans to invade Taiwan.
And in "Nano" by Robin Cook, medical student Pia Grazdani takes a job at a nanotechnology institute, which she discovers is full of secrets.
Also hitting shelves: "The Art of Todd McFarlane" by Todd McFarlane; "Dying on the Vine" by Aaron Elkins; "Grace, Gold and Glory" by Gabrielle Douglas; "Living with Honor" by Sal Giunta; "Open Heart" by Elie Wiesel; "Pretty Little Liars: Burned" by Sara Shepard; "Shadow Creek" by Joy Fielding; "Shiver" by Karen Robards; "38 Nooses" by Scott W. Berg; and "The 39 Clues: Cahills vs. Vespers Book 5: Trust No One" by Linda Sue Park.
LAS VEGAS REVIEW-JOURNAL