10 best things to do in Las Vegas this weekend, Feb. 17-19, 2017
February 17, 2017 - 3:40 pm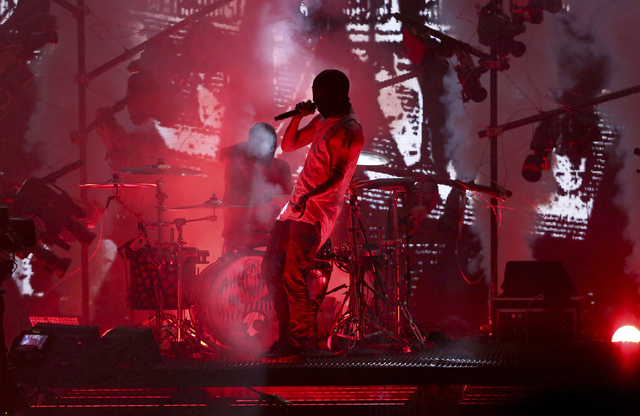 There's plenty of spook in Las Vegas this weekend. Downtown Las Vegas has new company by way of an unsettling mural that looks down from the Plaza hotel. And a dinner series at Mandalay Bay invites guests from beyond the grave.
Here are your top ten picks what to see, eat and do this weekend in Las Vegas.
GRAB A BITE
Dinner with the Dead, a gathering launched in January and hosted by New York medium and author Thomas John, invites attendees to communicate with the beyond. It's the evening's mysterious guests, however, who have no intention of keeping quiet. They've been waiting since their deaths to get in a few last words.
Cornish miners, who are frequently cited as popularizing the pasty, might be taken aback at the idea of a lamb vindaloo, pesto chicken or a carne adovada. But the wide variety of pasties available at The Cornish Pasty Co., 10 E. Charleston Blvd., have made it a popular hangout spot in the Arts District.
GET A DRINK
Get ready for National Margarita Day next week with the prickly pear margarita at Cabo Mexican Restaurant, Santa Fe, Boulder and Sunset Stations. Prickly pear puree adds a desert touch to this blend of Casamigos tequila, lime juice and agave nectar, $9. See more mouth-watering margaritas here.
SEE A SHOW
Contemporary language and humor transform Ovid's ancient tales of mythical characters from Apollo to Aphrodite in the award-winning "Metamorphoses." Nevada Conservatory Theatre's production opens at 7:30 p.m. Friday and Saturday and 2 p.m. Sunday in UNLV's Black Box Theatre, continuing at 7:30 p.m. Feb. 23 to 25 and March 1 to 4, with 2 p.m. matinees Feb.25 and 26 and March 5. For tickets ($27.50), call 702-895-2787 or visit www.unlv.edu/pac
ROCK OUT
Ohio's musical multi-hyphenates Twenty One Pilots have become one of music's biggest breakout acts in recent years with their adrenalized amalgamation of hip-hop, reggae, electronica and radio-friendly rock. The duo's tunes have been streamed over 2 billion times on Spotify, where their 19 million monthly listeners rank among the top 30 fan bases of any act in the world. See them at 7 p.m. Saturday at the Mandalay Bay Events Center.
The metallic punk corollary of The Cure, AFI, has made a career out of invigorating despondency and heartache. Over the years, their sound has grown less scream-y, more brooding and electronic. Their latest, self-titled record (nicknamed "The Blood Album" because of three droplets of the stuff of its cover) is another strong effort from these fatalistic fashionistas. See them at 7 p.m. Saturday at The Joint at the Hard Rock Hotel. Tickets start at $27.99; call 702-693-5222.
CATCH A MOVIE
In "Fist Fight," Jillian Bell portrays high school guidance counselor Holly, who has a meth problem, tries her best to seduce a student and just wants to defecate in the swimming pool. It's a comedic style the 32-year-old Las Vegas native began exploring shortly before graduating from Bishop Gorman in 2002.
STAY IN
Planet Hollywood headliner Britney Spears' rise, fall and career resurrection are chronicled in "Britney Ever After" (8 p.m. Saturday, Lifetime), a tell-all movie from the studio that brought you "Sharknado."
HEAD DOWNTOWN
D*Face — real name Dean Stockton — completed a new mural on the Plaza hotel just more than a week ago. It joins a separate mural created earlier this year by street artist Shepard Fairey. His image on the Plaza is reminiscent of old horror or suspense comics. Unlike some of his other pieces, it contains no caption or words, encouraging the viewer to decipher the subtext of the scene as he or she wishes.
GET TICKETS
Rapper Future takes over T-Mobile Arena on June 30, with Migos, A$AP Ferg, Kodak Black and Zoey Dollaz. Tickets range from $29.50 to $125 and go on sale at 10 a.m. Friday at www.axs.com.
Lady Gaga has added another show at T-Mobile Arena on Dec. 16. Tickets range from $45 to $275 and go on sale at 10 a.m. Monday at www.axs.com.
Rockers Plain White T's go acoustic at Cleopatra's Barge at Caesars Palace on March 30 and 31. Tickets start at $69 and go on sale at 10 a.m. Friday at www.unpluggedwhitets.com or at any Caesars Entertainment box office.
CELEBRATE BLACK HISTORY MONTH
Celebrate the contributions of local African-Americans on Saturday during the annual Black History Month Festival at the Springs Preserve.
Entertainment will include live music and dance performances as well as arts and crafts, carnival games and face-painting for kids.
You can sample dishes from local soul food restaurants along with cultural art items for sale.
A Las Vegas photo exhibit will highlight great African-American inventors.
The festival is scheduled from 10 a.m. to 4 p.m. Saturday at 333 S. Valley View Blvd. Admission is $5 for adults, $3 for children ages 3-12 and free for those 2 and younger.
Come celebrate #BlackHistoryMonth with us this Saturday. Live music and dance, soul food, family activities & more! https://t.co/Jeo3nS6Fbq pic.twitter.com/OmExluGIpN

— Springs Preserve (@SpringsPreserve) February 16, 2017
GET HYPED FOR EDC
On Saturday and Sunday, Insomniac will host its fifth annual Halfway to EDC in the Marquee Nightclub and Marquee Dayclub Dome at The Cosmopolitan of Las Vegas. Scheduled DJs include Andrew Rayel, pictured, W&W, Sander Van Doorn, Gareth Emery and Carnage. Single-day tickets are $35 for men and $25 for women at the dayclub, and $45 for men and $25 for women at the nightclub. An all-access weekend wristband is $150 for men and $90 for women. Doors open at 10:30 p.m. for the nightclub and 11:30 a.m. for the dayclub.