10 biggest concerts coming to Las Vegas in October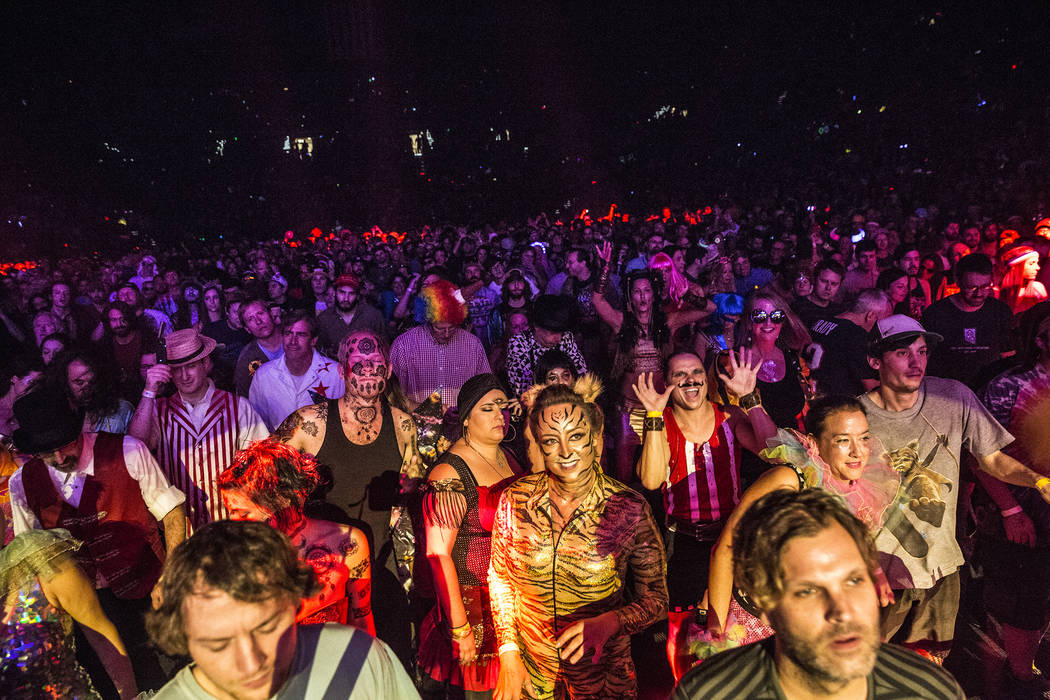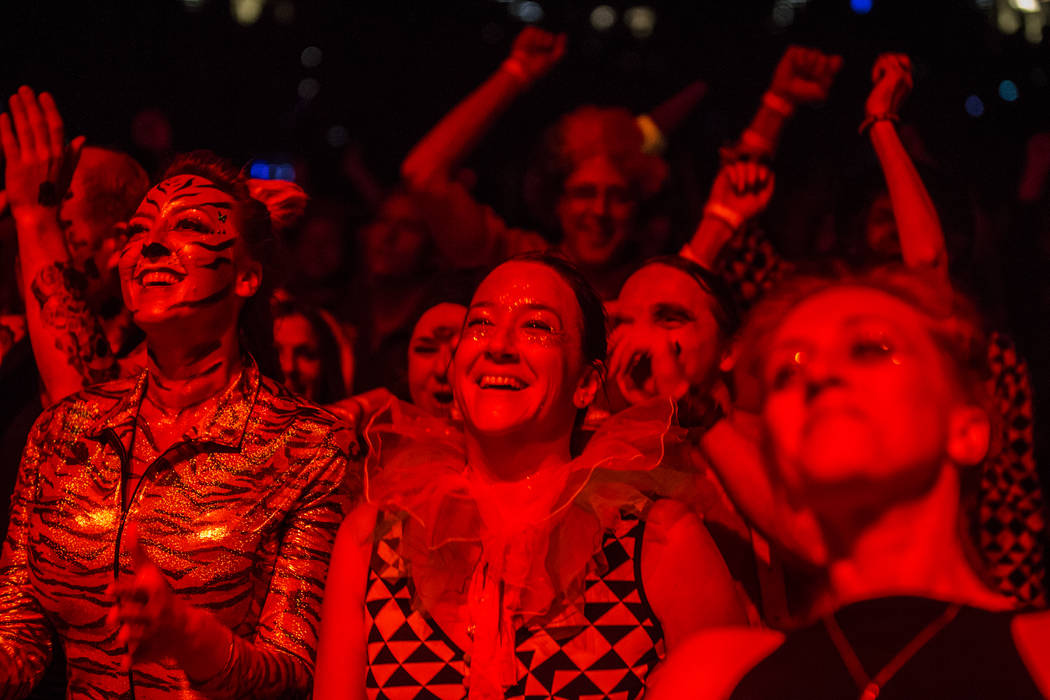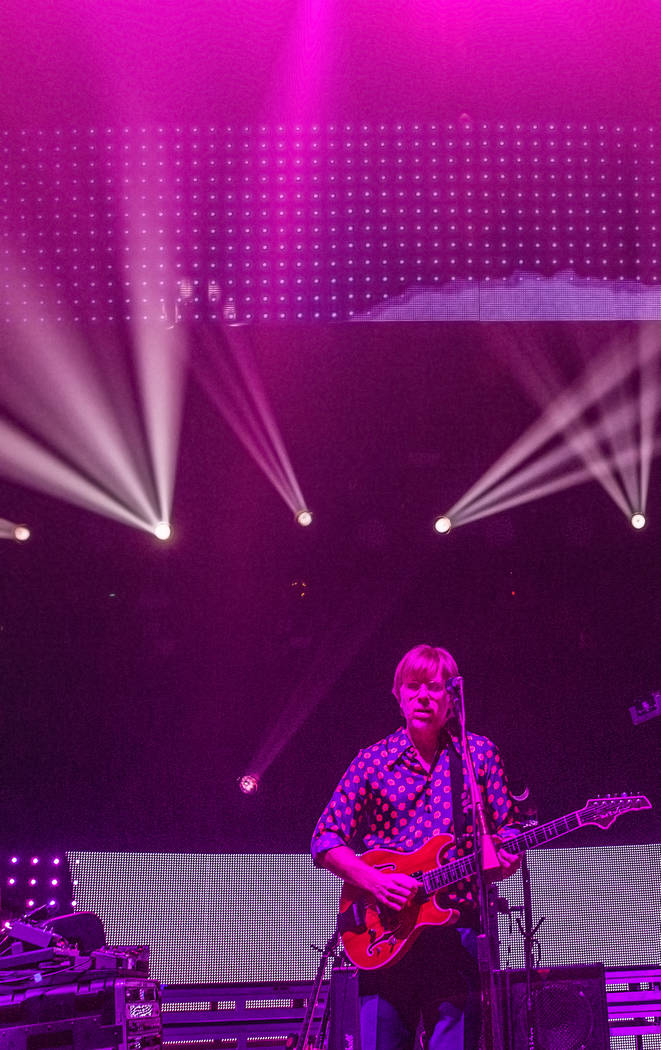 It's a feel-good carnival of the absurd, perhaps the only place where a dancing can of Spam and a dude dressed as Flo from the Progressive Insurance commercials boogie down in unison.
At least that was the scene the last time rock 'n' roll space cowboys Phish played Las Vegas on Halloween.
The long-running jam band's All Hallows Eve shows have become the stuff of legend among the band's intensely devoted fan base: marathon, three-set performances where Phish dons a "musical costume" during the second act and covers an album in its entirety.
Twenty years after Trey Anastasio and company played their first Halloween show in Vegas at the Thomas & Mack Center, where they covered the Velvet Underground's "Loaded," they're returning for their fourth holiday stint here.
In 2014, the group took a hard left turn — even by its far-out standards — performing the Walt Disney soundtrack album "The Chilling, Thrilling Sounds of the Haunted House" flanked by gyrating zombies at the MGM Grand Garden.
Two years later, Phish fully inhabited David Bowie's "The Rise and Fall of Ziggy Stardust and the Spiders From Mars" at the same venue.
What'll it be this go-round?
Phish performs Oct. 31 to Nov. 3 at the MGM Grand Garden.
On arachnids and rhymers
With his latest record, "Scorpion," going platinum in just 24 hours and earning a record-demolishing 132.45 million streams on Spotify its first day out, it seems that the masses can't get enough of singer-rapper-serial-model-dater Drake. But his current tour may test that: The set list spans a whopping 44 songs. Drake performs Oct. 5 and 6 at the MGM Grand Garden.
Hot trash
Still pushin' it after all these years, '90s alt-rockers Garbage celebrate the 20th anniversary of their acclaimed "Version 2.0" album, where guitars and electronics intermingled into hard-driving, digitally tinged rock with fiery frontwoman Shirley Manson melting mics and hearts alike. Garbage performs Oct. 5 at The Chelsea at The Cosmopolitan of Las Vegas.
It wasn't him …
At times in the Police and as a solo act, Sting has seemed about as fun-loving as your average toaster oven. He cuts loose a bit, though, with reggae-pop crossover star Shaggy on joint album "44/876." Sting & Shaggy perform Oct. 13 at the Park Theater at Park MGM.
Going off the rails with a 69-year-old bat biter
Board that "Crazy Train" one last time when iconic heavy metal potty-mouth/Alamo whizzer-on-'er Ozzy Osbourne brings his farewell tour to town. Of course, this follows his previous farewell tour … in 1992. Local bonus No. 1: Openers Stone Sour are fronted by vocalist Corey Taylor, who also sings for Slipknot and owns a home in Henderson. Ozzy Osbourne performs Oct. 13 at the MGM Grand Garden.
Get Down
Armenian alt-metallers System of Down haven't played any U.S. shows in three years or put out a new record since 2005. Still, they remain among the genre's biggest draws with frontman Serj Tankian's rubber-larynx-ed vocal eccentricities powering hard-hitting songs about genocide and cocaine-snorting groupies. Local bonus No. 2: Drummer John Dolmayan owns a sweet comic book store, Torpedo Comics, here in town. System of a Down performs Oct. 19 at T-Mobile Arena.
Willie's way
Outlaw country icon Willie Nelson hits town in support of the recently released "My Way," his 68th (!) studio album and a tribute to the songbook of his good buddy Frank Sinatra. Willie Nelson & Family perform Oct. 19 and 20 at The Chelsea at The Cosmopolitan of Las Vegas.
Take that, sobriety
A Homerian quest in a Hawaiian shirt, the never-ending search for that long-lost sodium chloride dispenser enters its 41st year when professional party-starter/scourge-of-livers-everywhere Jimmy Buffet returns for his annual fall Vegas show. Jimmy Buffett & the Coral Reefer Band perform Oct. 20 at the MGM Grand Garden.
Spare the toe tags. For now
And now for this year's Mr. Brightside Award winner: Phil Collins, whose "Not Dead Yet Tour" heralds his first U.S. roadwork in 12 years. No jacket will be required when Collins kicks out the Genesis jams and assorted solo cuts. Phil Collins performs Oct. 27 at the MGM Grand Garden.
Songs of healing
Linkin Park rapper/multi-instrumentalist Mike Shinoda embarks on his first solo tour since the death of bandmate Chester Bennington last July. He's touring in support of "Post Traumatic," an album that Shinoda has described as "a journey out of grief and darkness." Mike Shinoda performs Oct. 30 the House of Blues at Mandalay Bay.
Contact Jason Bracelin at jbracelin@reviewjournal.com or 702-383-0476. Follow @JasonBracelin on Twitter.
Anticipated albums
Eric Church, "Desperate Man" (Oct. 5): The title to the sixth record from this country firebrand was inspired by how he felt after the Route 91 Harvest tragedy, which Church headlined on opening night.
Twenty One Pilots, "Trench" (Oct. 5): The fifth album from these reggae-rock-rap hodge-podgers is a lock to be one of the top-selling records of the fourth quarter.
Cat Power, "Wandered" (Oct. 5): The once-mercurial indie rock chanteuse returns with her first new album in six years.
Ghostface Killah, "The Lost Tapes" (Oct. 5): Prepare for some "dusty soul rap," as actor Michael Rapport characterizes Ghostface's Killah murky aesthetic on the album intro to the latest from one of the greatest MCs in the game.
Greta Van Fleet, "Anthem of the Peaceful Army" (Oct. 19): These buzz-building, Zeppelin-esque rockers finally drop their eagerly awaited debut.