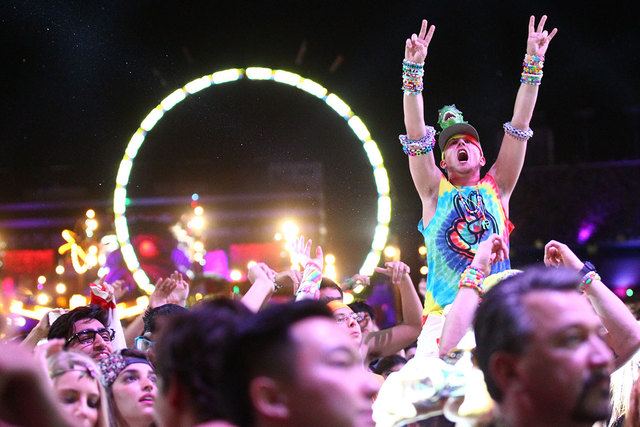 On this day of giving thanks, here's what I have to be thankful for while covering the Las Vegas music scene in the past year:
■ That I got to see electronic music pioneers Kraftwerk for the first time in a one-of-a-kind 3-D show at the new Chelsea at The Cosmopolitan of Las Vegas, a great venue that's a vast improvement over its original incarnation.
■ That I wasn't a bar back at the inaugural Route 91 Harvest country music festival. I have never seen a crowd guzzle as many beers as that perpetually thirsty bunch did over three days in October. Invest in your future: Buy stock in Anheuser-Busch InBev (ticker: BUD, New York Stock Exchange) before next year's fest, should it return.
■ That Vegas indie rock greats Big Friendly Corporation and coed doom troupe Demon Lung have both been working on new albums that should be out in the not-so-distant future.
■ That another cool venue, Brooklyn Bowl, rolled into town.
■ That I was able to cover country legend George Strait's farewell tour in February at the MGM Grand Garden arena. It'll be strange not to have Strait play the venue on Super Bowl weekend next year for the first time in a decade.
■ That I was able to see Phish perform on Halloween. What an incredible experience, seeing that band play three sets in a dazzling five-hour show at the MGM Grand. And then the following night, metal legend King Diamond put on a command performance at the House of Blues. Perfect Halloween weekend.
■ That DIY venue Artistic Armory keeps booking really good all-ages shows.
■ That Country Chuck returned to Las Vegas' airwaves.
■ That the Brain Jelly collective has emerged to pool the resources of such an eclectic and talented cast of local musicians, from rapper Hassan Hamilton, whose "Fat Black And Awesome" just may be the finest Vegas hip-hop album of 2014, to the gloriously noisy Wax Pig Melting.
■ Speaking of Brain Jelly acts, thanks to Strange Mistress for their latest record "Anatomy," which rivals Crazy Chief's "Chrome Werewolf" as the best straight up rock 'n' roll record from these parts in 2014.
■ That Dinner Music For The Gods put out a new album, "Beautiful and Treacherous," that sees the band continuing to set the standard for progressive rock in Las Vegas.
■ That I survived another installment of Punk Rock Bowling. What a marathon of mayhem that three-day fest is every Memorial Day Weekend. This year was another rager, highlighted by a scorching closing-day performance from Against Me!
■ On the subject of musical endurance tests, there is none greater than the Electric Daisy Carnival, three days of dusk-till-dawn electronic dance music. Whether EDM is your thing or not, the sheer magnitude of the production values of EDC is a sight to behold. Thankful I was able to do so again.
■ That yet another massive music fest, Rock in Rio, is coming to town for two weekends next May. Bring it on.
Contact reporter Jason Bracelin at jbracelin@reviewjournal.com or 702-383-0476. Follow on Twitter @JasonBracelin.