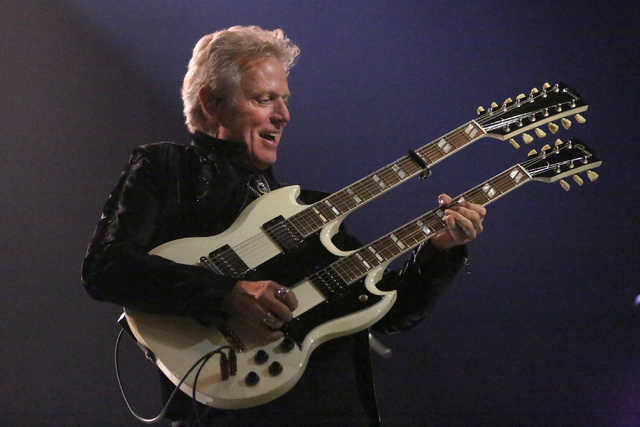 Kevin Cronin still gets to see some of his rock heroes too.
The lead singer of REO Speedwagon remembers playing the same festival as The Zombies a few years ago.
"They were kind of deep in the lineup, but we got there early and stood on the side of the stage and watched their whole show," he says. "I actually felt a little weird having them kind of open for us, because I grew up with them. I was in seventh grade listening to 'She's Not There' on the radio."
Recently, the group asked Cronin to write a book blurb for "The Odessy: The Zombies in Words and Images." "To grow up and end up having them ask me to write a thing for their book? That's mind-blowing for me," Cronin says.
So he knows how it feels for REO fans to follow the Midwestern classic-rock band from their own seventh grade to Saturday's Junefest.
And if you want mind-blowing? REO also played the 1994 version of Junefest, the band's first of three times at the classic-rock festival.
And if you took it for granted that REO would always be around? That it was a given you would be able to see them again 23 years later?
Then you should remember Gregg Allman also was on the 1998 bill with REO. Allman was 69, just four years older than Cronin, when he died May 27 after years of health issues.
But if you still take REO's longevity for granted, Cronin is with you.
"I can't imagine a world without us. I can't imagine my life without REO Speedwagon," he says. "It's just been a part of my life for the majority of my life."
REO is officially celebrating its 50th anniversary this year, though Cronin was in and out a couple of times before the group hit its commercial stride with 1978's "You Can Tune a Piano, but You Can't Tuna Fish." And it wasn't until 1980's "Hi Infidelity" that the Illinois band rooted in the college circuit hit No. 1 with "Keep On Loving You."
The group hasn't had much forward motion since the late '80s. But its stamp on pop culture is so broad that "I Can't Fight This Feeling Anymore" is featured in both the animated "Horton Hears A Who" and the raunchy Broadway musical "Rock of Ages."
"We're all guys in our 60s. There's a little luck involved," Cronin says of his band. "But we take pride in our presentation."
Long-term rock
"What would Jimi Hendrix be doing now?" Cronin muses. "I can't even picture him now. I wish we knew."
The rockers of Cronin's youth had a higher mortality rate, in part because "they had no context for what was happening," he says. "They became so popular, so soon, with no role models. And the drug culture was so prevalent back then, they kind of flamed out."
By the time of "Hi Infidelity," arena rock was an established industry. "We kind of saw the pitfalls of the generation we grew up listening to," Cronin says. "Maybe that helped us learn some lessons from that and have a little fear of the Lord."
REO has had its own casualties. Guitarist and co-writer Gary Richrath died in 2015, but by then he had been out of the band for 26 years.
Cronin says he is motivated both by a fear of fans saying, "Aw man, what happened to him?" and by a couple of his rock 'n' roll heroes.
"Mick Jagger is at the top of the pile, but Rod Stewart is right up there. These are guys who inspire me. As the years go by and they advance in age, they don't lose a step. They stay in shape and they still sing great, they still have the right attitude. They're blazing the trail, and all I have to do is keep doing what I'm doing."
Realistic fest-pectations
In the 1990s, Junefest was a hard-drinking, all-day party in the soccer fields near Sam Boyd Stadium. Saturday brings the fourth year of Junefest as a three-band lineup (with Don Felder and Martha Davis and The Motels) on the lawn of Sunset Station, just a short stroll from the comforts of indoor plumbing.
"It's about your fans," Cronin says. "If you alienate them, you're kind of shooting yourself in the foot. Where would our fans like to hear us? Well, that's where we should play.
"There was a time when REO Speedwagon would easily sell out arenas by ourselves. That's how we rolled. But at some point there's an evolution of bands," he adds.
Last year, REO and Imagine Dragons teamed up on Jimmy Kimmel's show. "My kids are big fans of theirs," he says.
"As an artist and as a band, you have to take a deep breathe and reevaluate what's going on around you. And you either choose acceptance or you choose denial," Cronin says.
"If you choose acceptance, you kind of reset your expectations and your way of looking at things, and sometimes you have to employ your sense of humor. And if you can do that, then you'll be fine. But not everybody can — adapt to the new realities and enjoy life."
He almost said "Roll With the Changes," didn't he?
"I came so close," Cronin says with a laugh.
Junefest recollections
"It's just ludicrous if you think about it now," says Mike O'Brian program director of KKLZ-FM, 96.3. "That's a time when not a lot of artists were coming to Las Vegas to perform."
And for 10 years, Junefest would draw more than 20,000 people to two stages on the soccer fields near Sam Boyd Stadium. "People were anxious to see 'Who'd they get this time?' It was a big deal," O'Brian says.
Junefest was revived in 2012 by the station (which had changed from "classic rock" to "classic hits") and the Denver promoter who controls the name. Now it carries on in a more succinct, comfortable format on the lawn of Sunset Station.
If the beer has clouded your memories of who played when, here's a recap:
■ 1993: Some June: 75 degrees was the lowest high temperature on record for that day. Wind and rain drove the Allman Brothers Band off the stage after a day that included Jefferson Starship, Stephen Stills and, in the first of many Junefest appearances, Eddie Money.
■ 1994: REO Speedwagon made the first of three appearances, with the Doobie Brothers, Greg Lake and Bachman-Turner Overdrive.
■ 1995: Foreigner, Ted Nugent, Bad Company and the Money-man shared the bill.
■ 1996: More cowbell! Blue Oyster Cult, Jefferson Starship, Steppenwolf, the Doobie Brothers and Lynyrd Skynyrd were on tap.
■ 1997: The festival put on tie-dye for a San Francisco-centric lineup featuring future Las Vegan Carlos Santana, along with War, Ratdog, Creedence alumni band Cosmo's Factory and, yes, Eddie Money.
■ 1998: A more diverse lineup made for one of the best fests yet with Gregg Allman, REO Speedwagon, the Romantics, Joan Jett, Loverboy and Kansas. And after years of sunbaked days, the closing acts finally moved into the evening with a climactic fireworks display.
■ 1999: Joe Walsh was the closer for a year that brought back Joan Jett and the Creedence alumni (now Creedence Clearwater Revisited) and the Romantics, along with Cheap Trick and Blue Oyster Cult.
■ 2000: Sammy Hagar found more than one way to rock a bill that included Paul Rodgers, Pat Benatar, BTO and George Thorogood.
■ 2001: Now-familiar Vegas headliners Journey and Styx shared the bill, along with Bad Company, Night Ranger and Billy Squier.
■ 2002: REO returned, along with Jethro Tull, Bad Company and Jett, for what would be the fest's last waltz on the soccer fields. "We felt the energy going out of it," promoter Robie Gibson said at the time.
Contact Mike Weatherford at mweatherford@reviewjournal.com or 702-383-0288. Follow @Mikeweatherford on Twitter.