5 things to know about Tim McGraw and Faith Hill's world tour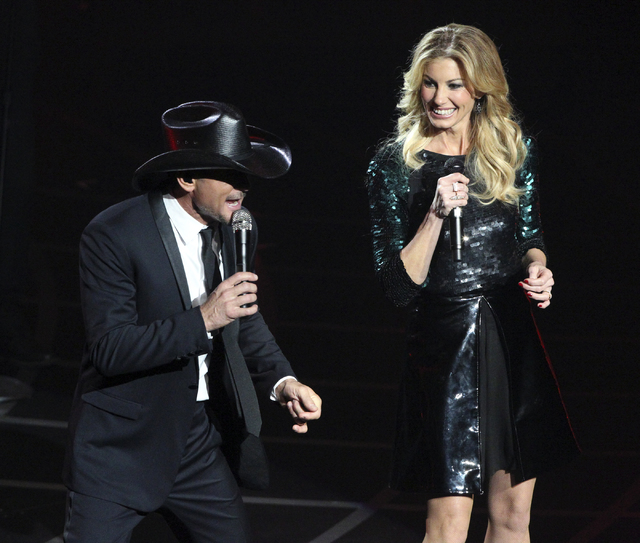 Once again, country music's Barbie and Ken, err Faith Hill and Tim McGraw, are hitting the road together.
Here are five things you need to know about "Soul2Soul: The World Tour."
Been a long time comin'
It's been a decade since McGraw and Hill last toured the country together. Granted, the couple did kick off a residency at The Venetian in 2012, but this is their first return to high-watt arena production since 2007 and the third time they've hit the road as a co-bill, dating back to the debut of their "Soul2Soul" outing in 2000.
It's one of the hottest tickets of the summer
The first 28 shows of the "Soul2Soul" tour, all the concerts for which there are box office numbers currently available, have sold out, drawing over 345,000 fans and grossing nearly $30 million thus far. And that's with less than half the 79-date tour completed.
Half and half and then some
Like previous outings, the show features both Hill and McGraw performing together and individually throughout the evening, their setlist spanning over two-dozen songs. So you can "Live Like You're Dying" and savor "This Kiss" in the same night. Unlike the last time these two toured, however, they will sing together more frequently throughout the show instead of their duets bookending lengthy solo sets.
New day, new hit
Hill and McGraw will be performing their latest hit, wistful ballad "Speak to a Girl," which is the first single from their forthcoming collaboration album. Like much of Hill's repertoire, the song impacted both the country and the pop charts.
Expect some country curveballs from last time
Though the show culminates once again with big-hearted ballad "I Need You," there will be plenty of twists along the way, like a cover of an Aretha Franklin-George Michael duet and numerous songs that Hill and McGraw didn't play the last time they toured. You'll be surprised, trust us. So, have a little Faith. And Tim.
Contact Jason Bracelin at jbracelin @reviewjournal.com or 702-383-0476. Follow @JasonBracelin on Twitter.