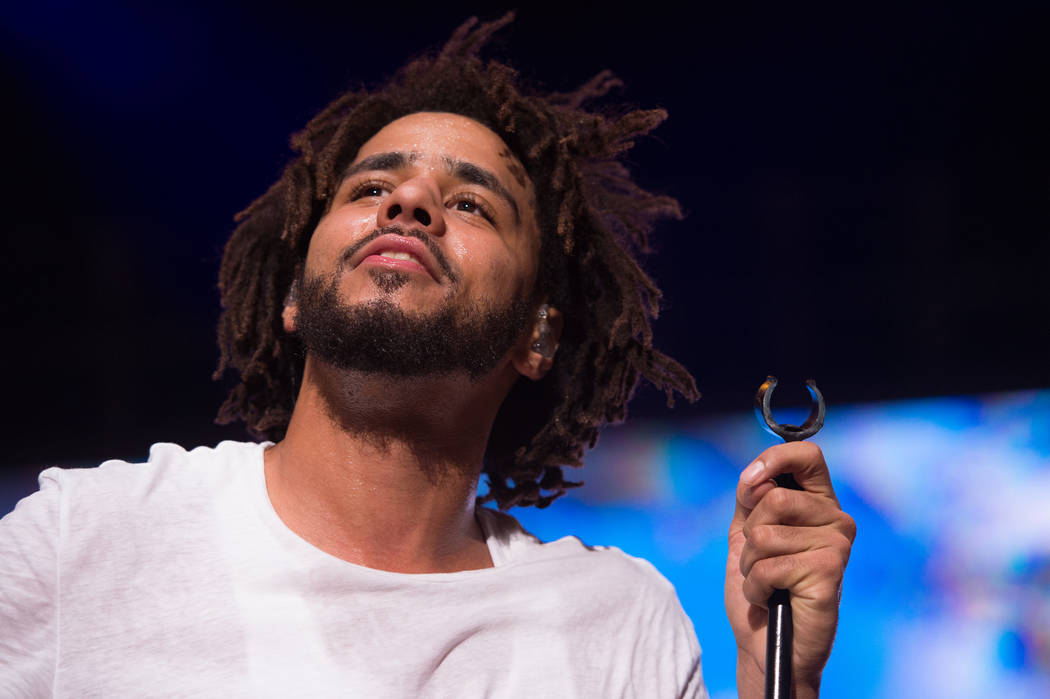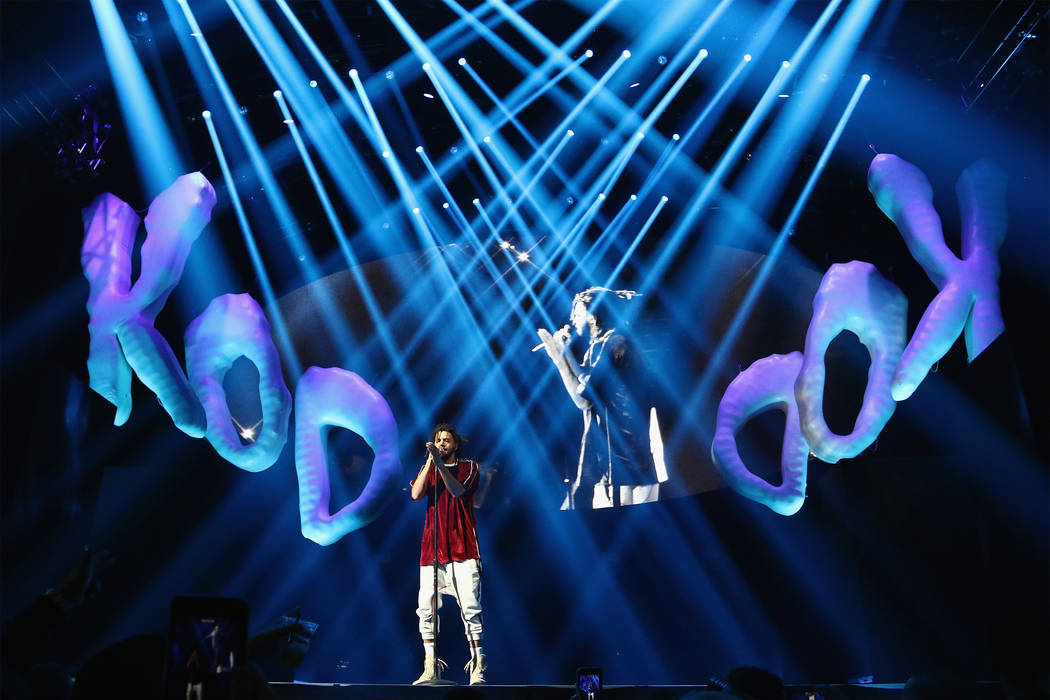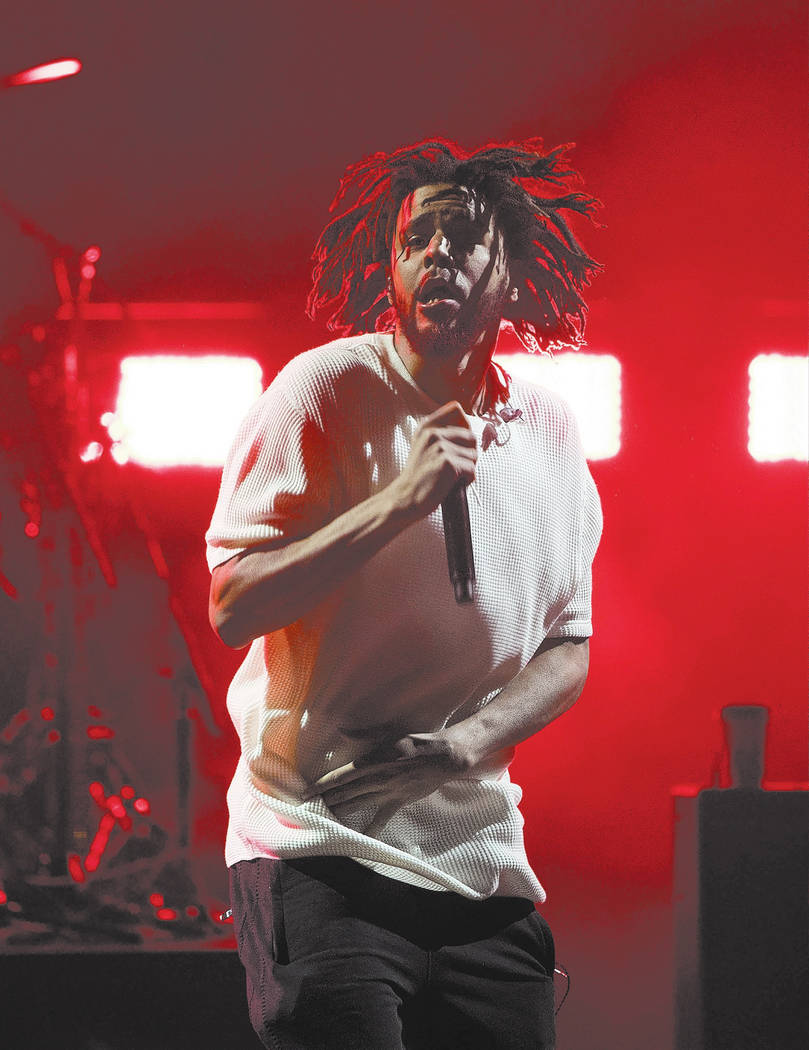 If practice makes perfect, he's practice's baby.
Or so J. Cole likes to call himself.
The 33-year old MC is a true craftsman, a tender-hearted technician who raps with depth, candor, intellect — he graduated magna cum laude from St. John's University — and uninhibited emotion.
Since dropping his first mixtape in 2007, the aptly titled "The Come Up,"
Cole has evolved into a voice for hip-hop's conscience, a thoughtful agitator who questions materialism, masculinity and rap stars' influence on the world around them.
Along the way, he's developed into one of the genre's best of his generation.
"While the people debate who's the king of this rap game / Here comes li'l ol' Jermaine," Cole announces on "Fire Squad" from his chart-topping third album, "2014 Forest Hills Drive," a boast that's not without merit.
But just who is li'l ol' Jermaine?
Check out this six-song playlist to begin to understand what J. Cole is all about.
'Apparently' ('2014 Forest Hills Drive')
The album takes its title from the address of Cole's boyhood home in Fayetteville, North Carolina, and on this track Cole laments not being there for his mom when it was foreclosed upon while he was at college.
"I'm so sorry that I left you there to deal with that alone," he regrets on a song that doubles as a testament to a mother's selflessness.
Years later, Cole would make good: Not only did he buy his mother a house, but in 2014, he purchased his childhood home to let single mothers and their children live there rent-free.
'She's Mine Pt. 2' ('4 Your Eyez Only')
The piano is gentle, the questions hard in this lullaby to first-time fatherhood.
"Am I worthy of this gift?" Cole wonders as his newborn daughter cries in the background. "Am I strong enough to lift, into a place that I can see / Someone more important than me?"
Having grown up without his dad around, he vows to be there for his child.
"For the first time / For you, I drop the tough guy (stuff)," he tells her, never sounding tougher.
'Let Nas Down' ('Born Sinner')
Plenty of rappers get dismissed as sellouts for chasing commercial success with pop-leaning hits, but seldom is it those rappers themselves doing the dismissing. That's what Cole does here, though, taking himself to task after releasing run-of-the-mill sex anthem "Work Out" as the lead single for his major label debut, "Cole World."
Stung upon learning that one of his heroes, rapper Nas, was disappointed in him for releasing an obvious cash grab, Cole repents over a squealing sax line.
"Apologies to OGs for sacrificin' my art," he atones, making amends by never making that mistake again.
'Lost Ones' ('Cole World: The Sideline Story')
An after-school-special storyline gains bruising, real-life connotations when this song's protagonist impregnates his girlfriend, then urges her to get an abortion because he doesn't feel they're fit to be parents. She objects, promising to raise the child on her own while noting how hard it was for the man who impregnated her to grow up without a father himself.
"Did you forget all those conversations that we had way back / 'Bout your father and you told me that you hate (him) / Talkin' bout, he a coward and you so glad that you ain't (him)," Cole rhymes in her voice, confronting the painful realization of becoming that which you despise.
'4 Your Eyez Only' ('4 Your Eyez Only')
On the title track to his fourth album, Cole provides a voice for a man who no longer has one: his boyhood friend James McMillan Jr., who died at age 22.
The first two verses are delivered from the perspective of McMillan, as he addresses the daughter he left behind after getting caught up in a life of crime.
"See, baby girl, I realized, my definition of a real (man) was skewed / My views misshaped by new mixtapes / That confirmed the (lessons) I learned in the streets was true."
On the final verse, Cole speaks to his friend's daughter directly, explaining to her the real meaning of masculinity in an environment that often equates being hard with being a man.
"Your daddy was a real (man), not 'cause he was hard / Not because he lived a life of crime and sat behind some bars / Not because he screamed, '(Expletive) the law,' although that was true / Your daddy was a real (man) 'cause he loved you."
'Love Yourz' ('2014 Forest Hills Drive')
Plenty of rappers make a living by pointing out just how much more awesome their lives are in comparison to yours — we're looking at you, Future. But Cole frequently takes the opposite tack. He may elevate himself over other rappers, but not his audience.
"No such thing as a life that's better than yours," Cole argues here. "Always gon' be a whip that's better than the one you got / Always gon' be some clothes / That's fresher than the ones you rock / Always gon' be a (lovely young lady) that's badder out there on the tours / But you ain't never gon' be happy till you love yours / For what's money without happiness?"
His point: Don't sweat those empty pockets so long as the heart is full.
Contact Jason Bracelin at jbracelin@reviewjournal.com or 702-383-0476. Follow @JasonBracelin on Twitter.