November 6, 2014 - 8:53 pm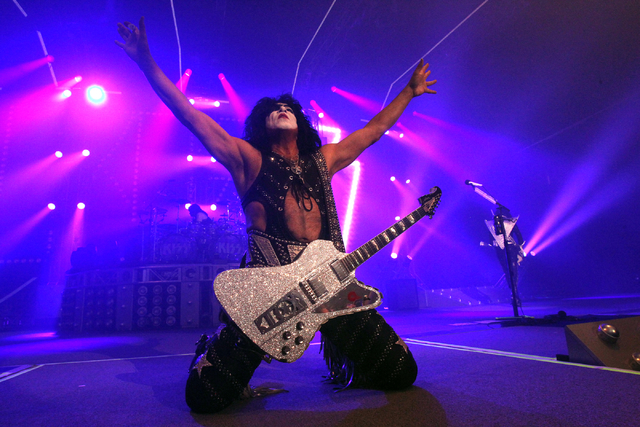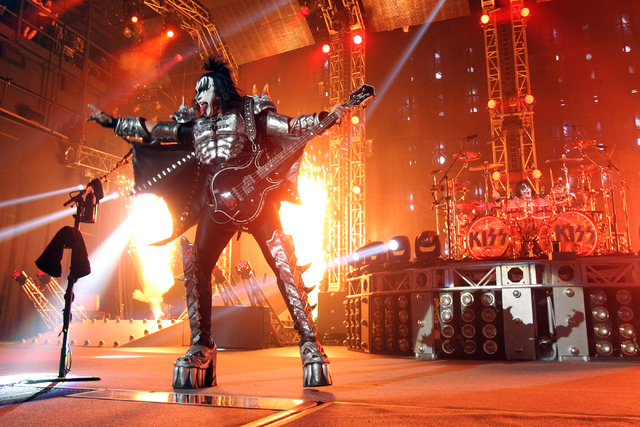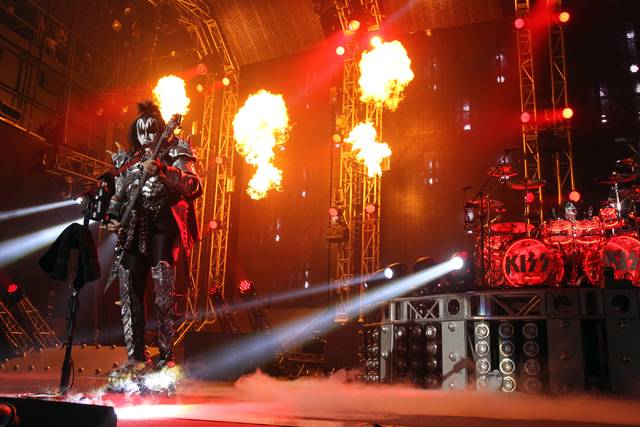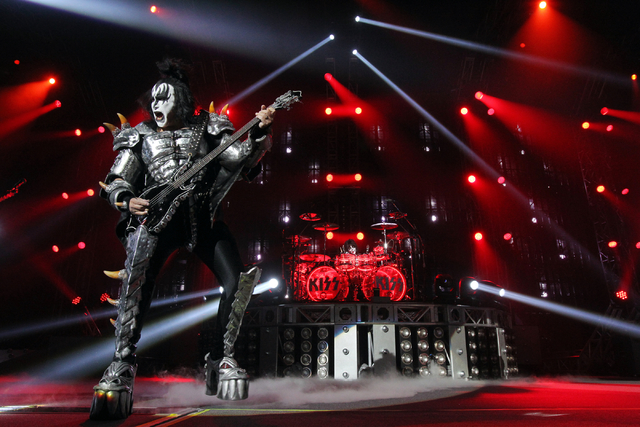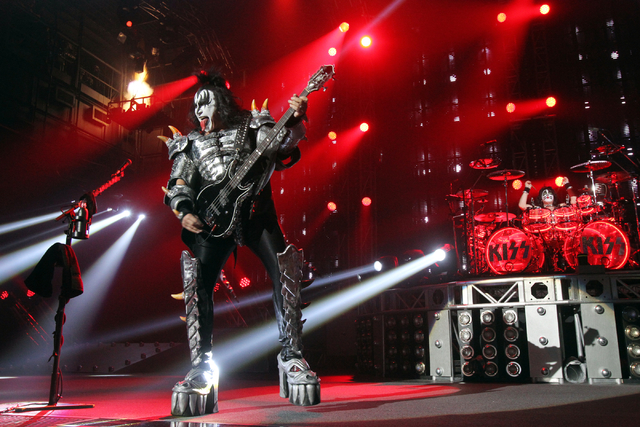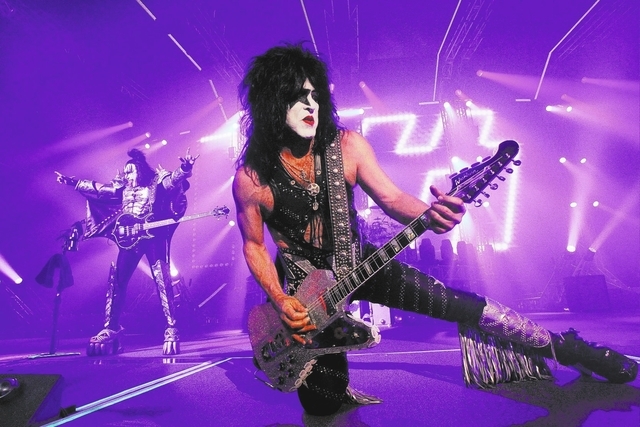 It sounded like blasphemy, voiced by a man sporting the sparkly tights of a bedazzled superhero.
"Tonight, size doesn't count," Kiss singer-guitarist Paul Stanley announced three songs into the opening night of his band's nine-show residency at The Joint at the Hard Rock on Wednesday.
Wait, what?
Size not only counts when it comes to Kiss, it defines them: This is a band where bigger is always better and the only time less is more is when it comes to music critics.
A sense of scale is important to this bunch: They proudly — and loudly — lay claim to outsize record sales (over 100 million albums sold worldwide), the largest merchandise line of any band ever (more than 3,000 items, ranging from coffins to condoms. Need a band-themed sweater for your dachshund? They've got you covered) and a stage show flush with IMAX-sized video screens, lots of fire and explosions and a flame-breathing 65-year-old wagging his tongue like a winded Great Dane.
Even their concert garb betrays this infatuation with all things larger than life, with their trademark platform boots allowing them to scale heights that genetics would otherwise deny.
But above all else, Kiss knows how to market itself, and so the main selling point of the band's stint at The Joint is a reduction in scope: the chance to see Kiss in the relatively cozy confines of a 4,000-capacity venue as opposed to the arenas and amphitheaters the band normally headlines.
Little else distinguishes the show from the tried-and-true Kiss spectacle.
The 16-song set list contained few surprises — though they did throw in a rugged, hard-nosed version of near-ballad "Tears Are Falling," which the band only recently began playing again after a two-year absence from their shows.
Likewise, the evening's theatrical flourishes would have been familiar to those who saw the band on their recently completed "40th Anniversary Tour": Gene Simmons spewing blood and soaring to the rafters during his bass solo; Paul Stanley flying across the room on a harness, playing "Love Gun" from a pair of risers attached to the balcony on each side of the venue.
But in Kiss' case, familiarity breeds comfort, not contempt.
They're the rock 'n' roll equivalent of an effects-laden action flick, and one of the main attractions of said films aside from all the visual fireworks and surface thrills is that the ending is predictable: The good guys win, the bad guys get buried.
And so while Kiss didn't stray from the script at The Joint, they didn't need to, either. This was high-watt eye and ear candy delivered with palpable relish, coming and going in a fat-free hour-and-forty-five minutes.
There was the seismic rumble of Simmons-sung stompers like "Parasite," "God of Thunder," outfitted with a bulldozer riff and a bass drum thump that approximated cannon fire, and "I Love It Loud," a battle cry in the war against polite sensibilities.
Drummer Eric Singer belted out a bullish "Black Diamond," guitarist Tommy Thayer soloed zealously and launched pyro from the neck of his guitar following "Lick It Up," and Stanley equated the experience of taking in one of Kiss' signature tunes with religious devotion.
"It's like goin' to church," he howled before kick-starting "Detroit Rock City."
The band paused only to give stage time to a charitable organization that presented a house to a Vegas-based war veteran.
Then came a little disco ("I Was Made for Lovin' You)" and a lot of confetti, which turned The Joint into a blizzard of papier mache during a show-closing "Rock and Roll All Nite," which culminated with Stanley smashing his guitar onstage as explosion after explosion rocked the room.
'Til the very end, these dudes did their best to knock 'em dead.
Hey, they've got caskets to sell, you know?
Contact reporter Jason Bracelin at jbracelin@reviewjournal.com or 702-383-0476. Follow on Twitter @JasonBracelin.
REVIEW
Who: Kiss
When: Wednesday
Where: The Joint at the Hard Rock
Attendance: 4,000
Grade: B