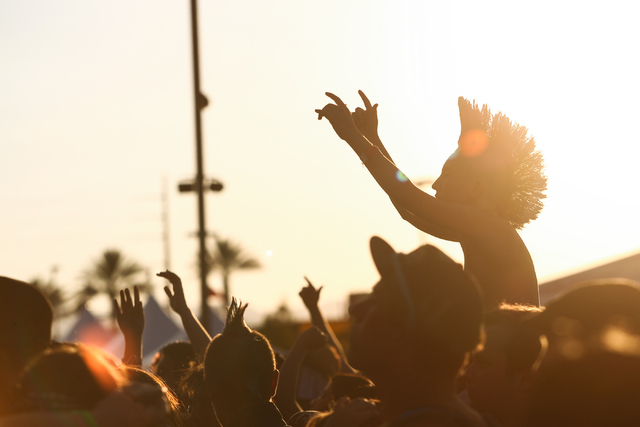 It's like the Human Genome Project, but with punk bands swapped for DNA.
The man behind it all, who's sitting outside the Sambalatte coffeehouse in a Masked Intruder T-shirt, is a librarian, not a genealogist.
But Steven Matview could pass for the latter, at least informally, as he helps document and preserve a portion of the lineage of the Vegas punk and hardcore scene.
For three years now, Matview has overseen punksinvegas.com, a punk-centered music website that he started while taking a class in website development as he was pursuing his master's degree in library science.
A year ago, Matview added a great feature to the site, excavating out-of-print or unreleased recordings from Vegas bands that he initially became a fan of during his teen years in the late '90s. Since then, he's made available for free download albums from such influential Vegas bands as Mercury Sky, Weirding Way, the Happy Campers and more, often with lots of vintage pictures, old show fliers and extensive liner notes from the bands to create a sort of online history lesson of the bands in question.
Matview got the idea for the series when he would reminisce about some of the bands that he grew up following to the younger contributors to his site, only to find that, often, they didn't know who he was talking about.
"I just thought about how weird that was, that all these bands that meant a lot to me growing up, people don't even know about anymore," he says. "A lot of this stuff came out on cassette and things like that, it was never on the Internet, so people just didn't have access to it. So I wanted to get it out there."
In doing so, he hopes to turn on fans of contemporary Vegas bands to the groups they were inspired by.
"I was talking to the guys in Caravels about going to those Faded Grey and Curl Up and Die shows when we were kids and that's the kind of stuff that influenced them, but a lot of people who are seeing Caravels now don't even have any idea that a band from Vegas was touring with Hot Water Music and Thrice. It just sort of gets lost," he says. "Teens now will listen to Caravels and go, 'I want to do something like that.' So I think it's cool that we're putting it in more of a bigger context like that, like, 'Be influenced by them, but also check out their influences.' "
Future planned installments of the series include releases from the Loud Pipes, Faded Grey and Boba Fett Youth, with ska-punks Attaboy Skip topping Matview's wish list of groups he'd like to work with.
Time may have forgotten some of these bands, but Matview hasn't.
Neither should the rest of us.
Contact reporter Jason Bracelin at jbracelin@reviewjournal.com or 702-383-0476. Follow on Twitter @JasonBracelin.