Answering the tough questions about Katy Perry's new album
January 18, 2018 - 11:29 am
Updated January 19, 2018 - 5:32 pm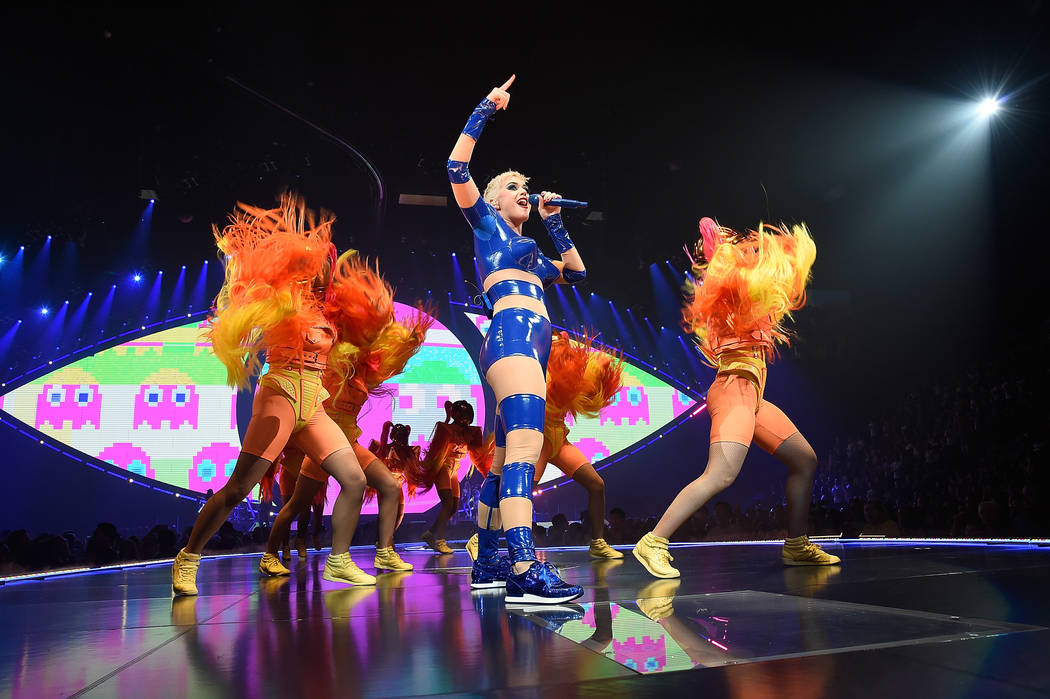 There are burning questions, and then are magma-hot lines of inquiry capable of liquefying those lesser tongues that would dare attempt to answer them.
Time for the latter, hombres.
With Katy Perry coming to town in support of her latest record, "Witness," there's a lot you want to know about said album.
You've got the Q's. We've got the A's.
Now let's get to it with some actual questions from fictitious readers:
First off, what's up with that album cover featuring Perry with her hands over her eyes and an eyeball in her mouth?
Feel free to skip over the long-winded pile of yada, yada, yada below: It's Perry's "official" explanation for her "Witness" cover art — these are her words, not ours, so they're far less interesting.
"Music has allowed me to travel, which has re-educated my mind and changed my perspective on so much, so my education and my consciousness comes from my voice, and that's how I see, and that's how I witness you, and that's how you witness me, and that's why the eye is in the mouth," Perry told "Entertainment Tonight" last May.
Quick recap: Blah-blah-blah, personal enlightenment, blah-blah-blah, deeper understanding of one's true reason for being, blah-blah-blah.
Now, the real reason that Perry is obscuring her vision and gobbling an eyeball is simple: She's shielding herself from reviews of "Witness."
Speaking of which …
Why has "Witness" elicited such a chilly reception?
Critics have not been kind to "Witness": The review-compiling website Metacritic, which is kind of like the music version of Rotten Tomatoes, gave the album a score of 52 out of 100 based on reviews from 19 publications.
To borrow a line from the baby in "Mother!": "Ouch."
Seriously, though, "Witness" isn't that bad.
More sonically understated than her past efforts with a pulsating electro-pop production, it lacks the anthems and energy of Perry's previous albums, though she's still capably playing the role of you-can-do-it! pop spark plug.
Sure, there are some seriously odd metaphors going on here.
"So tonight we test limits / Take the safety off for a minute," Perry sings on "Roulette." " 'Cause my love's a bullet with your name written on it / Just load it and spin it."
Hmm, so you're saying that being with you is a potentially fatal undertaking akin to getting one's "Deer Hunter" on? (Not to be outdone, Taylor Swift's rumored to be readying a new single equating her love to standing in front of a mirror and repeating "Candyman" three times.).
All told, "Witness" is kind of like being expected to both feed and clothe your children: annoying and tedious at times, but you know it'll all be over at some point.
What the !@#$ is a 'Mind Maze'?!!
Why, it's a labyrinth of anxiety that Perry must navigate in song or else suffer a terrible fate, such as crippling self-doubt, ebbing stardom or — gulp! — having to suffer the indignity of becoming a judge on the relaunch of a past-its-prime singing show with a history of befouling the musical landscape.
"Am I a car on fire?" Perry wonders on the tune in question. "Will I be devoured?"
Not sure who'd want to feast on a flaming Hyundai, but we get her point: The song's about empowerment — as much of "Witness" is — about finding a measure of inner strength and confidence, not being afraid to be one's true self and ignoring those whose voices simply don't matter.
You know, like music critics.
What are Katy Perry's chances of landing a role in 'Semi-Pro 2'?
Easily the question we get asked the most, pretty much daily.
And understandably so.
Like all other true cineastes, we're eagerly awaiting the follow-up to Will Ferrell's 2008 basketball classic, where he starred as the immortal Jackie Moon in what's best described as a true-life "Hoop Dreams."
No slouch on the hard court, Perry showcased her b-ball skills in the video for "Swish Swish," the third single from "Witness," where she rocks a tiger-striped onesie, dunks on suckas and does the worm in a pile of confetti.
And so, we'd say her chances of starring in this surefire blockbuster sequel that no one currently has any intention of making are pretty much 100 percent.
As Moon himself once said: "In the annals of history, people are going to be talking about three things: the discovery of fire, invention of the submarine, and the Flint, Michigan Mega Bowl."
Add this one to the list.
Preview
■ Who: Katy Perry, Carly Rae Jepsen
■ When: 7:30 p.m. Saturday
■ Where: T-Mobile Arena, 3780 Las Vegas Blvd South
■ Tickets: $50.59-$200.59 (702-692-1600)
Contact Jason Bracelin at jbracelin@reviewjournal.com or 702-383-0476. Follow @JasonBracelin on Twitter.