Book & Stage at Cosmopolitan blends sports book, showroom
December 17, 2010 - 12:00 am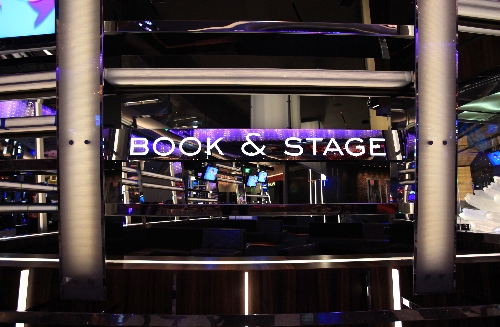 The idea of the Vegas lounge act comes saddled with cliches so moldy, they could double as penicillin.
The lounge singer is inherently cheesy, Velveeta incarnate, Bill Murray as Nick Winters, right?
"I think one of the misconceptions of the public is what a Vegas lounge act was," says Rehan Choudhry, director of entertainment and special events at The Cosmopolitan of Las Vegas. "I think they associate it with a particular style of music, but the reality was that it was a showcase spot for guests to be able to experience new music and for artists to be able to try new things. A lot of times, they were longer runs, multiday and multimonth residencies. We really wanted to bring that back."
But the Cosmo isn't bringing the lounge act back so much as giving it a new identity via Book & Stage, a novel combination of sports book and music venue that features up-and-coming, mostly indie acts in a fresh setting.
Performing behind the polished circular bar, across the way from a plethora of flat screen TVs, acts will take the stage in a casual, open environment. The shows are free, and artists will perform multinight stands.
It's meant to be a break from the traditional concert experience, something more intimate and informal, with the emphasis on showcasing a diverse selection of rising artists.
"Our music program as a whole is really inspired by festival concepts," Choudhry says. "The idea at a festival is that you've got groups of people who are coming in for specific bands. Maybe going to Lollapalooza this year, your average visitor was going to see Lady Gaga, but the exciting thing is that they got to experience a hundred other artists who they might not have heard of before and maybe never thought that they would listen to ever, and they got to experience it with a variety of different people."
In an attempt to foster this vibe in a showroom environment, albeit a more open interpretation of one, the Cosmopolitan is working with C3 Presents, an Austin-based company that books Lollapalooza and the Austin City Limits Music Festival, which has assembled an impressive opening roster of acts for the room, including stints from of-the-moment artists such as Brit soul revisionist Jamie Lidell (Dec. 29-Jan. 1), sunbaked lo-fi rockers Best Coast (Jan. 5-8) and R&B throwback Aloe Blacc (Jan. 19-22), among others.
"The Cosmopolitan as a whole really has an indie spirit at its core, and when developing the music program from the very beginning, that's one of the attributes of the property that I really felt needed to come through," Choudhry says. "To be able to be a part of exposing a whole new category of music, a whole new category of artists to a Las Vegas customer was probably the most exciting thing for us.
"For acts like Best Coast, who are touring and have a following," he continues, "this is an opportunity for fans to see their favorite rising acts in a completely new environment that's open, social and collaborative."
In addition to Book & Stage, The Cosmopolitan will host bigger bands in a ballroom-type venue, The Chelsea, which the Black Keys are playing in February, and the Boulevard Pool, a large open space on the fourth floor with a backdrop of Las Vegas Boulevard and great views of the Strip.
It's a multitiered space with an amphitheater feel to it and a capacity between 2,500 and 3,000.
The Killers frontman Brandon Flowers christened the venue Wednesday, and more big acts will be making a splash there in the months ahead.
"It really serves as a community center space for us to do a variety of things," Choudhry says. "One of the things that I wanted to get away from was the notion that a headliner needed to be in an IMAX-style environment, where you get your ticket, you check in, they close the doors behind you, it's a dark room and you're seeing the band. This is the way music should be experienced."
Contact reporter Jason Bracelin at jbracelin@ reviewjournal.com or 702-383-0476.