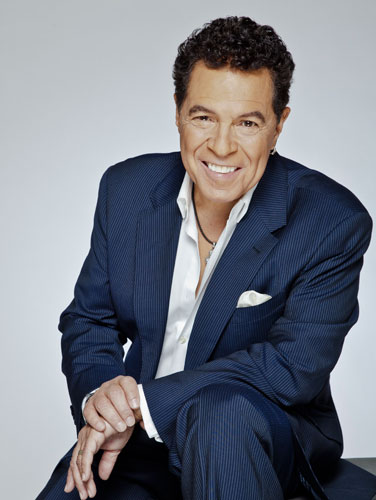 Clint Holmes is getting used to explaining the difference between purpose and place — how a "cabaret," a "theater" and a "nightclub" are places to see a show, but also a kind of show as well.
And then there's the geography between Las Vegas and New York. The fans who know what they want from Holmes here, versus the friends he is trying to make in the Big Apple.
Fortunately, this guy knows his way around.
The veteran entertainer launches his residency as the monthly anchor of The Smith Center's Cabaret Jazz venue this weekend, with all three shows in the 256-seater nearing capacity at this writing.
The room is new, and so is "cabaret" as a genre, as practiced by the likes of Andrea Marcovicci (April 13-14) and Jane Monheit (May 18-19).
"I think cabaret is kind of a combination of nightclub and theater," Holmes says. "More narratively driven than a nightclub act, and yet it is a nightclub act. And that is the challenge to it, really.
"To find your way through that cabaret genre, I think you have to raise the stakes a little bit," he adds. "If I do my nightclub act, I just simply pick the songs I like and do them. This has a little bit more of a work ethic to it."
Holmes has the showroom side of the equation down cold. Las Vegans remain loyal from his long run at Harrah's Las Vegas and more recent weekends at the Suncoast.
But at the historic Cafe Carlyle in New York, the mirror is spun around. New Yorkers may have lost track of the Buffalo, N.Y., native since he left the tristate area for Las Vegas in 2000. But they know what to expect from a cabaret singer.
The Cafe Carlyle was the three-decade home base of the late cabaret legend Bobby Short (and remains the Monday night roost of Woody Allen as jazz man). The home court crowd at The Smith Center will see a preview of "This Thing Called Love," the show Holmes is ramping up for the Carlyle April 10-28.
"One of the things I've learned about doing cabaret … is there really needs to be a real point of view to the evening," Holmes says.
So Holmes and director Larry Moss came up with the notion of mashing up Cole Porter and Paul Simon: What would happen "if they walked into a bar and sat down and started to talk about love," Holmes says.
With Porter, "you can almost see the martini in his hand as he writes," and with Simon, "you kind of get the sense there's a beer on the table behind him. And yet they both made statements about their time."
Holmes and musical director Jeff Neiman's five-piece band sometimes make them unlikely partners, mashing up Simon's "Have a Good Time" with Porter's "It's All Right With Me," and "50 Ways to Leave Your Lover" with "Get Out of Town."
Holmes is still waiting to explore the "theater" side of New York. Director Moss also guided his autobiographical musical "Just Another Man" through its early workshop versions. But so far, he's found the door more open at the Carlyle than for a high-stakes Broadway gamble.
"This is part of that learning experience," he says. "There's a bit of being an actor in this."
Holmes assures his local fans that when he returns in May, it will be with a different and likely less formal vehicle. He still wants to call up his performer friends as guest stars and wants to make room for looser moments in even this weekend's shows.
But the goal isn't to take refuge in the familiar.
"It's more interesting and more of a challenge, and also more of a statement in a brand new room and brand new situation, to say, 'It is a little bit different,' " he says.
"It's the same guy, he sounds the same and all of that, and it's the same energy and persona. But it's a little bit different. And I think that's a good way to go in."
Contact reporter Mike Weatherford at mweatherford@reviewjournal.com or 702-383-0288.
PREVIEW
Who: Clint Holmes
When: 8:30 p.m. Friday, 8:30 and 10:30 p.m. Saturday
Where: The Smith Center for the Performing Arts, 361 Symphony Park Drive
Tickets: $38-$51 (749-2000)