College's mariachi program lets students tap passion for Mexican music genre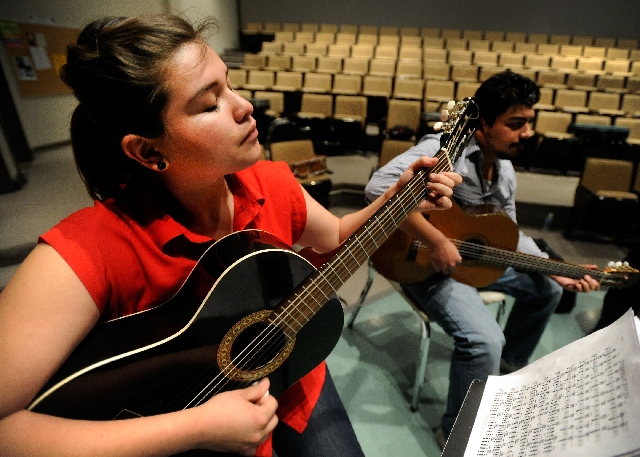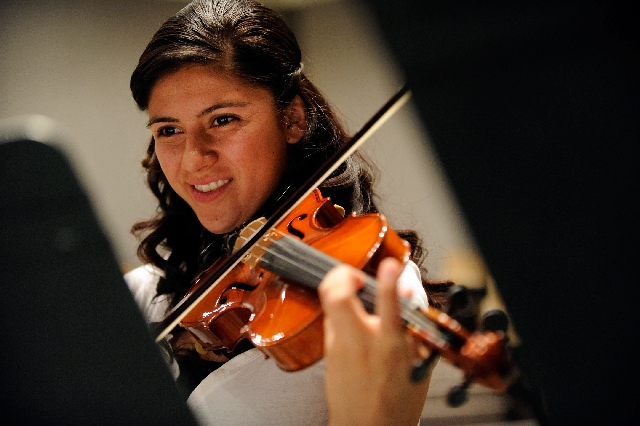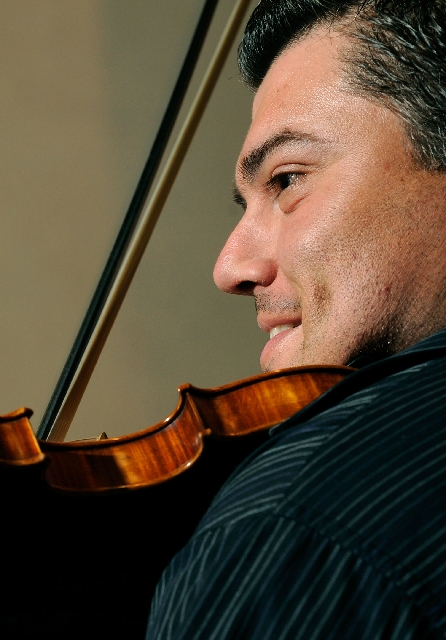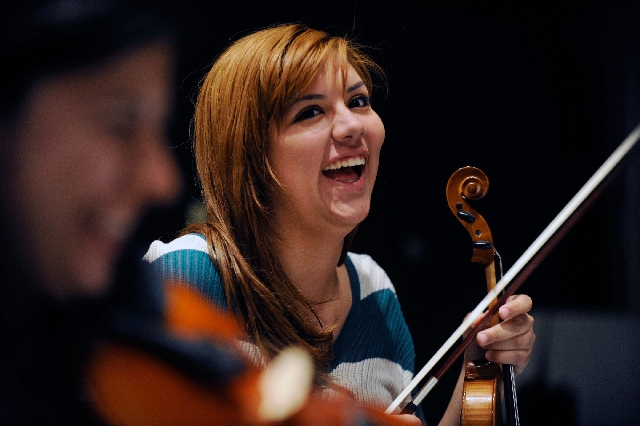 If it weren't for the Clark County School District's mariachi music program, Krystal Reyes would have never considered college. Her professional aspirations would have tapped out with a front desk position at the casino where she now works. And, her musical interests would have never surpassed the tween tingles she got while listening to a Britney Spears album.
Now, the 23-year-old is a music education major at College of Southern Nevada, which introduced a mariachi music program in fall 2012. Reyes hopes to one day teach mariachi music to kids just like her; kids who have no idea an undiscovered passion for the old Mexican music genre lies within them.
"A lot of these students graduated through the mariachi program in the Clark County School District," says Adalberto Garcia, who teaches the programs at CSN and Bridger Middle School. "One of the reasons (CSN) wanted to start it here was to attract the students to the college."
It's beneficial, however, to both the students and the program. Bringing students to the college who typically wouldn't enroll means many of these kids may be their family's first college graduate. It also means more students at CSN.
On a recent Wednesday afternoon, the recital hall at CSN blasted music most the kids playing it once wrote off as old-fashioned, stuff their parents and grandparents listened to. But the nine students in the class mastered their instruments over the years, making the emotions of a ballad such as "Lloraras," or "You Will Cry," resonate with Spanish and non-Spanish speakers alike.
Federico Mendez, 26, sang the classic, eyes closed. He furrowed his brow as the lyrical tears left his lips. Four violin bows glided in unison, the strings of five guitars strummed gently and a single trumpet (belonging to another instructor) cried along with them.
Mendez may have appeared as comfortable on the rehearsal stage as the velvet curtains, but he's the only one of the group who didn't make his way through the school district's mariachi program. The self-taught guitarron and accordion player signed up for the class — at a counselor's recommendation and with Garcia's approval — and couldn't believe his ears. Was he intimidated?
"Yes. These guys are pros," he says. "But I wasn't gonna quit."
He graduated in 2010 with a degree in engineering and worked for the first couple of years out of college. Recent unemployment led him back to school and renewed his interest in the music genre that he says he always had a fondness for because, "I'm Mexican."
But, students such as Reyes and Zaira Piedra, 19, needed more than just their ethnic heritage to get them interested in mariachi music.
Piedra is an interior architecture and design major. She played the cello in orchestra in grade school, heard about the mariachi program in high school and, although she never particularly liked the music, enrolled on a whim.
"I liked the liveliness it brings people," she says. "Even though we have a lot of sad songs, there's a song for everything."
The more she was exposed to mariachi music, the more she learned to appreciate it. Plus, there was a camaraderie with this program, in which she plays violin, that she didn't have in orchestra.
"Playing it brings us together like a family and we treat each other like that," she says. "And I've seen people with lots of backgrounds get into it, like rockers and skaters."
Reyes, who loved Britney Spears as a kid, remembers her father coaxing her to have a mariachi band at her quinceanera. She refused. Funny, considering she now takes this program as part of her music studies and has formed an all-female mariachi band of her own called Fina Estampa.
"I got into it in high school and fell in love," says the violin player, singer and pianist. "It makes you feel the way you're supposed to feel and, if not, then they're not playing it right."
She connected with the music's emotional aspect the first time she had to sing a mariachi song, "Amor Eterno," onstage in front of an audience. Her grandmother's sister, to whom she was very close, had just passed away. It was the day of her funeral and the then-high school student remembers not wanting to be around the tears and mourning.
She took the stage the day of the performance and sang the song, calling on all her teenage will not to break down. "How I wish, oh, that you lived," the English translation of the song goes. "That your little eyes never had closed."
Reyes felt her great-aunt's presence beside her and she went into a safe place that she says she returns to every time she plays or sings mariachi music.
"That's why I'm with this group. I want to keep that feeling," she says. "One day I want to be teaching it. I didn't know what I wanted to do with my life before this. It really changed me and the way I think."
The CSN Mariachi Band performs its semester-end concert from 7:30 to 9:30 p.m. Tuesday at the CSN Cheyenne campus at the Nicholas J. Horn Theatre. Tickets are $5 to $8. Call 651-5483 for more information.
Contact Xazmin Garza at xgarza@reviewjournal.com or 702-383-0477. Follow her on Twitter @startswithanx.
PREVIEW
What: College of Southern Nevada Mariachi Band
When: 7:30 p.m. Tuesday
Where: Nicholas J. Horn Theatre, College of Southern Nevada Cheyenne campus, 3200 E. Cheyenne Ave., North Las Vegas
Tickets: $5-$8 (651-5483)