Dance unites diverse acts on second night of iHeartRadio festival
September 25, 2016 - 4:17 pm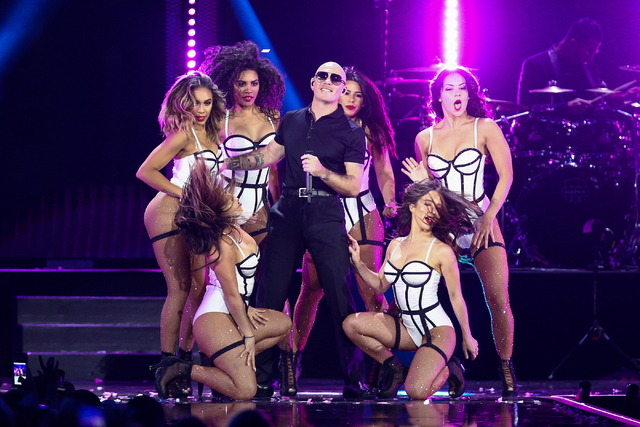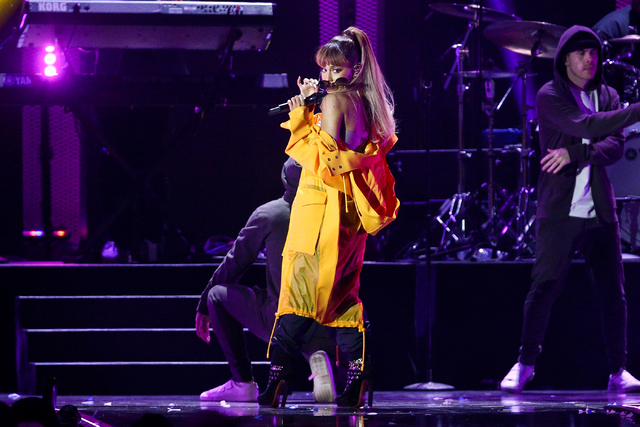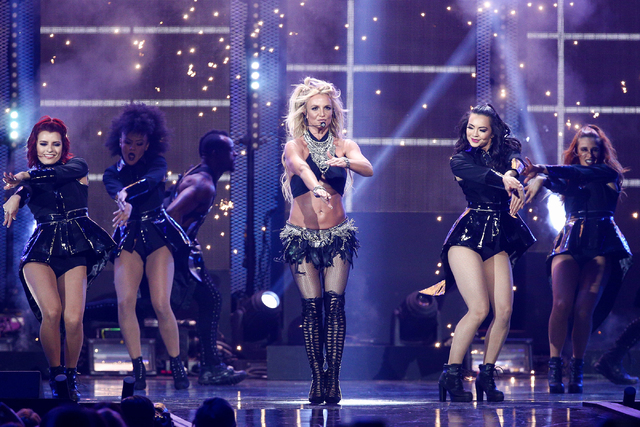 In these very divisive times, Pitbull tells us, a few things unite us.
"We know how to get loose. We know how to get wild." And we all know the chant that begins, "The roof. The roof. The roof is on fire …"
If the first night of the iHeartRadio Festival on Friday was more about the importance of being earnest — with U2 and at least two more acts ruminating enough to need piano or cello — then Saturday was about the party.
And who wants to party alone?
Usher's "Yeah!" would have been fine with just him sending the post-midnight die-hards to the sidewalks. But iHeart is a big promotional celebration of radio's biggest conglomerate. It has an expense account. And that song just sounds more the way it should if you can fly in Ludacris and Lil Jon to help.
And crunk isn't all they do in the South. Somewhere on the Florida Georgia Line they're gassin' up the Chevy to dance in the dust. But where did they learn those dance moves? Why at the House of Blues in Orlando, where FGL's Brian Kelley saw his first concert, the Backstreet Boys, he tells us.
You will believe what happened next. An evening that already had two of concert promoter Live Nation's Planet Hollywood stars, Pitbull and Britney Spears, added the Boys and their unbilled mini-set to trumpet 18 "Larger Than Life" shows in the Axis theater in March.
After it was streamed and broadcast live on 150 radio stations, the nearly five-hour show will be cut into a CW highlights show Oct. 7.
The first of two iHeart nights at T-Mobile Arena was U2-dominated, but its acts had more of a musical flow than is usually possible when all genres are lined up for their turn on the revolving stage.
Saturday was more like previous years, or punching radio buttons in your car: Backstreet Boys' "Larger Than Life" was immediately chased by scrappy Cage the Elephant channeling the Ramones for "Mess Around."
If old guys ruled Friday, on Saturday they were at least tolerated.
Tears for Fears' dreamy "Sgt. Pepper's" tribute "Sowing the Seeds of Love" served as a bathroom break for younger audience members, but you have to understand the song came out in 1989, four years before Ariana Grande was born.
(Oddly enough, the 23-year-old beauty only let herself be seen in fuzzed-out, trippy visual effects on the overhead screen, while the 55-year-olds, Roland Orzabal and Curt Smith, put every wrinkle on display.)
Saturday's elder statesman was 64-year-old Sting. He didn't try to Rock the Vote as U2 did the night before, nor seem overly excited about being there. But he did get the job done, previewing his back-to-basics rock album "57th and 9th" with two new songs, "I Can't Stop Thinking About You" and "50,000."
The latter is a tribute to fallen comrades such as Davie Bowie and Prince. Lyrics about how he's "reflecting now on my own past" and looking into the mirror to see "the unhealthy pallor of a troubled ghost" either explained — or made it harder to understand — why he wasn't running up and down the ramp into the audience for a "Roxanne" sing-along.
It did explain why the closing spot went to Usher, whose liquid moves showed no signs of fatigue from jetting in after an earlier New York gig that day.
The iHeart festival repaired some of the divisions made with the company's radio formats by giving equal forum to the upbeat hip-hop of Pitbull and the cranked-up guitars of Cage the Elephant.
Pitbull pilfers licks from Ozzy Osbourne and Nirvana, but he does so for the greater good, and his positivity is contagious: "We're all immigrants. That's how this country got built," he declared.
If Sting reminded us we're only young once, Zedd reminded us not to waste it. Cage had put up an awesome fight on behalf of the electric guitar, but DJ-producer Zedd used every laser, light and video surface in the arena to make us submit to the takeover of electronic dance music.
But then Zedd brought out real humans, Hailee Steinfeld, Nasri and the amazing Aloe Blacc, to show us electronic music doesn't have to come off as robotic and canned as Spears.
The future of radio? Of aging rock stars? Of reigning rappers? Who knows. But as long as there are young people, rest assured they'll find something to dance to.
Read more from Mike Weatherford at reviewjournal.com. Contact him at mweatherford@reviewjournal.com and follow @Mikeweatherford on Twitter.
Review
What: iHeartRadio Music Festival
When: Saturday
Where: T-Mobile Arena