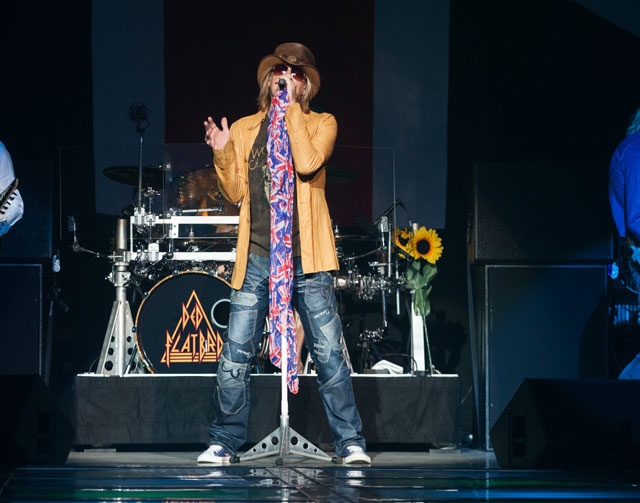 Basically, it was like "Hot Tub Time Machine" with a concert hall in place of a Jacuzzi.
The year: 1987.
That's when Def Leppard released "Hysteria," an album with a massive libido and an even bigger production budget that a good portion of the crowd at The Joint at the Hard Rock on Friday probably lost their virginity to 20-odd years ago.
They certainly acted liked it, smiling in perpetuity, mouthing along to every word, dancing in their seats, carrying on like kids who somehow managed to finagle the keys to their parent's liquor cabinet.
The whole night had the feel of a high school reunion, where past glories are brought into the present and the passing of time is ignored like the bespectacled fellow in one of those '80s teen comedies way back when "nerd" was still considered a pejorative.
Complete strangers, mostly men, slapped each other high-fives with such force that their beers dribbled onto the floor, carrying themselves like proud competitors in the Bud Light Olympics.
Some wore faux mullet wigs; others sported zebra-print Spandex pants.
As for the ladies, there were those who squeezed themselves into leopard-print bodysuits, proving that the sun has still yet to set on the Sunset Strip, that hair metal hotbed of years past whose fashion sense lives on, zombielike.
Together, they partied like "Alf" was still on in prime time.
It was the opening night of Def Leppard's 11-show "Viva Hysteria" residency, but before the band played their signature album front-to-back during their second set, it was time to play "Name that Tune."
Hey, any decent party needs a good drinking game, right?
Here it was.
So, just what was the first song of the night, that no-frills, concrete-dense rocker powered by a growling, minimalist guitar riff?
Turns out it was "Good Morning Freedom," a B-side to the "Hello America" single from 1980's "On Through The Night," which was never included on any of the band's studio albums.
Don't even act like you got that one.
Chug!
Other seldom-played, old-school throwbacks followed such as "Wasted," with its verbose guitar soloing, and "Mirror, Mirror (Look into My Eyes)," which came fattened by a bass line that reverberated like a hammer striking an anvil.
These songs were a reminder that Def Leppard originated on the fringes of the New Wave of British Heavy Metal in the late '70s, exposing the grit that would later be lasered off like an unwanted tattoo.
The band played more poppier fare as well during their 10-song first set, alternating classic rock radio staples such as "Foolin' " and "Bringing on the Heartbreak" with wistful power ballad "When Love & Hate Collide," from the band's 1995 greatest hits album "Vault," and the Cheap Trick-worthy "Promises," from 1999's "Euphoria."
But these tunes felt wan and slight compared to the randy, hot and bothered riffing of "High N' Dry" stomper "Let It Go," which sounded like a Harley's throttle being revved.
After an hour or so of all this, it was time for the show's centerpiece, "Hysteria," played in its entirety.
The album was a turning point for Def Leppard, a move into more high-tech, studio-enhanced terrain, and the stage design reflected as much.
After playing their opening set backed only by a large British flag, it was taken down to reveal a multitiered array of risers fronted by flashing video screens.
It was like going from analog to digital, and the songs the band played mirrored this shift, so precisely honed, it was as if they were machine-made.
"Hysteria" is front loaded with hits: "Animal," "Love Bites," "Rocket," "Pour Some Sugar on Me."
One song after the next, they registered as rock and roll comfort food, chicken noodle soup for the hair metaller's soul, delivered by the music's premier craftsmen, who polished it to such a sheen, you could practically see your reflection in it.
Side two of that record, however, contains lesser-favored tunes, some of which hadn't been played live in decades but which were aired on this night for better (a snarling "Gods of War," with its archly melodic guitars that rang out like cavalry trumpets; the AC/DC-esque thump of "Run Riot") or worse (middle-of-the road pop truffles "Excitable" and "Love and Affection").
In a recent interview with the Review-Journal, Def Leppard frontman Joe Elliott spoke of how the band didn't want to turn into a nostalgia act.
But for this show, Def Leppard indulged that long-avoided impulse for a couple of hours, and seemingly everyone around them did the same.
Outside the venue, dozens of the band's platinum discs were mounted on the walls and there were display cases filled with old Def Leppard stage gear.
Even various restaurants in the casino played along (At 35 Steaks + Martinis, one could feast on the "Mirror Mirror" shrimp ceviche or "Only After Dark" strip steak).
Def Leppard themselves acknowledged this trip down memory lane, showing vintage interview and performance clips on a video screen between sets and displaying old magazine covers that featured the band during the song "Hysteria."
As the group played a show ending "Photograph," which turned into a raucous singalong with the crowd, black-and-white photos of the band members appeared on the screen behind them.
They look different now, but they sound the same.
Likewise, for the thousands of mostly middle-aged fans who paid to see them, it was the voices of their inner teenagers, bellowed out through adult throats, that helped carry the tune on this night.
Contact reporter Jason Bracelin at jbracelin@reviewjournal.com or 702-383-0476.
REVIEWWho
: Def Leppard
When:
Friday
Where:
The Joint at the Hard Rock
Attendance:
4,000 (estimated)
Grade:
B