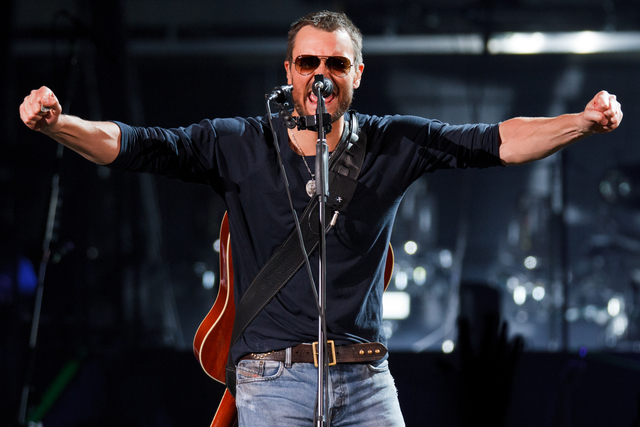 Ten songs into the top-selling country album of 2014, Eric Church doesn't just bite the band hand that feeds him, he gnaws the thing off at the bone.
The tune is "Devil Devil (Prelude: Princess of Darkness)," a brooding cautionary tale in which Church personifies Nashville, Tenn., as a cash-hungry temptress as peals of guitar ricochet around him like bullets bouncing off of concrete.
"You see, it all comes down to money / Not romantic art of days gone past," Church announces, his voice steely, winter-cold. "If you forget that rule, you can bet your backside she will bury it in your ass."
So, what did the record company suits think when they first heard that one?
"It was surprising, shocking for them," Church acknowledges with a chuckle before recalling a joke he played on some of the label guys when he was making the album in question, the tellingly titled "The Outsiders."
He brought them into the studio, played them "Devil Devil" and told them it was going to be the record's first single.
One can only imagine the shades of white they turned at the thought of potentially losing so much green following the success of Church's previous record, 2011's platinum selling "Chief."
But that's the thing with "The Outsiders": It's meant to provoke, and that goes for both listeners and label flacks alike.
Consider its bookends: The album opens with its title track, a snarling call-to-arms that sounds like a 21-gun salute if said guns were replaced with overamped guitars, and closes with its sonic inverse, "The Joint," a disjointed digital throb saturated with electronic beats, processed vocals and horns that bleat like frightened lambs.
Between the two are songs about cold beers and colder hearts, good times and bad ideas, fatherhood and NASCAR.
It's a bold record, the kind of album that sounds like Church cashing out on his success right at the very moment when he should be cashing in on it instead.
This was the whole point of "The Outsiders."
"A lot of artists end up making the records they most want to make after they're no longer relevant," he says. "I didn't want to be somebody who did that.
"The one thing that happens too many times in music is that we choke out the creative process," he adds. "We have success and then all of a sudden you're making music to try to sell a ticket or you're making music so that the label hits a quarterly number. You're making music for all the wrong reasons. At least for this album, I wanted to make sure that we made it for creative reasons. Regardless with what happened after that, I knew I'd be happy with the end result."
Church says that he never really concerned himself with the commercial prospects of "The Outsiders," which is likely one of the main reasons it's been such a commercial success.
It's an uninhibited-sounding album, unsure whether it's country or rock 'n' roll. So it settles for a measure of both.
"I grew up on rock 'n' roll as much as I did country," Church says. "Early on in our career, we weren't really welcome to play a lot of the country places because you had a hard time two-steppin' to what we did. We ended up playing rock clubs, and what's interesting about that is that we ended up finding our people, our fans, in those rock clubs."
To underscore his point, Church is likely the only country act to ever have booked a show with Metallica.
Church and his band can hold their own with those veteran metallers: Live, they're combustible, hungry-looking and fierce.
The last time Church was in town, he set fire to the iHeart Radio Music Festival back in September, turning in the most in-your-face set of the weekend, with Church practically lunging out of his skin as if he guzzled a gallon drum of Red Bull before taking the stage.
Church and company approach their gigs the same way they approach their records: The aim is to create something best taken in as a whole, as a singular experience.
Church has plenty of hits, and he'll play some of them live, but as with "The Outsiders," serving as a vehicle for said hits isn't the point.
"I think a lot of people think that the stuff between the singles is filler. I happen to think that the stuff between the singles is the show," Church says. "We'll play over 2½ hours live, we'll play mainly album cuts. It's not just stuff that you've heard on the radio, and there's a lot of stuff that you've heard on the radio that we do not play in our live show, depending on what night you come.
"I know I'm asking a lot there," he acknowledges, "but I'm still going to ask it."
Contact reporter Jason Bracelin at jbracelin@reviewjournal.com or 702-383-0476. Follow on Twitter @JasonBracelin.
Preview
Eric Church
7 p.m. Jan. 16-17
The Chelsea at The Cosmopolitan of Las Vegas, 3708 Las Vegas Blvd. South
$83.15-$152.65 (800-745-3000)