For UNLV, 10,000 jazz albums are killer-diller donation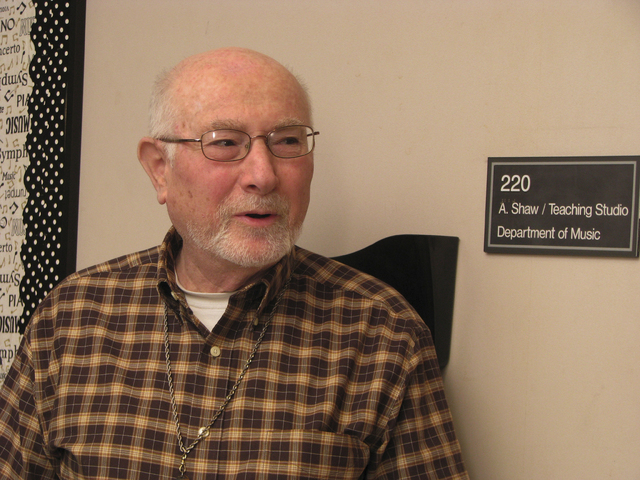 When Arnold J. Smith donated his collection of 10,000 jazz records to UNLV's Arnold Shaw Popular Music Research Center, he hoped to create a living jazz collection, one that could be accessed and enjoyed.
"If I gave it to the Smithsonian, it would sit in the attic gathering dust," Smith said. He added that the Rutgers Institute of Jazz Studies already has many of the albums he's donating, and he did not want to risk duplicating the collection.
Smith called many places trying to find the right home for the collection, but the 75-year-old decided on UNLV because he believes it will be something people can listen to, study and use for research.
"The collection already has (trombonist) Bill Spilka's jazz photo collection," Smith said. "It's a great place to have everything."
UNLV's music collection was started by Arnold Shaw, an author, songwriter and music business executive who began teaching at UNLV after he retired from his executive job.
"The center was created in 1985, and I took it over in 2000," said Ken Hanlon, who joined the faculty of UNLV while working as a musician on the Strip. "Eventually, we'll have everything up and available to look at and listen to on a website, including hundreds of hours of interviews and more than 40,000 albums."
Smith amassed his collection during a lifetime as a fan, a journalist and an educator of jazz. He taught and lectured at several institutes of higher education, including a 26-year run at The New School in New York City teaching jazz insights. He named his blog, jazzinsights.net, for the class.
"I brought in a different artist or industry person to the class every week without fail," he said.
The collection includes hundreds of hours of tape recordings of the classes and the jazz greats who spoke at them. It also includes tapes of rare concerts, posters, artwork, memorabilia and Smith's notes on jazz.
Smith said he also likes having the collection here because the city has a rich jazz history and the potential to be a mecca for jazz.
"There are still a lot of lounges and clubs in Las Vegas where jazz could be performed," he said. "The Four Queens used to broadcast a weekly jazz show. I still have some tapes of those broadcasts. They aired at midnight in New York City because they didn't start until 9 p.m. in Vegas."
The tapes of the show are scheduled to be sent to the Shaw Center.
The collection also includes records Smith's parents owned. They began collecting records before he was born. The first time he saw the word "jazz" was in 1950 on Benny Goodman's first album in the new LP format, "The Famous 1938 Carnegie Hall Jazz Concert." He was 12.
In college, he began writing about jazz, first for the school paper and later for local publications. Although he pondered a career in jazz, he worked for 35 years as a Wall Street executive, married and raised a family.
"I left Wall Street before they were making crazy money," Smith said. "I did OK. I'm not unhappy with how my life turned out."
He always kept one foot in the jazz world, writing, teaching and going to shows. He was an editor at DownBeat magazine from 1974 to '79, and during that time, he visited Cuba, soaking in its music scene.
The collection is being sent in sections to UNLV from his New York home. Smith and Hanlon, the Shaw Center's director, found someone who comes to his home, carefully packs the fragile records and gets them here safely.
Smith intends to make frequent trips to Las Vegas to lecture on jazz and help organize and catalog the collection.
"They need me to come out and translate my handwriting," he said.
Smith hopes other jazz aficionados will be encouraged to contribute their collections to the center.
"I'd like to see jazz come back here in a big way," he said. "Hopefully, people will join me and make UNLV a repository for all things jazz."
Contact reporter Andrew Taylor at ataylor@viewnews.com or 702-380-4532.