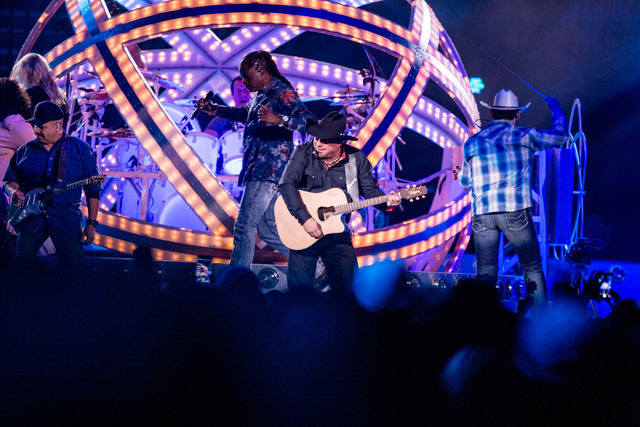 So a little bit of Vegas did rub off on Garth Brooks.
No, not the showmanship thing. Brooks didn't need any extrovert lessons from the Strip. He made showroom crooners and classic rockers all seem like they missed their coffee when he translated Bruce Springsteen's arena shows of the '80s into the prototype language of Nashville's "new country" in the '90s.
Most of Friday's return — for the first of six shows through July 4 in the T-Mobile Arena — was a faithful re-creation of those glory days, down to the players and singers in the 10-piece band. It even had a four-song guest set from Trisha Yearwood, who had not yet made him Mr. Yearwood (as he likes to joke) when she was the opening act for a Thomas & Mack Center run in 1998.
Did you miss him? The 54-year-old ran laps around a clean stage (no backdrop) laid out like an oval track, repeatedly threw his arms in the air to bask in the love and beckoned fans to sing along to "The River" with the house lights up. Only the weird, never-revisited sci-fi theme of the opening "Man Against Machine" acknowledged the digital era.
"When I go to concerts I come to hear the old stuff," Brooks announced to explain why most of it unfolded as throwback ritual, culminating in the shared joy of "Friends in Low Places" and the poignant closer of "The Dance."
If something had been amiss and it had ended there, 10 minutes shy of the two-hour mark, everyone would have gone home happy.
But Brooks found a different way to connect during his three years of acoustic shows at Wynn Las Vegas (the only place to see him during his 14-year break from Nashville stardom to raise his daughters in Oklahoma).
"Some things happen in your life you can never explain. Vegas has always been one of them for me," he told the crowd.
In those Wynn shows, Brooks dialed it down and replaced the barnstorming with a deeper resonance, rediscovering country music's ability to tell a story and create images with a finely-honed phrase.
It was always there on his albums, but had no place in arenas, where the bromance has to reach the upper decks.
But Brooks cited his Wynn years when he came back for an encore segment, which has been known on this tour as "house cleaning." Fans hold up signs with the names of lesser hits or deep album cuts to see if he will bite. When he does, he sings them alone with acoustic guitar, as he did at the Wynn.
This encore stands to be the only variation in the set list for this run; Brooks explained to reporters it's locked down for continuity because the shows are being filmed.
But it let the power of his voice come to the forefront for really the first time, with short versions of a half-dozen songs, including "Wild Horses," "Somewhere Other Than the Night," "To Make You Feel My Love" and George Strait's "Amarillo By Morning."
Those 20 minutes filled in the nostalgic vessel, in which Garth is more a living memory of your younger life than a real person.
Not that he minded, or even that he has to be just one or the other. The arena-rock gods smiled when he declared the throwdown "Callin' Baton Rouge" his favorite song to go nuts on, or when he climbed onto the sphere covering Mike Palmer's drum kit during "Ain't Going Down ('Til the Sun Comes Up)," then grabbed the video camera from a crew member and ran amok.
"Take me home," he instructed for another he-strums, we-sing exercise, "Unanswered Prayers." But of course, he was home. Because an arena is where Garth Brooks belongs, even if the Wynn detour helped cozy up the place.
Friday's show wasn't sold out, so impulse-buyers should check for tickets. And even though the ticket says 7 p.m., those who enjoy eating dinner should know Brooks came on at 8:35 p.m. on Friday, after brief sets from Mitch Rossell and Karyn Rochelle, a songwriter who also sings backup for the star.
Read more from Mike Weatherford at reviewjournal.com. Contact him at mweatherford@reviewjournal.com. Follow him @Mikeweatherford
Review
Who: Garth Brooks
When: Reviewed Friday; more shows at 7 p.m. Saturday and July 2-4
Where: T-Mobile Arena
Attendance: 13,000 (Friday)
Rating: B+