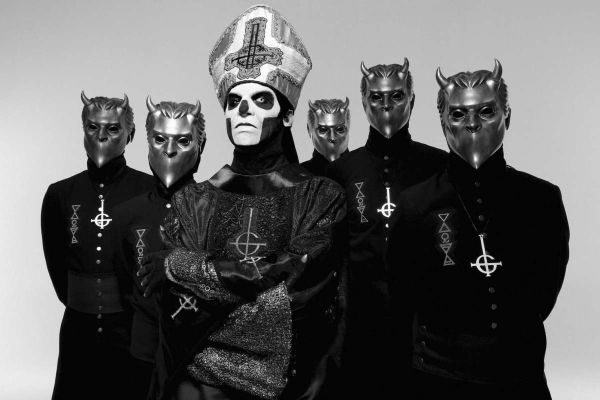 Ghost must love Halloween.
After all, every day must seem like Halloween to these demonic dudes who dress up in ghoulish getups and whose music seems so perfectly paired to the haunted holiday that you'd think the whole thing was manufactured strictly for such a mission. Lest the band be pigeonholed, though, one of Ghost's nameless ghouls points out that this is really more serendipitous than specially designed.
"Halloween is definitely very fitting for our concept," says the act's lead guitarist, one of five anonymous apparitions. "But I've always been a horror movie buff. For me, it feels very purposeful. Not only do I like the genre, but I feel very strong for the scene also, the movement that is the horror buffs. It feels very purposeful being in that environment.
"As much as I don't want to deem us as a Halloween band, obviously, we are very, very strongly affiliated with the whole sort of horror scene. It was never really a point in the beginning. It was never, 'Oh, let's be the dress-up band that does Halloween shows.' It just came with the package.' "
And what an impressive package it is. Steeped in the sacraments of all things scary, the Swedish-based six-piece has perfected its pitch over course of nearly a decade. In that time, Ghost has delivered three full-length albums of supremely satisfying hard rock, filled with satanic verses and sung by a trio of frontmen each named Papa Emeritus (I, II and III, respectively). With each permutation, Papa, clad in papal-like garb, leads a quintet of nameless ghouls, who each don robes and perform in masks in an effort to protect their anonymity, even though that sort of thing is proving to be more and more challenging.
"It's virtually impossible to remain anonymous nowadays," the ghoul says. "You can't. The only way … I mean, people have a tendency to sort of put us next to other bands that had an anonymity image in the past, such as Residents and Kiss. Well, Kiss, obviously, was in this completely different time and age, where people weren't equipped with a camera in their back pocket everyday. And, I mean, obviously, so was Residents, but they were not touring at that level. So for a band nowadays that tours, I mean, you cannot not bump into people. It's absolutely impossible."
That prospect is even greater this weekend in Las Vegas, particularly if you happen to patronize the Double Down, a place the band has been known to frequent when it's in town. "It's a proper dive bar, which is a little bit more up our alley, I guess," he says. "We are very much a dive bar kind of band, so that was perfect for us. I like it. In all anonymity. We might or might not be at the Double Down."
Whatever the case, even if the members do happen to be spotted there, people have been pretty cool about keeping their identity under wraps. Like Halloween itself, part of the fun and appeal of Ghost is maintaining the mystique of the mythology. "Luckily for us, most people have been very supportive, and they wanted to keep up the mystery and they wanted it to remain sort of clandestine," he says. "That goes for our fans, too. For the most part, people are protective like that, bands that we tour with or other band's crews. They are generally very cool."
That's probably because they recognize just how much work these performers have put into pulling all the pieces together. As prodigiously packaged as the whole thing seems now, the concept actually came together rather quickly at the beginning, when the members, who were each in other outfits that were unsuccessful, starting playing together. Soon they'd finished a record and the band found itself on the road before it could even really firmly find its footing.
"We weren't necessarily a lineup on the first record," the ghostly guitarist explains. "It was a smaller group of people that made the first record. Then, all of the sudden, when we were supposed to release the record, we had a handful of gigs we were booked to do. So we basically had to form a lineup, and as far as I remember, it was more on a basis of we have a couple of shows and this person wanted to come into the band and do those shows with us and see what happens, and then all of the sudden, we were touring. So we quickly had to figure out a lot of things, on tour, and obviously during the first year.
"The first two years, there was definitely a little bit of rotation, because it's a hard thing to just jump into a band, especially when it goes from nowhere and you might have completely different plans, and all of a sudden you're basically fully occupied with a band that does 120 shows a year, and with all the things of being in a band that sounds like ours and looks like ours. It takes a lot of work, and not everybody wants to do that."
You can see the spectacle for yourself on Halloween night at the House of Blues. While that's our pick for the best way to spend the harrowing holiday this year, that's certainly not your only option. There's a ton of other shows to catch this weekend, from a full slate of world class DJs to a teeming bill of top-shelf rappers. You can find a full rundown of everything going down at reviewjournal.com/music. In the meantime, here's the other shows we are most excited about this weekend.
Rob Zombie and Danzig Friday at The Joint at the Hard Rock HotelWhile this show isn't taking place on Halloween night, it's sure to be just as spirited of a shindig. Rob Zombie, the sultan of scary and a horror movie mastermind who gave us "House of 1000 Corpses" and "Devils Rejects" and whose live album is even titled "Spookshow International Live," is sharing a bill with Danzig and Witch Mountain, which should make for the one of the more satisfying soundtracks of this trick-or-treat season. Tickets are $49.50 to $125.00.
Chris Brown Saturday at Drai'sOn his Instagram page this week, Nick Cannon equated Chris Brown to Tupac and Michael Jackson. While many might not agree with this assertion, Brown did once do a mean rendition of "Thriller" at the 2006 VMAs. And, well, since he's due on Halloween night at Drai's for an event dubbed "Thriller," in which costumes inspired by that MJ video are encouraged, we'd say this is an event well worth attending. Tickets are $50 for ladies and $75 for gentlemen. (Also at Drai's this weekend: Tyga on Friday and Future on Sunday.)
Skinny Puppy Friday at Hard Rock LiveFor more than three decades now, Skinny Puppy has been making hard-edged industrial music that sounds like it could be the perfect soundtrack for the most terrifying horror movie you could possibly imagine. Live, the Canadian-based act is even more imposing. If you're looking for an invigorating and unnerving musical experience this Halloween weekend, you can't do much better than this set from Skinny Puppy with special guests Youth Code. Tickets are $28.50 and the Hard Rock's website recommends arriving early.
— Read more from Dave Herrera at reviewjournal.com. Contact him at dherrera@reviewjournal.com.
Like Neon Las Vegas on Facebook: