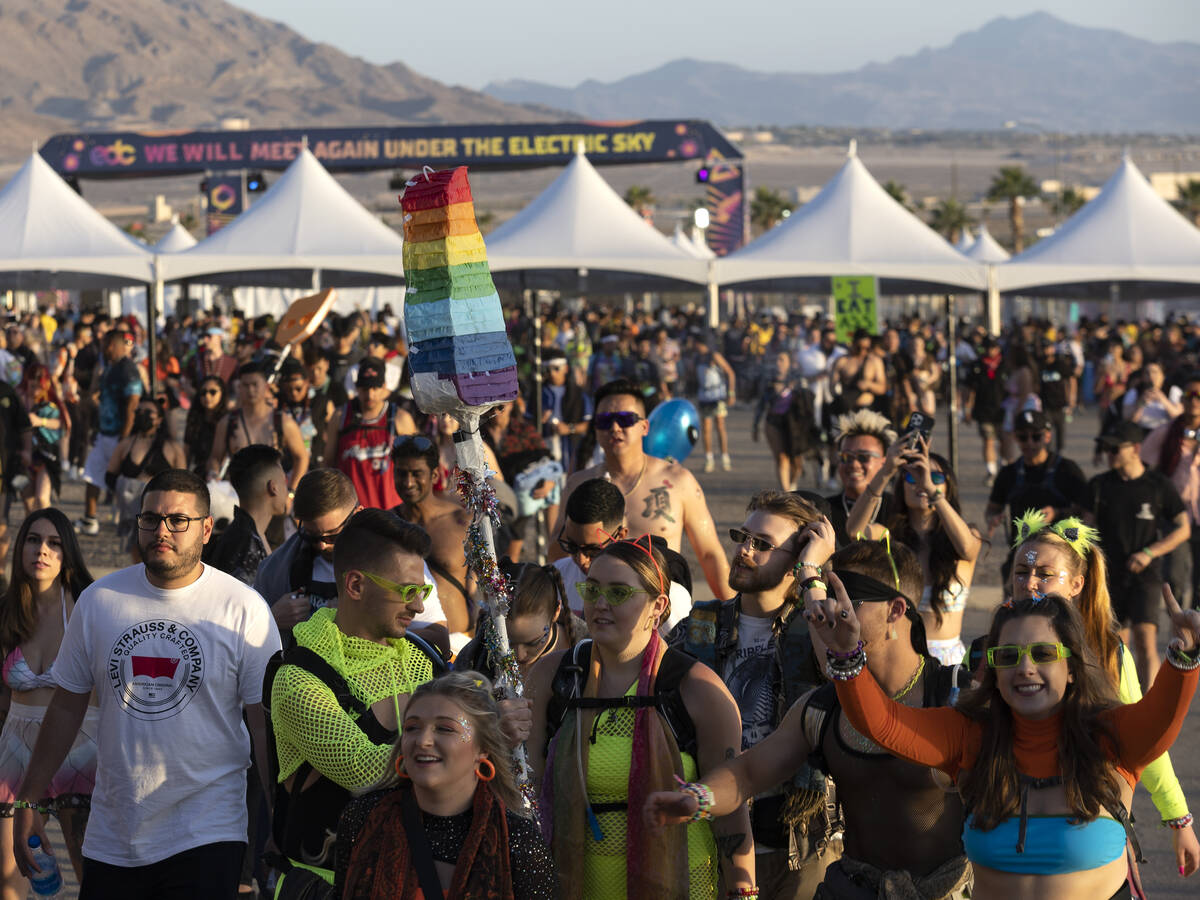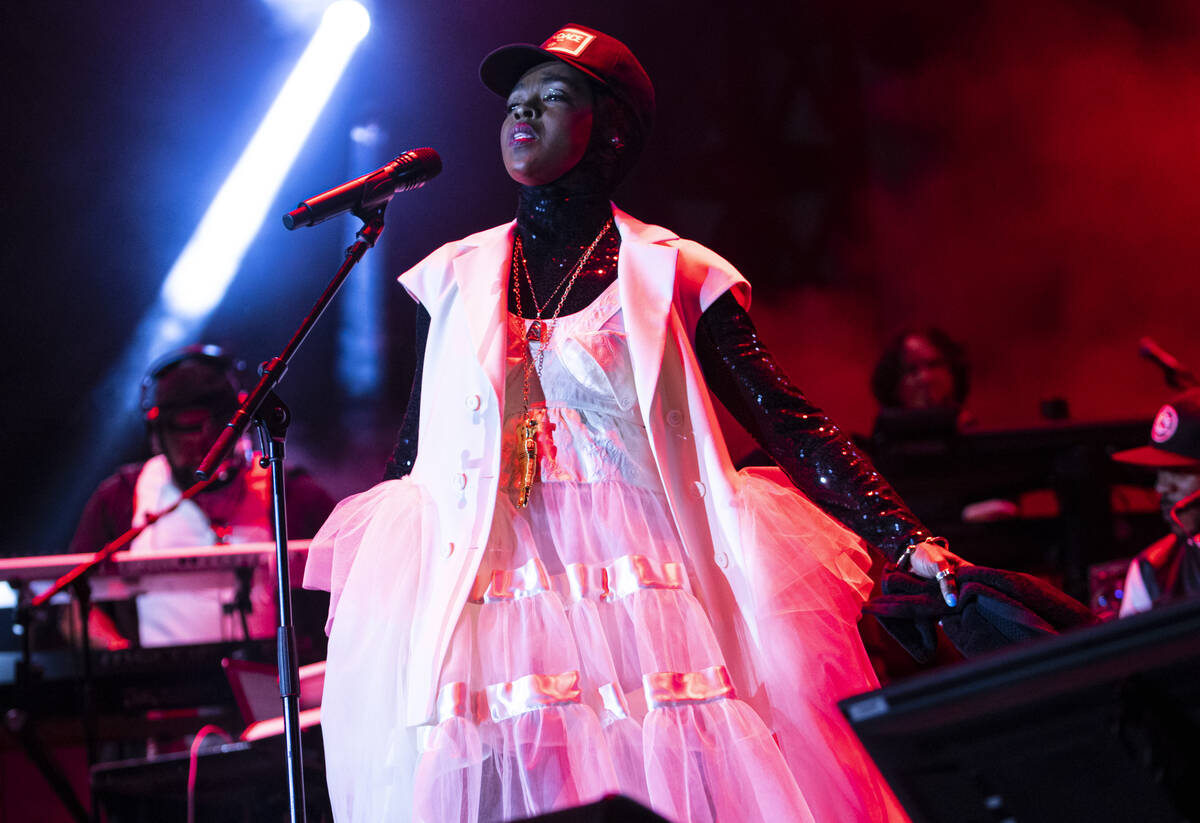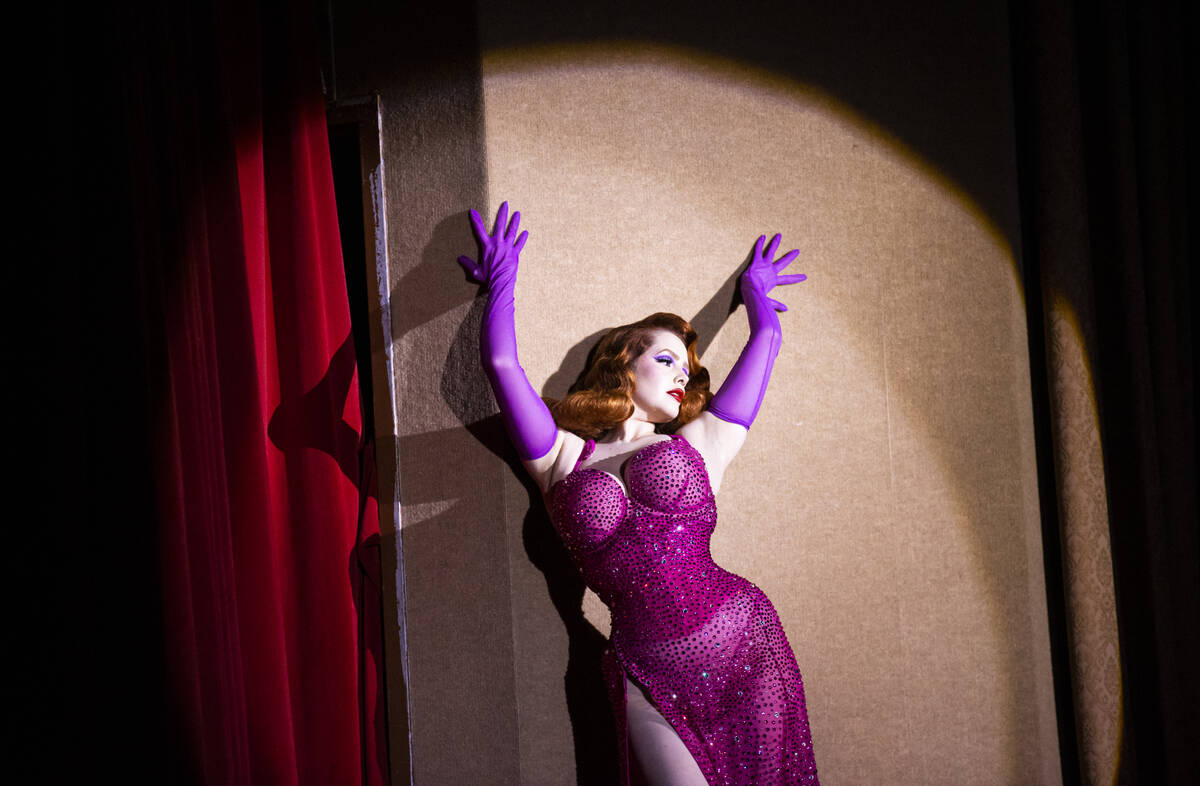 It all began last week, when an army of Rosie the Riveter, Bettie Page and Arthur Fonzarelli look-a-likes stormed The Orleans with an arsenal of vintage cars, vintage threads and vintage rock 'n' roll, turning the casino grounds into a boozy recreation of the "Happy Days" set at Viva Las Vegas, the biggest rockabilly gathering in the world.
It continues this weekend, when Y2K-era R&B and hip-hop fans become all starry-eyed beneath the stars at the Lovers & Friends festival and a new island and reggae music fest, Holo Holo, gets down, downtown.
Yet to come: another new fest to prove that nü metal has yet to grow old (Sick New World), the return of the Silver-Backed Alpha Male Gorilla of electronic dance music events (Electric Daisy Carnival) and the punk-rock-rager-to-end-all-punk-rock-ragers (Punk Rock Bowling).
From last weekend to late May, at least one major music fest is scheduled to take place here each weekend, drawing an estimated total of over 600,000 fans.
Related: Your guide to Vegas' music festival season
It's a snapshot of Las Vegas' remarkable evolution into a music festival destination market, which now encompasses almost every style of music, spanning K-pop (the recent debut of We Bridge), the blues (The Big Blues Bender), multi-genre mass gatherings (Life is Beautiful), emo and pop punk (When We Were Young), hitmakers galore (iHeartRadio Music Fest), more reggae (Reggae Rise Up), still more reggae (Reggae in the Desert) and heavy music of all stripes (Psycho Las Vegas).
According to a recent report from ticket marketplace Vivid Seats, Vegas ranks fifth among all U.S. cities with the most music fests within an hour's driving distance at 14. That places it above bigger markets like New York City, San Francisco, Philadelphia and Denver, to name but a few.
This has equated to some big business for Las Vegas.
Just look at the dollars generated by the city's two biggest music fests alone.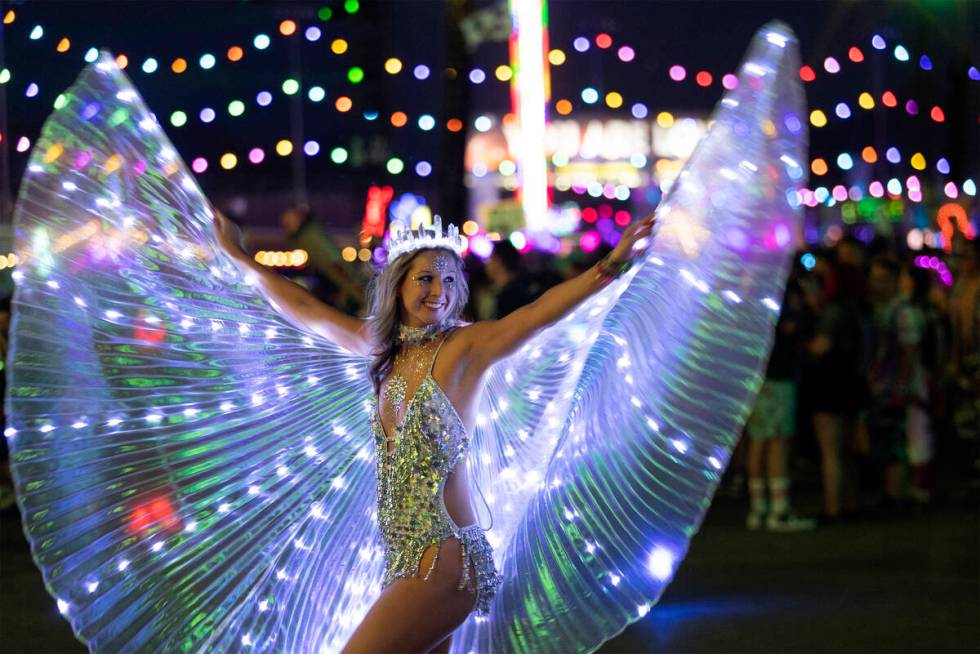 According to numbers provided by EDC, the event generated a total economic output of $336.7 million in 2022. In 2019, the most recent year for which figures are available, Life is Beautiful catalyzed $66.3 million in economic impact according to the Las Vegas Convention Visitors Authority. (Life is Beautiful organizers say that the event has had an economic impact of $400 million since debuting in 2013).
All this for a city that, just a little over a decade ago, was seen as the antithesis of a festival hotbed.
To wit: In 2005, Superfly Productions and AC Entertainment, the companies behind Bonnaroo, launched Vegoose at Sam Boyd Stadium in an attempt to bring a big annual tent-pole music fest to the market.
It lasted three years before folding, even with big-name headliners like the Dave Matthews Band, Tom Petty, Rage Against the Machine and Daft Punk.
There was a chilling effect from its short life span: When Insomniac Events and EDC founder Pasquale Rotella decided to relocate his company's flagship event here in 2011, it was seen as a serious gamble — even in a city predicated upon serious gambling.
"Not only did I feel like I was rolling the dice, people were saying that I was insane," Rotella recalls. "There's one festival, Vegoose, that people were talking to me about. They said that they even had Daft Punk, like the biggest electronic music act in the world, and that it was suicide and I shouldn't do it. It was, like, not the festival place."
And yet, that's exactly what Las Vegas has since become.
"There's seemingly no place hotter for live entertainment than Las Vegas, and I think you'll see that with the music festivals," says Stephen Spiewak, an organic growth specialist at Vivid Seats. "Something that is particularly interesting about the rise of a lot of these new music festivals in the Las Vegas area is the diversity of the top festivals. When We Were Young, the iHeartRadio Music Festival, Lovers & Friends — they're catering to very different demographics of music, but they're all really popular. There's a music festival for everyone in Las Vegas, it seems like."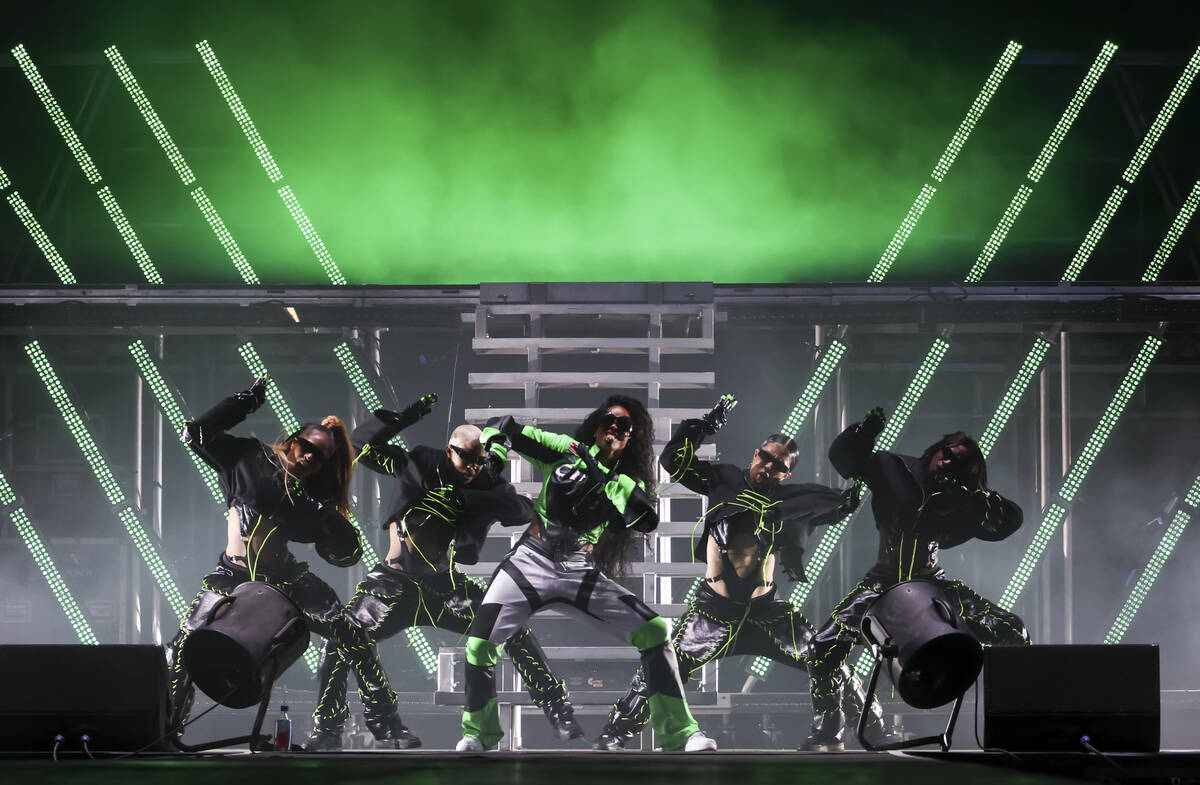 Building a foundation for music fests — and losing lots of money
"How do you return to normal life after this?"
So wondered a party girl in the crowd on the final night of EDC 2011.
Fair question .
What a whirlwind it had been up to then: three days and thirty-plus hours immersed in this cocoon of light and sound that was so surreal in its size and scope you almost wanted to administer truth serum to your eyeballs to make sure they weren't lying to you.
When it was all said and done, it felt like a watershed moment for EDC, an enormous success having drawn over 230,000 fans.
And…it lost a boatload of money — $3 million, in fact.
"Back then, losing $3 million was like losing $10 million," Rotella recalls. "I was an independent promoter; I did not have investors. It was a big hit for me."
More red ink would spill in 2012.
Still more in 2013.
Rotella knew that he had something, though.
"I felt, even after the (first) show, that it was buzzing," he says, "that people who didn't go missed out, and that it was gonna grow into something.
"It's not going to happen overnight," he continues, "and it's not going to happen if you don't dream it, right? It's going to be an investment; it's going to be a long play. If it hasn't happened before, and you're creating something new, you gotta stick with it."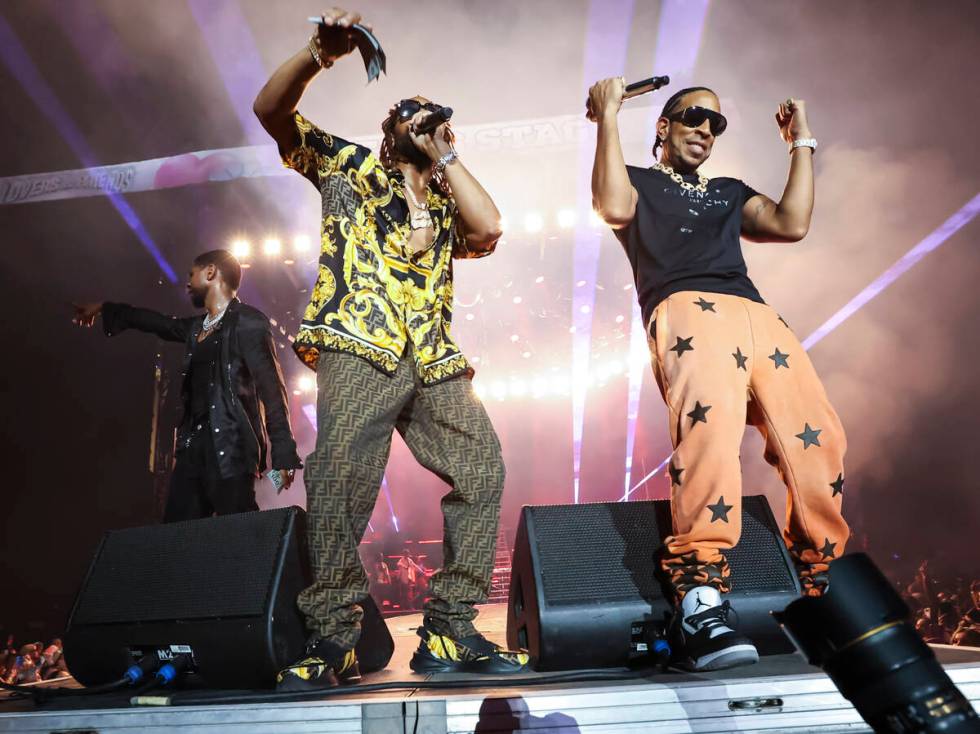 Rotella did, selling a 50% stake in Insomniac to Live Nation for a reported $80 million in 2013 and soldiering on.
That same year, Life is Beautiful debuted downtown and experienced similar growing pains: The fest lost $10 million its first three years, before turning a corner and selling out in advance for the first time in 2017.
That both of Vegas' largest music fests got off to such challenging starts financially, despite well-received line-ups and promising early attendance numbers, underscores just how tough a market this once was for building a festival brand of any kind.
"We had to educate people on what we were doing, who we were," explains Craig Asher Nyman, director of music, programming and development at Life is Beautiful. "It was one of those things that was just bubbling, bubbling, bubbling."
What kept those bubbles from bursting like they had with Vegoose?
What enabled Life is Beautiful and EDC to demonstrate that this city could be a viable home to the kind of massive, multi-day music fests that draw fans from around the world?
The answer lies within Las Vegas itself.
An infrastructure for success
No last call?
Tom Ingram was in.
Flashback to 1996: the future founder of Viva Las Vegas has relocated to California from his native Britain intent on hosting a big rockabilly weekender there.
Thing was, there were limitations in his new home state: namely, a 1 a.m. cut-off time for bands and booze.
So he started looking for a different location.
"There's just a group of people sitting around one evening, a couple of people were talking about bars being open all night in Vegas, and I said, 'Did you say bars are open 24 hours in Vegas?" Ingram recalls incredulously. " 'That's where I've got to do the weekender.' It was as simple as that."
In 1997, Viva Las Vegas debuted at the Gold Coast, literally rockin' around the clock until dawn.
"We had about 1,200 people, we had about half-a-dozen cars, and we thought that was great," Ingram says. "It covered costs, so we didn't lose any money. And it just progressed from there."
Viva Las Vegas has since become Vegas' longest-running music festival, having recently completed year 26.
Ingram saw early on how well-suited Vegas was, infrastructure-wise, to hosting music fests like his, from myriad venues and conference rooms available on a single property to a seemingly endless supply of hotel rooms. (There are more than 150,000 in the city).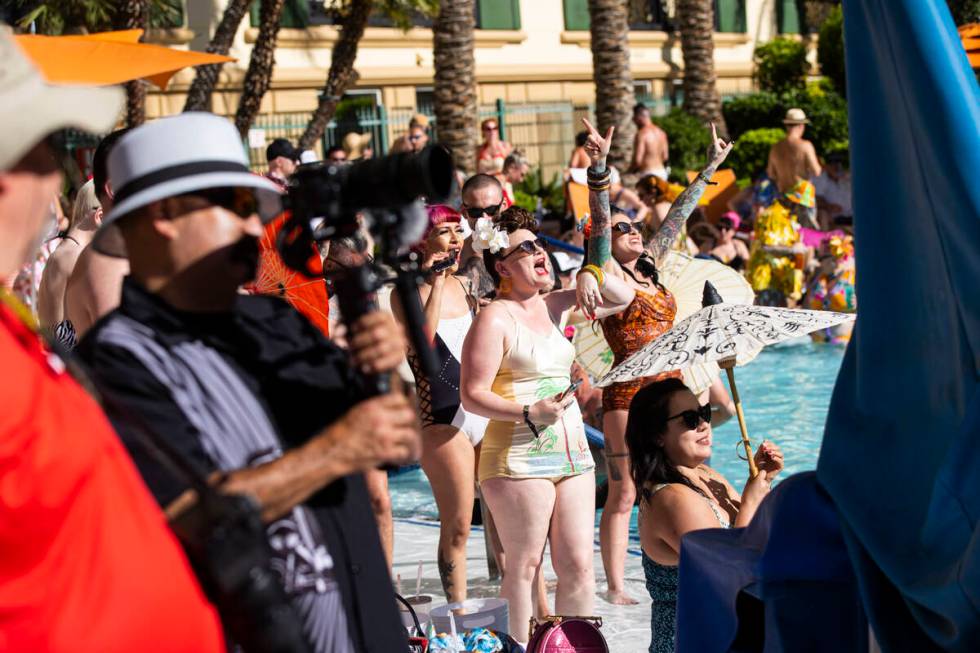 This also informed the thinking of the organizers for Punk Rock Bowling, which first came to Vegas in 1999 as a bowling tournament with a few shows on the side before evolving into a music fest at Sunset Station in 2010.
The event moved downtown the following year, taking advantage of the party-friendly surroundings.
"You go downtown, and then you never have to get in your car," says Shawn Stern, co-founder of Punk Rock Bowling. "You can walk to everything, so you can drink and you don't have to worry about getting behind the wheel to go anywhere.
"There's everything you need down there and the festival site is a five-to-10-minute walk from almost every hotel downtown," he continues. "Same with all the clubs. So it's perfect."
Rotella, too, was drawn to Vegas in part by how visitor-centric it is.
"There's an abundant amount of flights," he notes. "The airport is close to the Strip. There's an abundant amount of transportation to get you to the Strip. There's tons of hotels. There's tons of taxis.
"I think it makes sense," he continues of Vegas' suitability for music fests, "but for whatever reason, it's not like when we did it, it popped off. It was quite the investment, and we had to kind of show people — even fans — that it was going to be a good time."
If you build it, they will come — in droves
So where did this skepticism that Rotella speaks of come from?
Why was Vegas once dismissed as a questionable — to put it mildly — market for events like his?
Much of it had to with how Vegas was perceived music-wise at the time.
Look, we don't want to point the finger at Vegas greats like the one-and-only Wayne Newton, so….we'll let Ingram do it.
"I often joke that when we started doing Viva Las Vegas, all the entertainment in Vegas was aimed at people over 60 years old," he chuckles, referencing old-school performers like the aforementioned lounge legend, who once dominated the local live music offerings. "The entertainment really wasn't that exciting."
Rotella heard the same thing a decade-and-a-half later.
"'It's where people go when their careers are over and they go do residencies and stuff like that,'" he remembers being told.
Nowadays, those stereotypes of Vegas as a sort of neon-festooned retirement home for acts in the twilight of their careers are as long gone as the Stardust and free parking on the Strip.
In 2022, Vegas ranked as the country's second biggest concert market, behind only New York City, grossing over $518 million on 3.4 million tickets sold, according to concert industry trade publication Pollstar.
This sea change has been driven by multiple factors: the opening of state-of-the-art new venues like Dolby Live at Park MGM and Resorts World Theatre that have lured contemporary superstars like Bruno Mars, Luke Bryan, Lady Gaga to town for residencies; the addition of Allegiant Stadium, which ranked as the world's top stadium for live events in 2022, according to Billboard magazine.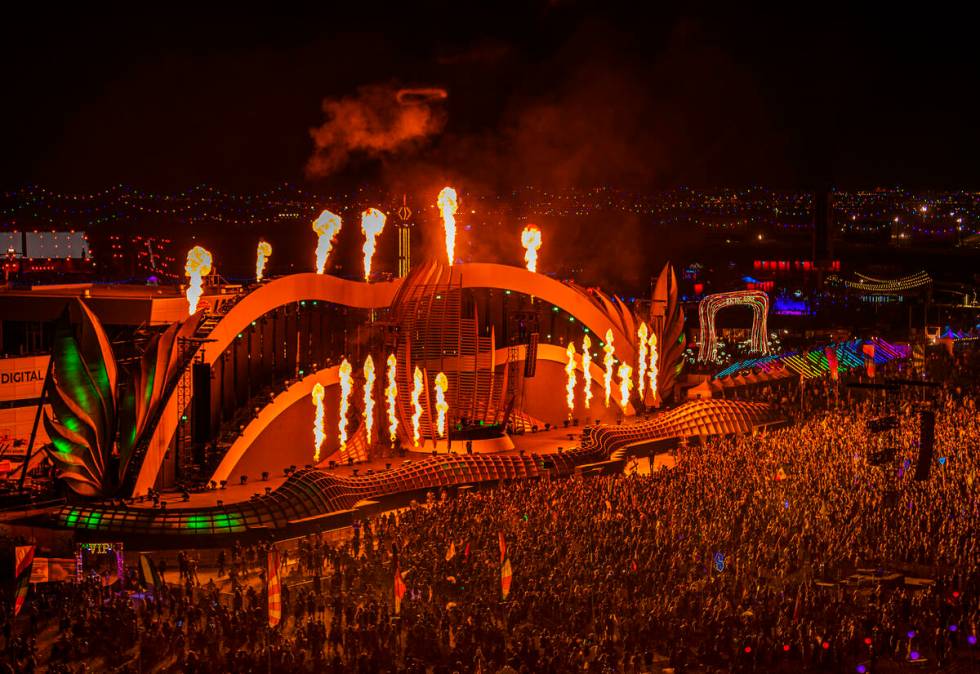 Music festivals, too, have played a significant, symbiotic role in the evolution of Vegas' live entertainment landscape.
For instance, look at how EDC has impacted the city's electronic dance music scene. When the fest debuted in Vegas, there were few high-end nightclubs — and big-name DJs seldom came to town as a result.
With EDC drawing fans in droves annually, it demonstrated that the music could thrive here with the proper outlets, contributing to an EDM boom that's elevated Vegas into one of the world's dance music capitols.
"When we were first there, there wasn't Omnia, there wasn't Hakkasan; XS was doing open-format DJs," Rotella recalls. "Although there was some activity in the past with dance music, it was nothing on the level that you see now.
"I think it now rivals Ibiza," he continues of present-day Vegas, "except it's not even seasonal — it's all year 'round. You have pool season that has opened up early because of electronic music day clubs. It's really exciting."
Similarly, Life is Beautiful has helped change the face of downtown, playing a leading role in the transformation of the East Fremont Arts District from a once-downtrodden part of town into a now vibrant community of bars, venues and other businesses.
"I vividly remember a handful of artists saying that first year how they didn't even know downtown Vegas existed," Nyman recalls of some Life is Beautiful performers who'd never been to said stretch of the city. "We got people to come down to downtown Las Vegas and discover an area that they wanted to be a part of."
In many ways, Life is Beautiful is as much about the setting in which it takes place as the bands on stage.
"It embraces the city landscape, the community, the culture," says Marina Chairez, associate director of festival experience for Life is Beautiful. "Some of these music events, there's nowhere else in the world that they can really be showcased this way. It's a true showcase of the city."
'Vegas is definitely a prime festival market right now'
In Hawaiian, "Holo Holo" means "to travel, to sail, to move."
So why is the roving reggae and island music festival that takes its name from said phrase coming to Vegas after debuting in Northern California last year?
A big part of it is that in this city, the festival experience is about more than the festival experience.
"We like doing festivals that are in markets where people can have fun doing other things," explains Dan Sheehan, co-founder of Good Vibez Presents, which puts on Holo Holo. "They come to the festival, they have a good time, and then they can go to the casinos afterwards or they can go see another show.
"Things like that help make a calculated business decision to bring festivals to certain markets," he continues. "And Vegas is definitely a prime festival market right now with all these festivals going up."
There's an intangible at play here as well, in the idea of Vegas as a great American escape, a city posited on a lack of inhibition, which dovetails nicely with cutting loose at a big open-air party for a weekend.
"Las Vegas does such an exceptional job putting the guests first and making it all about them and their experience," Chairez contends. "For these three days, this person gets to be whomever they want. People come from all over the world just to have that feeling of freedom and joy and that anything is possible."
Perhaps the greatest reason that Las Vegas has become a destination market for festivals, then, is that the city is a destination in and of itself.
"There's such a long list of things for people to do in Vegas," Ingram says. "It's more than just coming to Viva Las Vegas. It's coming to Vegas."
Contact Jason Bracelin at jbracelin@reviewjournal.com or 702-383-0476. Follow @jasonbracelin76 on Instagram