How Puff Daddy's Bad Boy Empire helped shape contemporary hip-hop
September 30, 2016 - 8:19 pm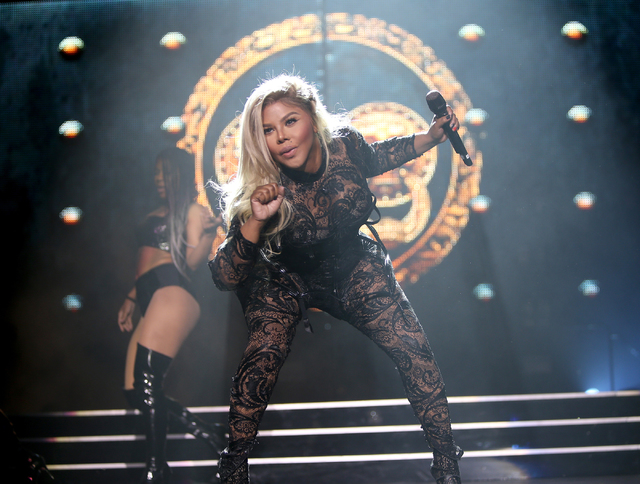 Two decades ago, hip-hop's champagne wishes came true.
They did so at the diamond-encrusted hands of a man who's bling incarnate.
Sean "Puffy" Combs, head of Bad Boy Records, became hip-hop's second mogul in the mid-'90s (following Def Jam Records co-founder Russell Simmons), launching an empire that would dominate the charts at the time and have a profound impact on the future of rap.
The label's fortunes have ebbed and flowed since then, but one thing has remained constant: Bad Boy's influence on contemporary hip-hop.
With a number of the label's signature acts currently on the road as part of the Bad Boy Family Reunion Tour, which features Puff Daddy, Lil' Kim, Mase, Faith Evans, The Lox, French Montana and others, let's take a look at some of Bad Boy's most significant contributions to hip-hop over the years.
TOOK HIP-HOP TO POP RADIO LIKE NEVER BEFORE
Economy-sized butts, goofy white dudes rapping about fictional turtles, and pants baggy enough to house an entire family of homeless garden gnomes: All are totems of hip-hop's dalliances with pop in the '80s and '90s, when dudes like Sir Mix-a-Lot, Vanilla Ice and MC Hammer helped the music cross over onto mainstream airwaves like never before.
But what they all had in common, aside from the fact that you can't find anyone who will actually cop to buying one of their records even under the penalty of death, was that their success was short-lived and, fairly or not, they were often dismissed as novelties.
But the Bad Boy crew, particularly Puff Daddy and Mase, unabashedly targeted pop radio — and hit bull's-eye after bull's-eye with smash singles like "Mo' Money Mo' Problems," "It's All About The Benjamins," "Can't Nobody Hold Me Down" and more.
Now, some purists might argue that this had its downsides, that in taking hip-hop to the masses in this context, Combs and company did so at the expense of the music itself, watering it down, favoring commercialism over art.
There's some truth to that — no one's ever turned to a Puff Daddy record for social commentary.
But at the same time, every genre of music needs its gateway acts, those artists who reach beyond a given scene's core base and bring new fans to the fold.
These acts are frequently more populist and middle-of-the-road by design, kind of like the music's training wheels.
But they still serve an important purpose of introducing said music to a broader audience, some of whom will undoubtedly dig deeper into the genre, benefiting the scene as a whole.
This is the impact that Bad Boy's success had for hip-hop as a whole.
Mo' money?
No problem.
RE-ASSERTED NEW YORK CITY AS HIP-HOP CAPITAL
By the early '90s, hip-hop had become decidedly sun-baked — in addition to just plain baked. Dr. Dre's 1993 classic "The Chronic," an album as intoxicating as its marijuana muse, made G-funk the of-the-moment sound in hip-hop, while simultaneously launching the career of Snoop Dogg and making the label that released the album, Death Row Records, enough money that it could afford to sign Tupac Shakur.
It wasn't as if New York City had fallen off or anything, in fact, it was the opposite: the Wu-Tang Clan, Nas and a Tribe Called Quest, to name a few, were all dropping landmark albums whose influence continues to be timeless.
But Dre, Snoop and Tupac were ubiquitous on MTV and on another level commercially — for instance, Snoop's first disc, "Doggystyle," debuted with first-week sales of over 800,000 copies, setting the record at the time for fastest-selling hip-hop album ever.
Beginning with the release of Notorious B.I.G.'s 1994 debut "Ready to Die," however, Bad Boy Records began to grab some of the limelight — not to mention fistfuls of cash, as the album sold over 4 million copies. Biggie Small's posthumous follow-up would be an even bigger smash, as Bad Boy began notching hit after hit with albums by Puff Daddy, Mase, Faith Evans and more.
Of course, there'd be a downside to Bad Boy's ascendancy, as it touched off the East Coast vs. West Coast feud that some attribute to the deaths of Shakur and Smalls. Still, there's no question that Bad Boy's rise reignited the commercial flame of NYC hip-hop, which Jay Z and 50 Cent would later turn into a blazing inferno.
GAVE FIERCE VOICE TO THE FEMALE LIBIDO
She wasn't just a mouthpiece for the feminine libido, she was more like a megaphone.
Lil' Kim: Small in stature, if not sex drive.
The sample-sized rapper didn't object to being a sex object, because shrewdly turning male lust in on itself was her way of routing the opposition in the battle of the sexes. For her, sex wasn't just a weapon, to borrow a line from Pat Benatar, it was more like a nuclear armament.
Sixteen years after its release, Lil' Kim's sophomore record, "Notorious K.I.M.," remains the standard of female sexual assertiveness in hip-hop and/or any other genre ever — you're just going to take our word for it on this one, because her lyrics are as blue as the corpse of chastity.
Now, of course, there were strong female voices in hip-hop long before Lil' Kim — MC Lyte, Queen Latifah, Roxanne Shante, to name but a few — but none of them put dudes in their place quite like Kim did. Considering the secondary role that women often played in hip-hop, Lil' Kim's success was especially impactful.
Granted, Lil' Kim was never signed to Bad Boy Records, but she was closely affiliated with that crew as the protege of its greatest artist, Biggie Smalls, while Combs served as the executive producer of her early — and best — records.
It was Smalls and Combs who unleashed this table-turning MC on hip-hop, thoroughly pissing off the prudes.
Did your feathers get ruffled?
Too Bad.
Read more from Jason Bracelin at reviewjournal.com. Contact him at jbracelin@reviewjournal.com and follow @JasonBracelin on Twitter.
Preview
What: Bad Boy Family Reunion Tour, with Puff Daddy, Lil' Kim, Mase and others
When: 9 p.m. Saturday
Where: MGM Grand Garden, 3799 Las Vegas Blvd. South
Tickets: $39.50-$200 (866-740-7711)