It's business as usual for George Strait in T-Mobile Arena debut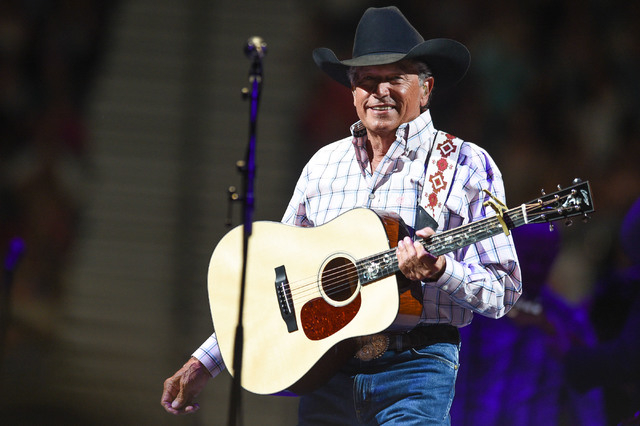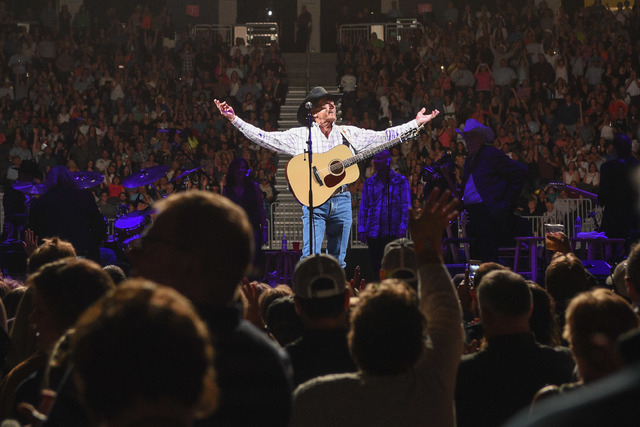 So what's changed since the last time George Strait sang in a Las Vegas arena, rotating the four corners of his diamond-shaped stage in the round and singing his ageless songs?
Well, the arena is fancier, that's for sure. And there's no big game to look forward to — or dicey prop bet to worry about —like the years when Strait made Las Vegas a Super Bowl-eve tradition.
And the singer has a few new songs to squeeze between hits. The "Cold Beer Conversation" album accompanied September's announcement that the new T-Mobile Arena would be home base for the Texas country icon's semi-retirement, hosting him for at least six dates per year after his "farewell" tour last year.
Oh, and Merle Haggard died.
Other than that, Friday's first T-Mobile date (with the second Saturday night) was old-home week. Business as usual. Picking up where he left off. And you probably wouldn't have it any other way.
What we all seem to like about the singer who turns 64 next month is that he doesn't change. That both his timeless songs and their clutter-free delivery give our lives some consistency.
Strait served up more than 30 songs as he circled his nine-piece Ace in the Hole Band and two backup singers, singing two at a time at each of his four microphone stations in the center of the arena floor (creating a lot more good seats for a sold-out crowd).
Early classics such as "Ocean Front Property" led right into later hits such as "Run" from 2001, though the latter was one of several times the band sounded out of balance with the lead vocals.
Strait seemed happy to be there, too. "Oh man, you don't know how much I appreciate it," he said at one point.
Given his usual poker-faced cowboy stoicism, it seemed almost like a confessional on Oprah's sofa when he noted it was "so good to be back" on a stage after the "two months shy of two years" since he packed 104,000 people into AT&T Stadium for the final date of "The Cowboy Rides Away" tour.
You had to wonder if Haggard's death April 6 has him thinking this semi-retirement thing is for the birds. After all, the Hag refused to be sidelined by lung cancer and sang up until a few months before he died on his 79th birthday.
An hour into Friday's show, Strait paid tribute to Haggard with a trio of classics, declaring "his music will live on forever" before singing "Mama Tried," "The Fightin' Side of Me" and "My Life's Been Grand."
The last one is the message the Hag probably would want delivered: "My life's been grand. You know I'd write home and tell 'em, but they wouldn't believe how good my good luck's been."
Strait echoed it later, during the homestretch, in the middle of "I'll Always Remember You." He told the crowd "I figured I'd have maybe five good years to sing my songs for you," and instead it's "been over 30 now."
"I'm not saying I'm through by any means, because there's still things I want to say and do," he sang as he transitioned back into the song.
Good. The title song to "Cold Beer Conversation" was not only very Haggard in its jazzy, wistful sound, but if you looked on the big screens to see Strait's face (and for most in the audience, there was really no other way) you could see he was really selling it.
There were other songs where you wish the band could scale down to a trio or let him sing with only his guitar: "The Chair," or "Marina Del Rey" maybe? But in others, such as encore celebrations of "Folsom Prison Blues" and "All My Ex's Live in Texas," the laid-back piano and steel-guitar licks remind today's country rockers of the power of relaxed-yet-concise country swing.
He closed the two hours with "The Cowboy Rides Away" and its lyrical threat: "It's time to say goodbye to yesterday." But by then, nobody, whether they were on the stage or in the audience, seemed to believe it. With or without a Super Bowl, this T-Mobile debut simply must be the start of a new tradition.
This weekend's opener, Kacey Musgraves, proved a compatible heir to Strait's relaxed sound and his knack for covering country classics such as "I've Been Everywhere." The 27-year-old did ramp up the evening's spectacle quotient, with some neon cactus and light-up boots for her cover of Nancy Sinatra's "These Boots are Made for Walkin'."
Read more from Mike Weatherford at reviewjournal.com. Contact him at mweatherford@reviewjournal.com and follow @Mikeweatherford on Twitter.
Review
Who: George Strait, Kacey Musgraves
When: Friday
Where: T-Mobile Arena
Rating: A-
Attendance: 19,222