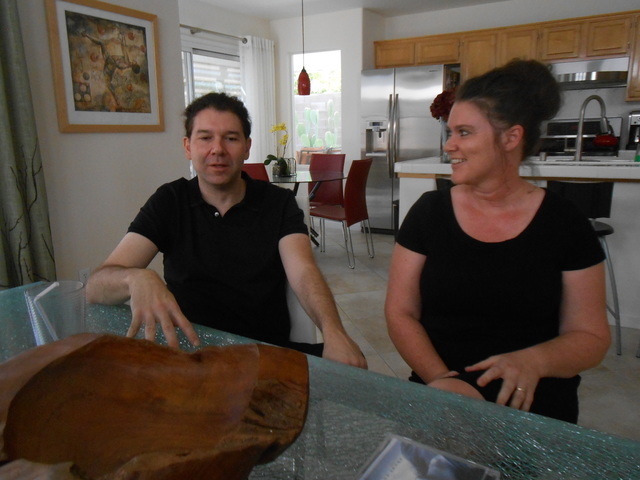 Jazz guitarist Dirk K said he's living at the right moment in time. It's a time when studios no longer have a stranglehold on musicians, taking most of the profits. Rather, musicians like him can record and mix their own music and then sell their CDs on the Internet.
He released his latest one, "Dirk K — It's On," Sept. 1. It is available at amazon.com, cdbaby.com and dirkk.com.
"There was no way you could have done this before," said Dirk K, whose last name is Kleutgens. " … In the late '90s, suddenly you were able to record with computers, and when Pro Tools came out, it revolutionized the whole (system). Suddenly, you could be competitive with major record studios."
He produces his CDs in his home studio near Anasazi Drive and the 215 Beltway.
Kleutgens took guitar lessons as a teen in his hometown of Aachen, Germany. A naturally gifted student, he won a jazz competition and began playing with jazz bands that were performing around town.
"I was too young to drive, so my dad had to take me to these places. Some (gigs) didn't start until 2 o'clock in the morning, and I had to go straight to school," he said, explaining that, in Europe, clubs often stay open all night.
His first professional recording was at 16, when he was part of a PBS-style radio band. The name of the recording, prophetically enough, was "Flight to L.A." It was his first composition.
Later, he signed with a European label and was one of the last performers to put out a record, something he laughs about now.
"A vinyl record," he said. "Can you imagine?"
In the mid-1980s, EMI, a giant in the music industry, was about to sign him and his band, Checkpoint, when a last-minute change in producers came with instructions to make it folksy, traditional and in German.
"Back then, the big groups playing in Germany where Chaka Khan and Earth, Wind and Fire — not traditional at all," Kleutgens said. "So, it just didn't fit."
Kleutgens broke off negotiations and moved to America in 1987. He and his wife of 20 years, Irene, ended up in Southern California, where "music was much bigger here than in Germany," Irene said. "It was exciting."
Since then, he's released 14 CDs on labels such as Sony, Bellaphon and Fuzzy Music.
He founded DIP Records in 1999, which uses the first initials of himself, his wife and his son, Philip, 14. His son can be heard on "Dirk K — It's On."
Chasing the dream landed them in Las Vegas about five years ago to work with Cirque du Soleil, where Kleutgens is an on-call sound engineer for "Zumanity."
He now performs at various Strip hotels, as many as 150 gigs a year, including a summer festival in 2008 with Al Jarreau. He is scheduled to perform from 6:30 to 9:30 p.m. Sundays at Marche Bacchus, 2620 Regatta Drive, through the end of the year, when he plans to go on tour.
Cynthia Harris has been booking Kleutgens for the past three years though her company, Harris Classical Entertainment, which books the Bellagio Conservatory stage.
"I have to find outstanding solo artists, so I heard about Dirk through a singer, and he just blew me away," she said, adding that he had a unique playing style that was part Flamenco and part Brazilian style, "this fusion of everything. He was a complete package."
Contact Summerlin Area View reporter Jan Hogan at jhogan@viewnews.com or 702-387-2949.