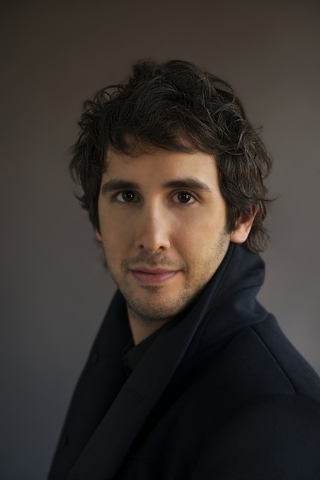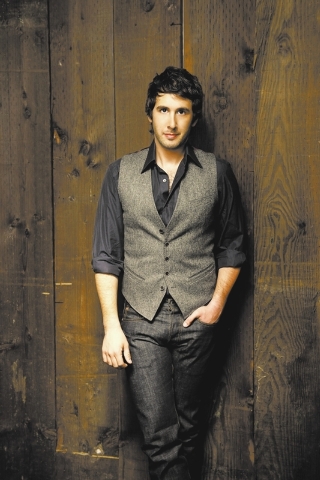 At this point, you know singer Josh Groban is the funniest person in classical music if you saw him on "Jimmy Kimmel Live" using his opera voice to sing Kanye West's silly Twitter declarations.
"Fur pillows are hard to actually sleep on," Groban sang with his big voice while playing piano. "I make awesome decisions in bike stores. French fries are the devil."
When Groban sings Sunday at the MGM Grand Garden Arena, odds are good he will interact with the audience, as usual.
One time in San Jose, Calif., Groban walked through the crowd with his microphone and joked, "You guys smell like a combination of Chanel No. 5 and barbecue sauce."
This summer, Groban got good reviews for co-starring in the July comedy "Coffee Town." And he has cameos in this season's "It's Always Sunny in Philadelphia" and an upcoming film.
Groban took classes at Second City as a kid. And how did junior high school go?
"I was studying theater and kind of struggling with my grades, so I started a comedy club at my school," he says.
So anyway, I tricked Groban, 32, into presenting to us The Secret Josh Groban Comedy Awards, by asking him to name the funniest things in the world.
No. 1: Who's the funniest comedian or actor off stage?
"Ben Schwartz," Groban says. Schwartz is in "Parks and Recreation," "House of Lies," "Coffee Town" and Upright Citizens Brigade Theatre.
"He is one of the quickest, funniest improv comedians I've ever met."
Some comedy stars are funny only when "you get a script in front of them," Groban says.
"But someone like Ben, and the guys who do improv, are just incredible. You can't get a word in edgewise when you go out for sushi; but other than that, it's an amazing thing to see."
2. What book or movie made Groban laugh the hardest he has ever laughed?
"In a book, probably when David Sedaris is talking about taking French classes — and the teacher is trying to translate about the Jesus — in 'Me Talk Pretty One Day.' That had me laughing on an airplane so loud, I was seriously annoying everybody around me."
And in the movies?
"It's a toss-up between Melissa McCarthy pooping in the sink in 'Bridesmaids,' the puppet in 'Team America: World Police' that can't stop throwing up in the alley, and 'Borat' where they're running through the hallways naked.
"And anything Monty Python. The 'silly walks' gets me every time," Groban says. "I like really high-brow humor."
3. Comedians who make him laugh?
"Louis CK and George Carlin."
Groban might have named more comedians, but his dog Sweeney interrupted us and we lost our train of thought.
And there's his buddy: "Jimmy Kimmel has given me a lot of my laugh-till-I-cry moments."
Groban laughs loud even if it isn't great for his vocal chords.
"There's a super famous ear, nose and throat doctor in Beverly Hills who took out my tonsils," he says.
"He would say, 'Josh, if you ever go to a comedy club with your friends, never (say) 'Ha ha ha!' That will trash your vocal chords. It's 'heh-heh-heh,' " in a quiet voice.
"I was, like, 'Are you really (expletive) serious? Really, you are going to ask me to go 'heh-heh-heh?' That's not how laughing works. It's involuntary, like a sneeze or an orgasm.
"I have the heartiest laugh ever," he says. "If laughter is my vice, then I'm OK."
Doug Elfman's column appears on Page 3A in the main section on Mondays, Tuesdays, Thursdays and Saturdays. He also writes for Neon on Fridays. Email him at delfman@reviewjournal.com. He blogs at reviewjournal.com/elfman.