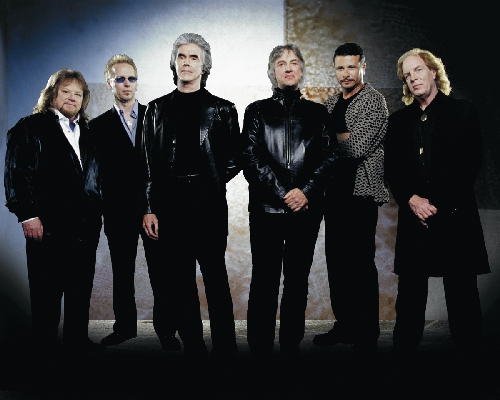 Three Dog Night. War. The Fixx. Attend Junefest on Saturday at the South Point and you can hear hits from the '60s, '70s and '80s.
And if that sounds a little like a slogan for a radio station, it may be because the show is sponsored by KKLZ-FM, 96.3, whose format reflects some of those very decades.
Junefest dates back to 1993 when the station and the festival had a classic rock focus, said Tom Humm, KKLZ general manager. At that time, it was an outdoor festival.
The annual festival ended in 2002 in the midst of radio station ownership changes, Humm said. It reappeared in 2009 after Humm and Steve Stallworth, general manager of the South Point Arena, decided to join efforts.
"I said, 'Hummer, let's bring Junefest back,' " Stallworth remembered.
But there would be a few major changes, including air-conditioning and restrooms.
"I remember going to Junefest back in the day," Stallworth said. "Drink hot beer, pee in a Porta Potty. Back then we didn't care. We'd go outdoors and we'd bake in the sun in June. I'm not doing that anymore."
Stallworth, who's 46, said the festival appeals to his age demographic, which is looking for a little more in the way of creature comforts.
"What we're trying to do is sort of create this outdoor festival indoors," he said. "We bring the beer truck right in on the floor, put up the volleyball net."
And, Humm said, run Woodstock videos through the evening.
"It really brings back a lot of memories for people in this age group," said Humm, who's 57, "when we were young and could stay out in the heat for 18 hours."
In addition to the switch in the station's format, changing times dictated the festival's new focus.
"You can't buy the classic rock acts like you used to be able to," Stallworth said. "They're way too expensive — to get a cheap ticket."
The festival also includes Fight for the Fest, which Stallworth said is a battle of the bands concept. Of the more than 70 bands that entered, six were chosen to compete in two qualifying rounds; the two winning bands will perform Saturday.
Doors will open at 5 p.m., with KKLZ morning show personality Mike O'Brian's band, The Wedge Brothers, going on at 5:30, followed by the Fight for the Fest bands. The Fixx is scheduled for 7 p.m., War at 8:10 and Three Dog Night from 9:20 until about 10:30.
Stallworth is expecting a crowd of about 5,000 to 5,500, although more than 7,500 could be handled.
"The ticket price is really our big selling point," he said. General admission seats are $25, with reserved seats selling for $40. Humm said the station will give away tickets on-air through Friday, and added that $5 discount tickets are available at the 14 valley Tireworks locations.
Junefest is being billed as Las Vegas' Largest High School Reunion for a good reason. Not only will the bands bring back lots of high-school memories, but people will be invited to be true to their schools on sign-up sheets. The school with the most signatures will get $2,500 from Findlay Chevrolet, Humm said, which the committee chairman of the school's class reunion will present to the school. Humm said anyone from any school can sign, and the sign-up table will be outside the doors, so even those not attending Junefest can participate.
But then they'd be missing out on a lot of the fun.
"A lot of our customers book a room on Saturday night," Stallworth said. "They come, have dinner, see a great show, party, do whatever and then just go to their room.
"That, to me, is the evolution of this event."
Contact reporter Heidi Knapp Rinella at hrinella@ reviewjournal.com or 702-383-0474.
PREVIEW
What: Junefest
When: 5 p.m. Saturday
Where: South Point Arena, 9777 Las Vegas Blvd. South
Tickets: $25-$40 (797-8055)