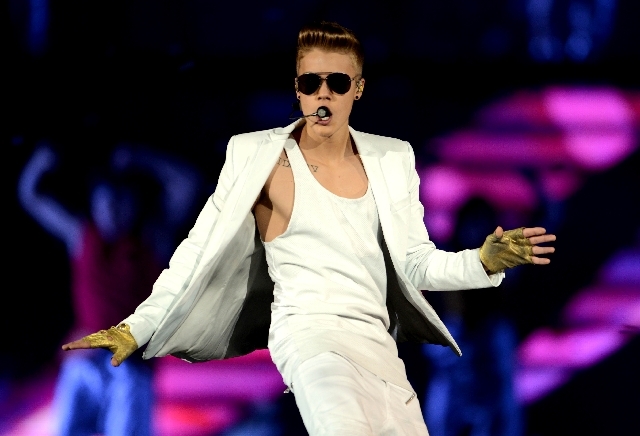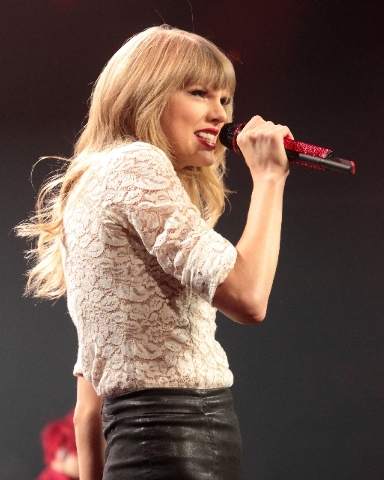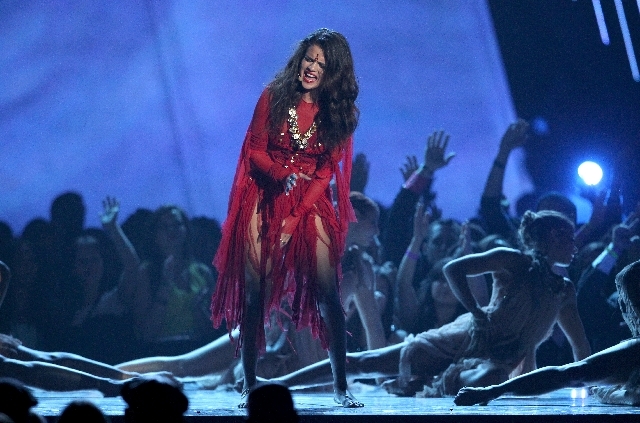 Growing up is hard to do, especially when you don't want to do it to begin with.
On the flip side, there are those who strive to mature in the most immature fashion.
This is the postpubescent pendulum from which many young pop stars swing, often haphazardly, their struggles doubling as catnip for tabloid editors.
The Billboard Music Awards, which return to Las Vegas on Sunday, underscore all of this with a lineup full of performers who are either navigating the often treacherous waters from adolescence to young adulthood or have done so under the unsparing microscope of celebrity.
No artist currently embodies the challenges of this transition like Justin Bieber, that baby-faced prison warden of millions of teen girls' hearts. He's the butterfly effect incarnate, where every little action seems to spawn an outsize reaction.
Bieber's become a wholesaler of cubic zirconium controversy, wittingly or not, the ethanol in TMZ's fuel tank, keeping its engine roaring with manufactured outrage.
He gets photographed smoking what looks like a joint, he quarrels with paparazzi, he doffs his shirt at any opportunity.
Basically, he's a 19-year-old acting like a 19-year-old.
So why all the tongue-clucking?
Maybe it's because that's what Bieber wants, to be seen as a grown-up who, ironically, doesn't seem all that interested in growing up.
You don't hear this in his music.
Bieber's latest album, "Believe," is all pillow-soft R&B and hip-hop lite with doe-eyed hits such as "Boyfriend," where Bieber name-checks Buzz Lightyear and imagines a romantic evening with his lady that includes the steamy act of eating fondue by a fireplace.
In his songs, Bieber presents himself as the thoughtful, caring, tender-hearted male ideal — but then he seems to resent being seen that way in real life.
And so he rebels, albeit mildly, his behavior occasionally coming across as boorish, though far less so than the attempt to fashion headlines out of it.
Bieber's polar opposite is Taylor Swift, a 23-year-old who carries herself like a starry-eyed teen passing love notes in class, dotting her i's with little hearts.
On 2008's "Fearless," she sang convincingly of unrequited high-school crushes and adolescent awkwardness, looking like a swan but sounding like a self-anointed ugly ducking.
She was the self-styled outsider who used her perceived lack of coolness to become cool.
Five years later, Swift is still defined by the same girl-next-door precociousness, an assembly line of brittle-hearted relationship songs.
On her latest record, "Red," Swift acknowledges her age while continuing to sound like a moonstruck teenager.
"We're happy, free, confused and lonely at the same time," she sings on "22." "It's miserable and magical."
If Bieber's goal is to grow up yesterday, Swift wants yesterday to become indivisible from today.
Somewhere between these two is Selena Gomez, Bieber's on again-off again girlfriend and fellow pop star.
Her tunes are light enough to float on air, as devoid of teenage angst as they are of thrash metal riffing.
She doesn't seem to have much if any coming-of-age concerns, and comes across as just being happy to be here, not pushing any bounds musically or otherwise, seemingly acknowledging as much in song.
"It's been said and done / Every beautiful thought's been already sung / And I guess right now here's another one," she sings on "Love You Like A Love Song," a tune about as eventful as a day spent folding socks.
But then there's Gomez's recent turn in director Harmony Korine's lurid, Day-Glo "Springbreakers," where she plays a college girl gone wild, drinking, drugging and cavorting with lots of dudes with gold teeth — at least for a minute, then she's back on a bus headed home, not joining the other girls in their ongoing debauchery.
That's an apt encapsulation of Gomez's career up to this point: a dash of naughty to add some spice to a heaping spoonful of nice.
If Bieber, Swift and Gomez are still coming to terms with growing up in the spotlight, a pair of fellow Billboard Music Awards have already done so, to mixed results.
First, there's Christina Aguilera, who forced the issue with her second album, 2002's "Stripped," where she lived up to its title in the video for the record's first single, "Dirrty," eschewing body-covering fabrics in favor of an S&M cowgirl look complete with bumble bee-colored leather chaps.
On the song, she sang of sweating until her clothes came off, though not much perspiration would have been required to get the job done.
Aguilera was in an arms race with Britney Spears at the time to see who could distance herself from her "Mickey Mouse Club" origins the fastest, trying too hard to rub noses in her sexuality, reducing adulthood to exaggerated libidinal impulses.
And then there's hip-hop live wire Lil Wayne, who recorded his first record when he was 11.
Artistically speaking, he's matured better than most of his peers, releasing a number of compelling, chaotic albums, namely "500 Degreez," "Tha Carter II" and "Tha Carter III," that are equally adventurous and antagonistic, with Lil Wayne taking to the mic like an inebriated cartoon character.
Personally, though, he's weathered numerous arrests and some health scares from continued drug use.
He's matured, but done so defiantly, almost ruefully.
Perhaps the best perspective on coming of age, in the public eye or otherwise, comes from country singer Kasey Musgraves, who's already a music industry vet at age 24, having self-released a trio of records before her winsome major-label debut, "Same Trailer Different Park," which came out in March.
It's an equally wizened and whimsical album that views life the way a cowhand does a wild stallion, something to be controlled by sheer force of will.
"If you wanna find the honey / You can't be scared of the bees," Musgraves sings on "Silver Lining." "And if you wanna see the forest / You're gonna have to look past trees," she adds knowingly, winking at all those little details that form a bigger picture.
Hope Bieber's listening.
Contact reporter Jason Bracelin at
jbracelin@reviewjournal.com or 702-383-0476.
Preview
Billboard Music Awards, with Justin Bieber, Taylor Swift, Lil Wayne and others
5 p.m. May 19
MGM Grand Garden arena, 3799 Las Vegas Blvd. South
$86.15-$266.70 (800-745-3000)