Las Vegas' Cowtown Guitars owner loves all things six-string
Updated November 6, 2018 - 9:48 am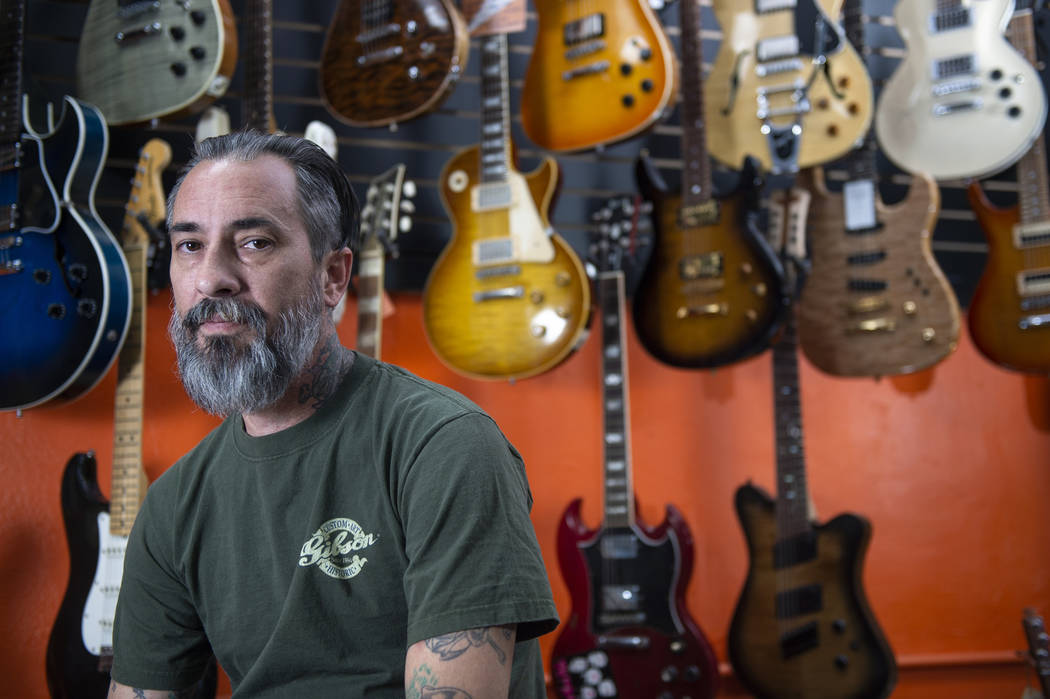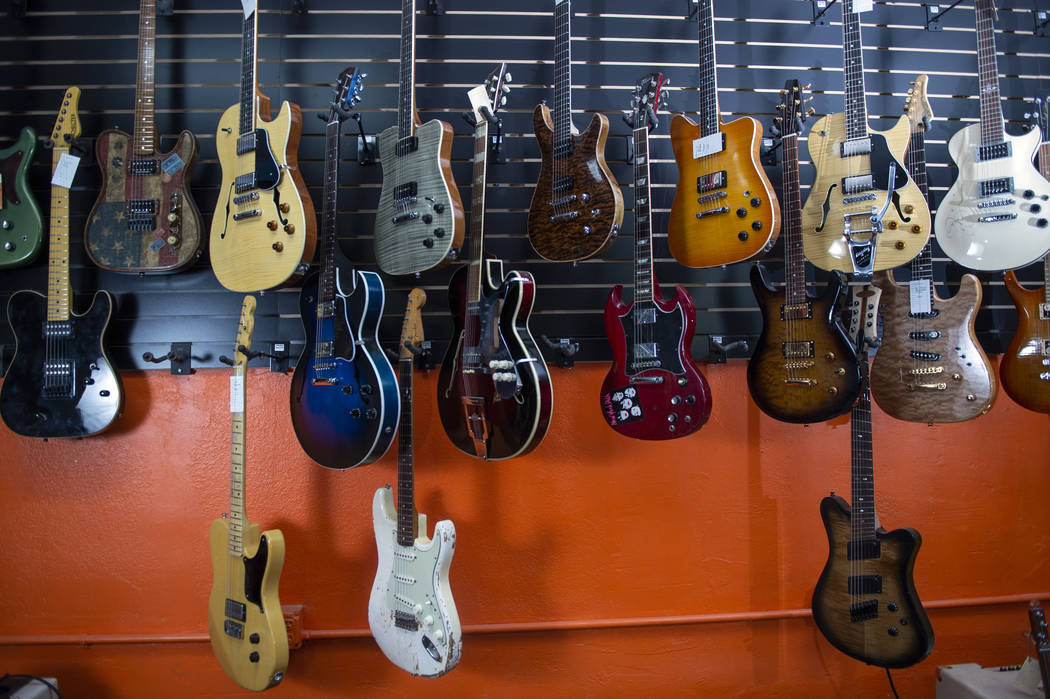 Vegas Voices is a weekly series highlighting notable Las Vegans.
Jesse Amoroso speaks of the guitar the way a poet might try to encapsulate the scent of a rose.
"To me, the beauty of the guitar is that you don't have to be a guitar player to appreciate them," Amoroso says. "You don't have to be completely immersed in this stuff. They're beautiful, the shapes of them, the way they feel. They're amazing."
Amoroso's love of the guitar has made him arguably Vegas' leading authority on the instrument, from playing in bands such as the Loud Pipes, Crazy Chief and Pigasus to owning Cowtown Guitars, the vintage shop with many notable clients, including Carlos Santana and members of Imagine Dragons.
When original Cowtown Guitars owner Mark Chatfield opened the first Las Vegas location on Maryland Parkway in 1996, Amoroso quickly became a fixture in the shop.
"I used to drive a delivery truck on the Strip, and I'd sneak off my delivery route and go hang out there," he says. "Every minute I could spend in that place, I did."
He would eventually start working there, taking over the store with his wife, Roxie, in 2011 and moving Cowtown to its current downtown location at 331 S. Commerce St. the following year.
Along the way, Amoroso would become the go-to guitar expert on "Pawn Stars," recruited for the show on numerous occasions to help determine the value of assorted models.
We recently caught up with Amoroso to learn more about his lifelong love of all things six-string.
Review-Journal: What ignited your passion for the guitar?
Amoroso: Guitar started for me — as with most guys who are in their 40s, I guess — with Kiss. I saw Ace Frehley, thought he was the coolest dude in the world, said I wanted to play guitar. My dad played guitar when he was a kid. He, being the classic older Italian gentleman, went and bought me a nylon-string classical guitar. I remember opening the case and being like, 'This is not what Ace Frehley plays.' I took a couple of lessons when I was really little. The guy was trying to teach me how to play "Mary Had a Little Lamb" and stuff like that, and I was like, "I want to play 'Strutter.' " So it kind of went away for a long time.
All through my teen years, I was really into skateboarding. I destroyed my ankle, probably about 1990, and couldn't skate. I had moved to Las Vegas, and my cousin was out here. He tells my mom, "Get him a bass or something; he's just sitting in there moping because he can't skate." So my mom went with my cousin to a pawn shop and bought me a Fender Precision bass. My cousin was like, "Let's start a band." Within probably less than a year, I was playing guitar in bands and I was just off and running.
You've since become something of a historian of the instrument
I'm the kind of person, when I get into something, for better or worse, I dive so far into it. I want to know everything about it. I was the kid who took his toys apart — "How does this work?" I got the same way with guitars. I wanted to know everything about them: "How do you know this is from 1965?" "How do you know if this is an original part?" It just became an obsession for years.
You talk about how tricky it can be to assess the value of a guitar. There are so many components to consider. What are some of the first things you look for?
The first thing I look at on a guitar is the finish of it. A lot of people think restoring a guitar means repainting it, but you're actually hurting the value of it. That's like 50 percent of the value of the guitar. Then I start looking to see if there's any breaks, if it's been broken and repaired. Then after that, I'll start opening it up and making sure the parts are all original. You can see repairs. That's usually the starting process.
In terms of guitars, do you have a white whale, a holy grail, you've been chasing?
I did for years. For me, it's always been the TV-yellow Les Paul Jr., because that's what Johnny Thunders played. It's a rare color. It was probably about 1993 in Phoenix, Arizona. I was living down there at the time. I was going through the newspaper and I found one. I drove all the way across the valley, met this older gentleman who had a TV-yellow Junior. It was kind of beat up. He didn't want anything for it. He wanted like 300 bucks, but I was flat broke at the time. I hemmed and hawed about it, and I left. I got probably about halfway home, I stopped at a Circle K and called this guy, "Hey, I'm going to come back for the guitar." He was like, "I just sold it." It took me probably about 15 years before I came across another one — I bought it.
How did the "Pawn Stars" connection come about?
They called the shop one day and asked if one of us wanted to come down and be on a TV show. This was before I owned the place. I didn't think it was ever going to amount to anything, but it did. And it's been cool. It's definitely been an experience. It took me a long time to realize how big that show was. I think the first realization was going to Disneyland and having people stop and take pictures with me. It was really weird.
Because you're such a guitar lover, is it a challenge balancing being a collector and needing to sell stuff?
Yeah, you start to feel a little guilty sometimes, "OK, I'm keeping this one, so I've got to take some stuff down to the store and get rid of it." The guitar game in general has changed, with the internet and ease of access to sell stuff. I keep a brick-and-mortar store just because of stubbornness, I think. I could just as easily do this online out of my living room. But I like having a store. It's a bit of a barbershop for guitar players. I love just sitting in there and having the two-hour conversation with a bunch of guys about guitars.
Getting to know: Jessie Amoroso
Current obsession
Getting ready to play paintball with my 10-year-old son, getting out of the house, going up in the woods and running around.
Favorite vacation destination
Oak Creek, Arizona. It's just above Sedona. It's a creek that runs through the red mountains of Arizona. It's just beautiful. I love it there.
Favorite movie
I always tell everybody that one of my biggest influences in life was Han Solo, so I guess "Star Wars."
Piece of art that truly moved you
I grew up Catholic, in a very, very old-school Italian Catholic family, so religious paintings have always done something to me, even though I'm not the most religious person in the world.
Hobbies/collections
Motorcycles and records.
How many motorcycles do you have
Just one right now — and one in pieces — a '67 Harley and a '59 Triumph.
Food you could eat every day
Tacos. That one's easy.
Secret talent
My wife says I sing pretty good. But I never do.
Contact Jason Bracelin at jbracelin@reviewjournal.com or 702-383-0476. Follow @JasonBracelin on Twitter.