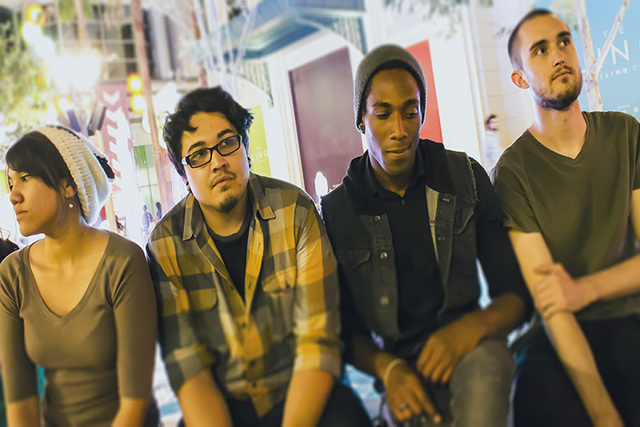 Being a working musician means being around a lot of other working musicians, naturally.
So who better to give the lowdown on some promising, up-and-coming Las Vegas acts than their peers?
To this end, I asked a few of my favorite Las Vegas artists to share their thoughts of what new local bands they've been digging the most of late:
■ Hassan, rapper. "In an age where many up-and-coming rappers lack substance and rely too much on ego and the image they're trying to sell, Oddity is an exception. He's a breath of fresh air. His wordplay and cadence are very intricate, and he's an overall good dude. He recently teamed up with scene veteran Jay Dubbler, subsequently making Late for Dinner, a two-man act. He's only been rhyming for two years now, but after giving him a listen, you would think that he was a seasoned vet. He flips vocabulary, metaphors and subject matter in a way most his age only wish they could. And his stage presence is something that must be witnessed. … He's currently working on his upcoming EP produced by Kinetic Beatz. You'll definitely be hearing his name a lot more soon."
■ Brian Gibson, Wax Pig Melting singer-guitarist. "My choice: Luna Flore. Since hearing rehearsal recordings of what are now fully fleshed songs to be released on their debut album, 'Bloom,' Luna Flore has always struck me somehow. Singer-guitarist Lance Bell, formerly in grind projects, joins with drummer Brad Ford to take all the pure and seemingly true, harsh aspects of grind music/the human experience, and make a uniquely honest, spacey, Minus The Bear-meets-Isis/Neurosis sound for themselves. That, combined with their sincere interest and support for their music scene, really has me excited to see where they progress in the future."
■ Mike "Lazer" Lavin, The Pluralses drummer/Digital Insight Recording studio manager. "Solo The King is my favorite new band in Vegas. Disclaimer: They are my pals and I helped a little bit on the recording of their new record, 'You Were Right,' but I can't stop listening to it. It takes me to a place and time when my radio wasn't all punked out at 200 beats per minute. They're veterans of some great Vegas bands (Fredward, Holy Moly's and FFI) and bring rad effects, pounding drums and a deep, distorted bass drive. … They say music speaks to people in different ways, this sounds to me like three dudes playing from the gut."
■ Tsvetelina Stefanova, Same Sex Mary singer-organist/The Dillinger booker. "I first saw The Kodets (Aldred Basiga and Jacob Lasky) at James Howard Adam's songwriter night in Boulder City a couple of months ago. I was really impressed with Aldred's songwriting and Jacob's catchy guitar licks. They recently formed a new band called Special K with Justin Ptak on drums. Keep an eye out for these guys!"
Contact reporter Jason Bracelin at jbracelin@reviewjournal.com or 702-383-0476. Follow on Twitter @JasonBracelin.