Library program gives young DJs a place to hone their craft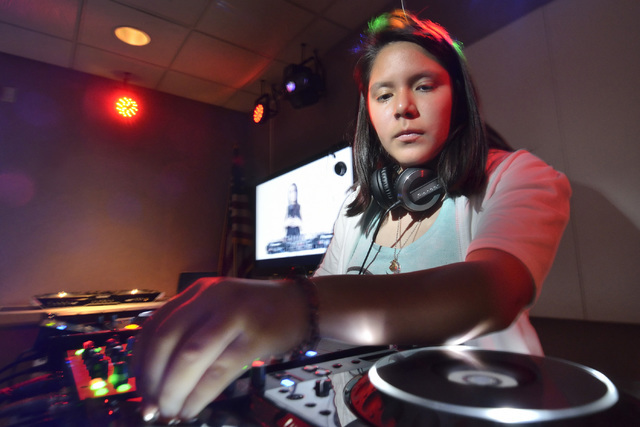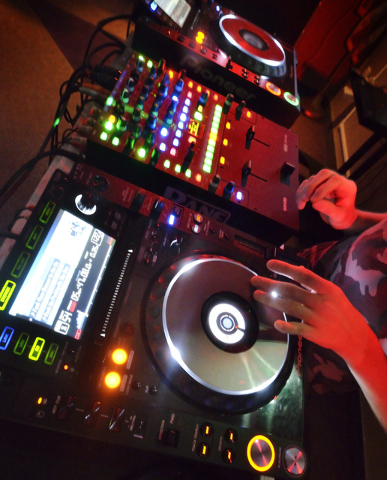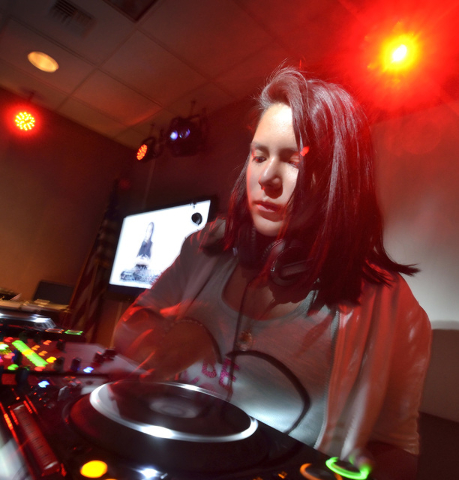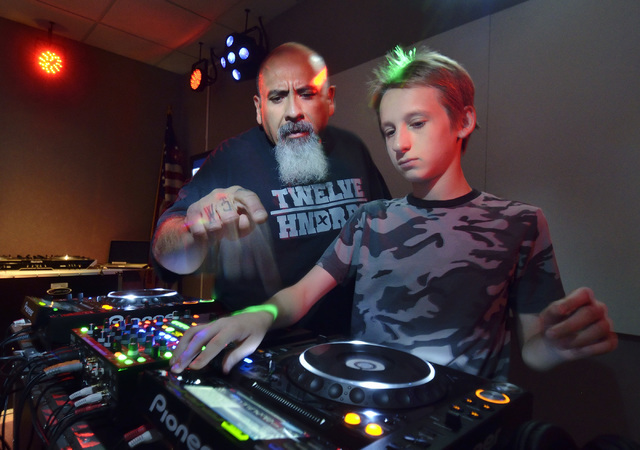 Brace yourself. It's that time again. Electric Daisy Carnival is returning for another year.
This time next week, the valley will be flooded with dance music fans from all over the globe, all converging on our town for the 20th anniversary of EDC. Thursday, when many of those fans start arriving at the airport, they'll be greeted by a trio of DJs.
Ah, yes, how novel, right? Cue the collective groan. It is EDC week, after all, which means seemingly everybody in town is all about associating themselves with anything with a beat. Why should McCarran be any different? Thing is, these are not just any DJs and this isn't an opportunistic gesture on the part of the airport.
It's part of McCarran's ongoing Voices of Vegas series, which highlights homegrown artists. So when the beats start banging Thursday from 10 a.m. to 4 p.m., they'll be delivered by DJs developed here in a lab at the Enterprise Library.
Wait. What? The library? Yes, the library. The place where silence is typically golden.
But that's not the best part. This is: None of the three DJs in question — DJ Ecoh Shake, DJ Deadgoat and LEIRU — is even old enough to drink, much less entertain in a club. Even better, they've been learning the art of DJing for free, with the ease and convenience of checking out a book. If that sounds, well, enterprising, it is.
While there are a few other library districts in the country offering progressive programming (such as Anythink in Denver, The Mix at San Francisco Public Library and YOUMedia in Chicago), Enterprise's TechArt DJ Studio is among the first of its kind on the public level. There are other private instructional incubators, but they typically charge up to $75 an hour for DJ lessons. Whereas Enterprise's program doesn't cost a penny.
Salvador Avila helped launch the DJ learning lab at Enterprise five years ago. Raised in Imperial County, about an hour east of San Diego, Avila attended San Diego State University and then earned a master's degree in library and information science from the University of Arizona. He started as a reference librarian with the Las Vegas-Clark County Library District in 1995 and later moved on to become Enterprise's branch manager.
According to Avila, the DJ learning lab was part of the district's push to find new and innovative ways to attract more young people into library spaces, to "render relevant library services to the youth," as he puts it. The program, which was funded initially by a grant, was launched humbly with just one DJ station, which consisted of a laptop, a single controller, a pair of speakers and a simple lighting rig.
"The management team at that point said, 'Let's start off with one station just to see if it picks up, if it takes off, if it's embraced by the youth,' " Avila recalls. "They saw the rooms were getting packed. Kids were really engaged, energized, focused. Then over the course of time, we've been expanding and expanding."
The DJ studio at the Enterprise Library has grown considerably since then. These days, twice a week from 3 to 5 p.m. Avila works with groups of aspiring kids from all over the valley (more than 500 in the past five years) who come to the library to hone their skills at seven fully equipped stations — and they're learning the tricks of the trade on some of the same kind of gear that the superstar DJs on the Strip use.
"They now have access to state-of-the-art, industry-standard equipment, where they learn the trade of DJing," says Avila, who's so immersed in the program that he's actually carved out a curriculum for the kids to follow, even though he says, "I'm not a DJ myself, but during these five years, I've learned and joined the journey with the youth, so I guess now, I'm pretty good at it.
"You don't have to be necessarily an expert," he continues. "But as long as you're passionate with youth services, providing them with good products and resources and learn with them, that seems to be a win-win situation for everyone."
Naturally, Avila is just as enthusiastic about the educational part of the experience as the entertainment aspect. "The skills that they learn while at the library and using the DJ equipment are then transferable skills to home, school, life and work, whether it be public speaking, manners, etiquette, performing in public," Avila points out.
"One of these kids might be the head lighting director at — I don't know — MGM, doing the light shows, because of something that might have been sparked. There are a lot of kids that take a vested interest in that aspect of the studio. So there's no right or wrong. It's just you learn and learn until you discover yourself."
You never know, one of Avila's students could one day winding up spinning on the Strip. That's still a ways off at this point, though. Even though a few of them have played at events such as First Friday, "They're still minors, so they can't perform in local clubs," Avila points out. "But many of these DJs are now taking side gigs. They have business cards. They have a social media presence. They're learning financial literacy — you know, how to charge, how to spend your money wisely, to invest it. I give them a few pointers, but they learn by doing."
Avila actually does more than just offer tips. He puts his money where his mouth is, so to speak, oftentimes lending out his personal DJ equipment to the kids when they land these side gigs and then showing up to watch them perform, coaching them from the crowd and then critiquing them after the fact when they show up at the library for their next session.
Oh, and speaking of money, whatever pay the kids earn is all theirs — although Avila says he does encourage them to bank what they make and earmark it toward buying their own gear. If you ask Avila, his compensation comes in a completely different form.
"My hope is to make them successful in whatever it is they end up doing in life," Avila says. "So that's my number one goal. If they happen to become a famous DJ or become a resident, I did my job. Even if they become successful as the best plumber, who DJs on the side, I believe I did my job."
Whatever the case, it's safe to say they're getting closer and closer to take off.
Read more from Dave Herrera at reviewjournal.com. Contact him at dherrera@reviewjournal.com and follow @rjmusicdh on Twitter.