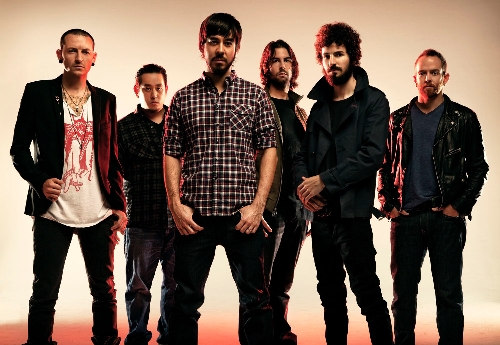 He uses a cliche to illustrate how his band has attempted to distance itself from cliches.
If that sounds a little counterintuitive, so does the latest record from Linkin Park, "A Thousand Suns," an album as dark as its namesake is blindingly bright.
The difference between the record and its three predecessors is the difference between a shout and a murmur, catharsis and contemplation, analog and digital.
Not that the album lacks volume or forcefulness, but its energy manifests itself in different forms from the singalong rap-rock that once defined these dudes. It's as if the band's guiding light has been refracted through a prism, bending in new directions with unexpected colors.
"If we can take the analogy of being in a box, on the first two records we were defining that box and everybody understood what that box was," says Linkin Park rapper/producer/multi-instrumentalist Mike Shinoda. "Then on the next record, we were venturing outside of the box and understanding what else is out there. On the new record, I feel like we got comfortable being outside it."
Basically, the band speaks in a different vocabulary on "A Thousand Suns."
Synthesizers and electronics, which have been a part of the band's sound in the past, form the basis of the syntax, moving from the background to the forefront on the record.
As such, "A Thousand Suns" pulses and throbs, questions and reflects where past Linkin Park records seethed and stomped with hard-rock guitars and vocals rapped and sung with little equivocation.
"At this moment in time, it's, like, how many things can you do with drums and guitars?" Shinoda asks. "I mean, unless there's something really exciting about that, it felt like there are so many ways to blend the organic and the digital sounds that feel really fresh right now. There's just some sounds that we're trying to find that we could kind of stake claim to and make our own."
The end product is perhaps the band's most cohesive sounding record, something that's very much of a piece, held together with brief, atmospheric interludes that form a sort of connective tissue between the album's tracks.
For a band that made its name notching a series of radio hits at the tail end of the nu metal boom as a less angry, profanity-indebted alternative to bands such as Limp Bizkit and Korn, Linkin Park seems disinterested in even attempting to pen a hit single on "A Thousand Suns," instead shooting for a record that needs to be digested all together.
And slowly.
"We kind of knew that we wanted the album to be presented as a whole rather than a collection of songs," says singer Chester Bennington. "We did tend to gravitate towards that a little more than normal. I never really thought about what people would think of a track or how they would feel about the new direction. Sometimes it takes people a while to digest the new music, but I think people really are going to see it for what we intended it to be."
"A Thousand Suns" is as sweeping thematically as it is sonically.
While not a concept album per se, there is what feels like a overarching narrative throughout the disc, one that revolves around mankind's perceived self-destructive tendencies, lending a doomsday feel to the record, a far cry from the more self-absorbed scab-picking that characterized much of the band's earlier material.
"I think a lot of people these days do have that fear, whether it be in the front of their minds or in the back of their minds, that humanity as a whole is and has been on the brink of destroying itself," Shinoda says. "Whether that be slowly or quickly, it's a possibility that exists in the world, and I think we're all scared of it to some degree. We decided that was an honest fear and an honest emotion and that it was proper for it to be a part of the record in the way that it ended up being."
None of this equates to an album that has much in the way of deliberate immediacy.
Maybe because of this, "A Thousand Suns" has not set the charts ablaze like the band's past records have, selling less than half of what its predecessor, 2007's "Minutes to Midnight," did its first week out.
Still, the band doesn't seem all that surprised by this more reserved reception — "A Thousand Suns" is largely defined by ambivalence and uncertainty, so perhaps it's to be expected that it would, in turn, cultivate as much.
"We had to look at ourselves in the mirror and say, 'Are we comfortable with the possibility that this will work against us in the long term here?' " Shinoda says. "Obviously we decided to go through with it and go against the grain. I feel like, creatively, artistically, it was a choice that we needed to make."
Contact reporter Jason Bracelin at jbracelin@ reviewjournal.com or 702-383-0476.
Preview
Linkin Park
8 p.m. Saturday
MGM Grand Garden arena, 3799 Las Vegas Blvd. South
$51.15-$83.10 (891-7777)