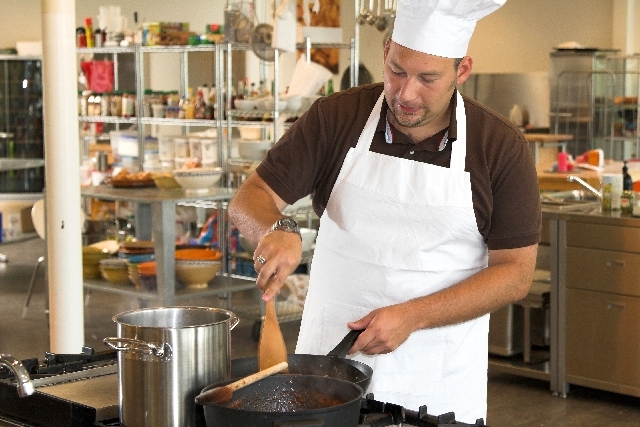 The only thing white about this particular Christmas celebration will be the tan lines.
As a counterpart to its annual Great Santa Run, Opportunity Village is hosting its inaugural Ho! Ho! Speed-Oh! fun run Tuesday.
Participants, who must be at least 21 years old, are asked to come dressed in Speedos, bikinis, one-pieces or boardshorts, preferably with some sort of holiday flair. (If you're shy or just haven't hit the gym in a while, cover up as much as you want. Just take the heat into consideration.)
Brad Garrett will be the event's emcee.
The one-mile run through the Fremont Street Experience is set for 6 p.m.
An open-bar cocktail party with complimentary food is scheduled at Meet Las Vegas, 233 S. Fourth St., from 4 to 8 p.m., interrupted only by however long it takes you to run a mile.
The $50 registration also covers a T-shirt as well as swag from event sponsors.
A worthy cause and free booze? That's the kind of run we can get behind.
For more information, see HoHoSpeedoh.com.
Jazz concert
Clark County's annual Jazz in the Park series may have completed its 2013 events, but that doesn't mean you can't see jazz in the park anymore.
This weekend, it's the city of Las Vegas to the rescue with a free concert at Bruce Trent Park, featuring the contemporary jazz sounds of Streetology.
The Las Vegas-based band includes Rocky Gordon (alto and soprano saxophone), Jon Jacquemoud (guitar), Jon Matteson (piano and keyboards), Geoff Neuman (acoustic and electric basses) and Randy Fisher (drums and percussion), Geoff Neuman (acoustic and electric basses) and Randy Fisher (drums and percussion) They perform originals and remakes, listing influences from Chick Corea to John Coltrane, Pat Metheny to Spyro Gyra.
Details: Streetology concert in the park, 7:30 p.m. Saturday, Showmobile at Bruce Trent Park, 8851 Vegas Drive (at Rampart Boulevard). Free and open to all ages.
Father's Day Cook-Off
Here's a chance for Dad (and a kid) to go mano y mano with other dads (and their kids) behind the stove: A Father's Day Cook-Off — Chef Battle Sunday at The Cooking Experience by Mise en Place, 9500 S. Eastern Ave. Six teams will compete in two sessions: at 9 a.m. for kids 7 to 12 and 2 p.m. for teens 13 to 18. It's $100 per pair, which covers a secret ingredient, chef's hat and apron, photos and trophies for the winners.
D.I.
Why should you go see D.I.? To hear one of the prime influences on punk favorites such as The Offspring, Pennywise and Face to Face.
Details: 8 p.m. Friday; LVCS, 425 Fremont St.; $10 advance, $12 day of show.
LAS VEGAS REVIEW-JOURNAL