Maroon 5, Justin Timberlake, others help usher in 2015
December 28, 2014 - 7:05 am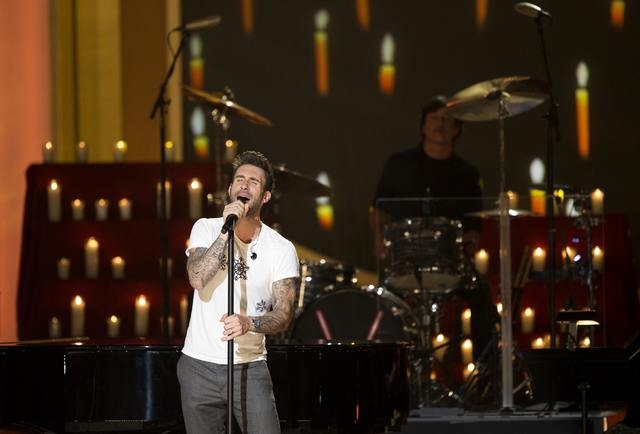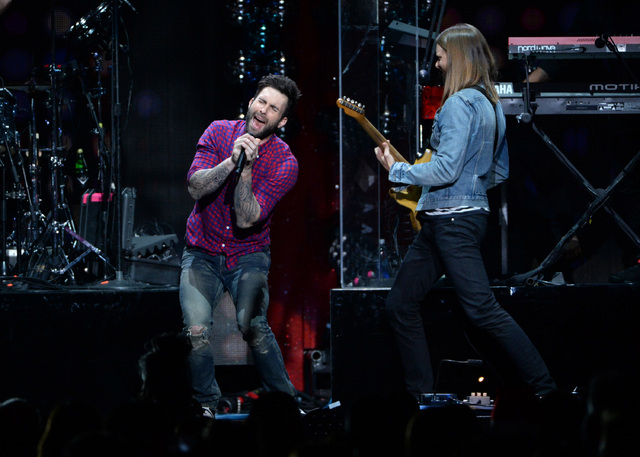 Everyone's got moves like Jagger after enough Champagne.
Or at least they think they do.
This will be evident when pop rockers Maroon 5 celebrate the coming of 2015 with a pair of shows where they will most assuredly play their smash hit "Moves Like Jagger."
Yes, the Rolling Stones frontman is in his 70s now, but, hey, on the bright side, this greatly improves your chances of finally being able to approximate his motions.
See Maroon 5 at 8 p.m. Tuesday and Wednesday at the Mandalay Bay Events Center, 3950 Las Vegas Blvd. South. Tickets are $99.50-$224.50; call 800-745-3000.
Other notable New Year's shows:
■ The last time The Roots played Brooklyn Bowl, during its grand opening festivities in March when they backed Elvis Costello, it was like witnessing contents under extreme pressure, waiting to blow. Nine months later, they'll most likely detonate the room in their return to the venue. The hip-hop greats' latest record, "… And Then You Shoot Your Cousin," is timely, a bleak, biting, satirical examination of violence in both hip-hop and society at large. See The Roots at 9 p.m. Wednesday at Brooklyn Bowl at The Linq, 3545 Las Vegas Blvd. South. Tickets are $82.50; call 702-862-2695.
■ Calvin Harris had a pretty decent 2014. He topped Forbes' annual list of highest paid DJ-producers, earning a cool $66 million. So, he should be in the mood to celebrate at 10 p.m. Wednesday at Hakkasan at the MGM Grand, 3799 Las Vegas Blvd. South. Tickets are $175 for women, $325 for men; call 702-891-3838.
■ Rapper Drake can't seem to get much respect from his peers of late, with Diddy punching him out in Miami recently and Ghostface Killah mercilessly — and hilariously — mocking him as the softest MC in the game. Ah, well, there's always the women, who have no shortage of love for the croonin' Casanova. See him Wednesday at Marquee nightclub at The Cosmopolitan of Las Vegas, 3708 Las Vegas Blvd. South.
■ In the past, pop star appearances at nightclubs usually meant one thing: a gratuitous acknowledgement of the crowd by said star at some point in the night, and then it was right back to partying behind velvet ropes meant to keep riffraff like yourself at arm's length. But rest assured, rapper Iggy Azalea will actually perform — for the fifth time locally in the past six months — when she rings in 2015 at 9 p.m. Wednesday at Drai's Nightclub at The Cromwell, 3595 Las Vegas Blvd. South. Tickets are $100 for women, $200 for men; call 702-777-3800.
■ Vegas' riff slobbering Crazy Chief and indie Americana troupe Rusty Maples put out two of the finest records to come from these parts in 2014 with "Chrome Werewolf" and "The Western World" EP, respectively. Now, they're ending the year on yet another high note by teaming up with Same Sex Mary and Mercy Music at 9 p.m. Wednesday at The Bunkhouse Saloon, 124 S. 11th St. The show is free; call 702-854-1414.
■ Hard rockers Sevendust celebrated 20 years together in 2014, their pairing of frontman Lajon Witherspoon's stirring, R&B-influenced vocals with a metallic crunch proving far more durable than the hit-or-miss nu metal they were often lumped in with upon their rise to gold-selling status in the late '90s. See them at 10 p.m. Wednesday at Vinyl at the Hard Rock Hotel, 4455 Paradise Road. Tickets are $67-$125; call 888-929-7849.
■ Hey, the undead like to party, too. At least in the canon of Danish psychobilly favorites the Nekromantix, who give raucous voice to various ghoulies and goblins on albums like "What Happens in Hell, Stays in Hell." See them at 8 p.m. Wednesday at LVCS, 425 Fremont St. Tickets are $22-$27; call 702-382-3531.
■ Justin Timberlake will bring his epic "The 20/20 Experience World Tour" to a close after 13 months on the road with a pair of shows at the MGM Grand Garden arena, which he has sold out on four separate occasions already on the aforementioned trek. This time, Timberlake is bringing along acclaimed director Jonathan Demme ("The Silence of the Lambs," "Philadelphia") to shoot the shows for a future concert film. See Justin Timberlake at 8 p.m. Thursday and Jan. 2 at the MGM Grand Garden arena, 3799 Las Vegas Blvd. South. Tickets are $100.65-$303.65; call 800-745-3000.
Contact reporter Jason Bracelin at jbracelin@reviewjournal.com or 702-383-0476. Follow on Twitter @JasonBracelin.