Musicians find home at Mountain Crest center
January 8, 2013 - 12:21 am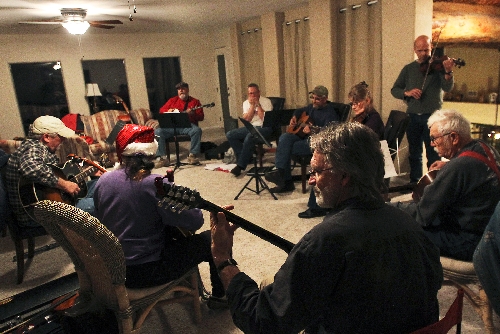 It's all about jamming when Mountain Crest gets together. The loose-knit group of musicians plans to meet at 6:30 p.m. Thursdays at the Mountain Crest Neighborhood Services Center, 4701 N. Durango Drive. They play mostly country and bluegrass songs. It's not for money but rather just for the fun of it.
Sometimes five adult musicians show up, and sometimes it is more than a dozen. The easygoing approach fits with the way the group is named.
"We just go by 'Mountain Crest' because of this place; that's as good a name as any," said Paul DePatta, who established the group.
DePatta said he sent out "hundreds" of emails to Clark County Commissioner Larry Brown last year asking for help in locating a spot for the group to meet. His efforts paid off. Brown secured permission to use the community center, and members began meeting there in June. When holiday hours at the center left the musicians out in the cold on Dec. 21, the group headed to a member's nearby home, taking over the oversized loft.
Once there, chairs were pulled into a circle, and music stands popped open. Binders of music unfolded. The sound of plucking and musical phrases filled the room as the musicians tuned instruments and warmed up their fingers.
Some held guitars, and others had banjos. One played a mandolin. A couple of fiddles, a harmonica and an upright bass completed the ensemble this night. A few of the musicians had other instruments by their chairs so they could switch off between them.
Vera Vann-Wilson had driven from Henderson with her fiddle. She got everyone's attention and led off with "Foggy Mountain Breakdown." At appropriate lulls in the song, she called out "bass" or "guitar," allowing for solos. People sang along with her, some louder than others. One chimed in with the harmony.
An alumna of the Grand Ole Opry, Vann-Wilson has given bluegrass music lessons to many of the group's members at her home.
"It's a nice, small, informal, anything-goes jam," she said. "We can play all kinds of music, and nobody intimidates anybody. We have various levels of ability and experience, and everyone is made to feel that whatever they have to contribute is important."
Each person was able to suggest a song and told in which key it should be played. The level of playing was apparent when Vann-Wilson suggested playing a song with "C sharp diminished" and no one asked her what that meant.
The songs continued without a break —- "Back Home Again," "Ragtime Annie," "Swing Low, Sweet Chariot," "My Bucket's Got A Hole In It," "Cherokee Shuffle" and the instrumental standard "Old Joe Clark."
At one point, someone added a "yeehaw" for effect. Each song was played with space for solos on various instruments, giving everyone a chance to shine.
David Johannessohn ducked out of the circle in between songs to exchange his mandolin for a Greek string instrument he'd made. It was shaped like an onion and crafted in a rich, dark wood. Puzzled, the others questioned him about what it was.
"It's a bouzouki," he said.
"Yeah, if you pull the string on it, it blows up," someone joked.
Jim Damele plays multiple instruments —- guitar, violin, mandolin and bass. He also sings and is in a band, the Red Rock Ramblers, which plays at private parties and has been featured at First Friday.
Music is integral to Damele's way of life.
"I've been playing music since I was 9 years old," he said. "If I couldn't play music, I don't know what I'd do."
Jeanne Howerton picked up the fiddle about six years ago after being a guitar player for a long time.
"This is an opportunity to try out new things, new types of music," she said.
Since getting together, the group has played at the opening of the expansion of Lone Mountain Regional Park in Centennial Hills and has participated in competitions. Several were at the annual Death Valley 49ers encampment in November, one of the largest music competitions of its kind in the region.
There, Vann-Wilson took first place finishes in banjo picking and overall picking. Damele was awarded a gold medal for guitar, Rick Crease won first place with a "novelty" instrument (the upright bass), and Howerton took third place with a fiddle. Two years ago, she took the state title.
For more information about the Mountain Crest jammers, call DePatta at 702-839-0807.
Contact Summerlin/Summerlin South View reporter Jan Hogan at jhogan@viewnews.com or 702-387-2949.