Neon Reverb returns to downtown Las Vegas after three-year break
December 9, 2015 - 6:34 pm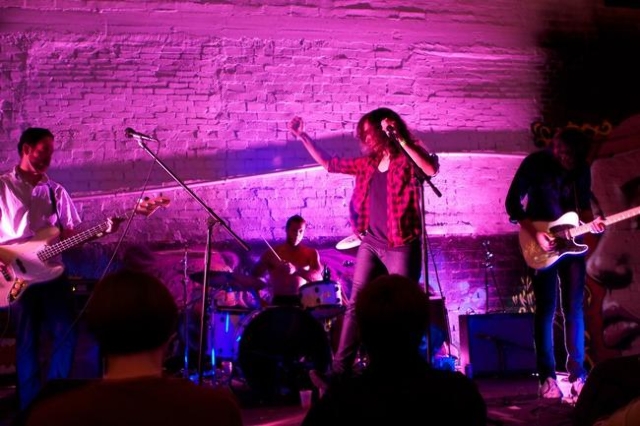 Fantastic news for local music fans. Neon Reverb is back!
"I think it's been sorely missed," says 11th Street Records owner Ronald Corso. "And we're really excited to get it going again."
After being put on ice nearly three years ago, the lauded local music festival is set to return next spring. The plan, according to Corso — who's helping revive the festival, along with event founders James Woodbridge, Jason Aragon and Thirry Harlin, and Mike Henry and Mark Rowland of Downtown Project — is for the festival to pick up right where the last one left off, even if the surroundings have changed a bit since the last installment.
"Downtown is a lot different now than it was when we doing it before," Corso points out. "So obviously the walk between the Beauty Bar and the Bunkhouse will be a lot more comfortable. The Bunkhouse, as a venue, as beloved as it was back in the day, it's a superior place to see a show now. So that will probably be the marquee venue for the festival. We're planning on doing an outdoor stage at the Bunkhouse, as well as an indoor stage."
Although the full lineup is still being worked out, according to Corso, it's likely to feature "a few really exciting acts on the line, but nothing's signed yet. So those lineup announcements are forthcoming." The dates, which were strategically picked to capitalize on the routing of bands heading to Austin for South By Southwest the following week, should help attract some noteworthy acts. "It's a pretty easy diversion to Las Vegas on your way down to Austin, no matter where you're coming from," Corso observes. "We figure that we'll be able to catch some pretty cool touring bands on their way to South By Southwest by doing it that weekend."
Like past years, you can expect Neon Reverb to feature a slew of local artists mixed in with a host of notable imports (the last edition featured outfits like Cusses from Georgia, Acid Baby Jesus from Greece, Paint Fumes from North Carolina, Hellshovel from Canada and more). Whatever acts end up earning a nod for festival, they'll be spread out of eight stages at half-dozen venues, including the 11th Street Records, the Bunkhouse, Backstage Bar & Billiards, Beauty Bar, Inspire (two stages) and possibly another venue that hasn't been confirmed yet.
The festival itself is due to take place over the course of two nights, primarily, Friday, March 11 and Saturday, March 12, bookended by opening and closing events slated for Thursday and Sunday, respectively. The details of the opening and closing events are still being worked out, but Corso says it could end up being a headliner show for the opener, culminating with a closing pool party. An onsale date hasn't been set yet for festival tickets, but admission will range from $50 for a weekend pass, which will provide access to each of the venues, or single show tickets for each venue, which will likely be priced around $15.
Those details are all forthcoming. For now, Corso is just glad Neon Reverb is coming back. He's been lobbying for its return for a while now. "Since the festival shut down a few years ago, kind of took a hiatus during all the changes downtown, I've really kind of been bugging everybody that would listen to me about it, how important it was and how I felt like, especially during the pushback against the downtown revitalization, not including something that was as grassroots and beloved as Neon Reverb was kind of a mistake."
First, he presented his case to Woodbridge, whom he later introduced to Henry, Downtown Project's chief talent buyer. "So I'd always been talking to people about it at DTP," says Corso. "Anytime I saw James, I'd say, 'Yeah, you want to do this again?' And then at one point, I felt like I'd got enough interested questions from the primaries downtown about it that I actually said to James, 'What would it take for you to do this again? Would you be interested in doing this again?'"
Corso next set up a meeting with Mark Rowland, who heads up the Downtown Project, and presented his plan for reactivating the festival, and that's what set the whole thing in motion.
"I talked to him about local attitudes about the Bunkhouse, and what we needed to do to restart the love that people once had for that place, and I mentioned that I thought the primary thing we could do is Neon Reverb," Corso explains. "And to his credit, he just kind of said, 'OK, well, what do we need to do to make that happen. So that's when the conversation started for real. The four of us hammered out a vision for what it would look like.
"We would like to pick up where we left off," Corso continues. "We'd like for this to be a resumption of where it was then, where we had some pretty big name headliners, and lots of local involvement, and the local bands were really stoked for it. They really felt the sense of ownership. Bands would plan their CD releases for Neon Reverb or debut new material or something. It was something that everybody really looked forward to, and it was a big part of the music scene downtown."
While Corso says they've carved out a four-year plan, at this point, they're going to stick to hosting Neon Reverb once a year, with the festival serving as complement to the city's other more high profile festivals like Life Is Beautiful, in terms of programming, offering up edgier, more experimental music, as he puts it, that's not necessarily as mainstream.
"We kind of want to be a complement to all those really great efforts," says Corso. "Back then, when Neon Reverb was going on, if you would've told us that a multi-million dollar music festival with headliners like Life Is Beautiful brings in was going to be part of our city, we wouldn't have believed you. It's been a great development.
"We just want to be a complement to that and a counterpoint to that, in terms of musical offerings, the type of music, the type of bands that are coming in," Corso concludes. "So, yeah, that's definitely something that we don't want to go head-to-head with the mainstream stuff. We just kind of want to be the cool kids out in the parking lot with the leather jackets on."
Read more from Dave Herrera at reviewjournal.com/music. Contact him at dherrera@reviewjournal.com.
Like Neon Las Vegas on Facebook: