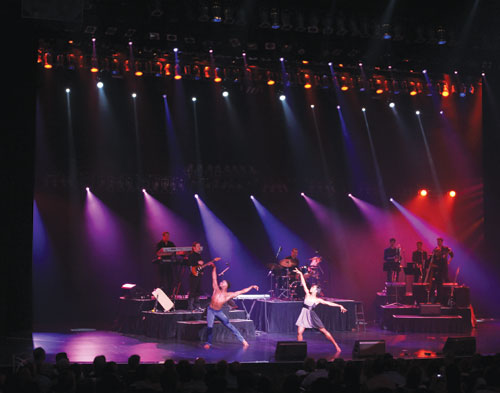 When Jeff Leibow's daughter, Emma, was diagnosed with an incurable genetic disorder, doctors said he and his wife would have to wait.
Wait to see what happens with the disorder that allows the growth of tumors on any nerve in the body. Wait for a cure. Wait for a treatment for neurofibromatosis, or NF, a disorder that afflicts 100,000 people in the United States alone.
But Leibow, an original cast member of "Jersey Boys," isn't good at waiting.
So last year, he decided to start doing something. Leibow recruited friends and fellow entertainers to donate their time to help raise awareness of NF through a concert. They raised $14,500 in the process, donating it to support the efforts of NF charities. On Sunday, they will do it again with the NF Hope concert at Harrah's Las Vegas.
"I'm doing this concert because it's something I can do for Emma," Leibow says of his 3-year-old daughter. "Because when it comes to NF, I can't give her a cure, I can't take it away, I can't even give her a treatment. But I can do this."
Delious Kennedy of the band All-4-One and Jeff Timmons from 98 Degrees are among the entertainers scheduled to perform at 1 p.m. Sunday. Clint Holmes, Kelly Clinton Holmes and cast members from several Strip shows also will perform.
There will be a silent auction to raise money for the charities. More than 40 items are up for auction including gourmet dinners, hotel stays, spa packages, show tickets and more. Visit NFHope.auction-bid.org to bid on the items beforehand.
NF is a genetic mutation of the nervous system. A gene that suppresses the growth of tumors in the body doesn't work properly in those with NF. So tumors can grow on any nerve in the body, at any time. The effects of it can range from minor cosmetic issues to severe and chronic pain. It can even cause tumors in the brain, leading to a variety of complications such as blindness and deafness.
Emma first exhibited signs of NF when she was 9 months old. Since then, Leibow and his wife, Melody, have discovered eight growths under Emma's skin. So far, Emma has not had any major problems. But when it comes to NF, it's a waiting game, Leibow says.
"Last year, all I wanted to do more than anything was to raise awareness," Leibow says. "I'm shocked at how many people don't know what NF is."
Tickets for the second annual NF Hope Concert start at $25. They are available at ticketmaster.com, harrahslasvegas.com or by phone at 369-5111.
Contact reporter Sonya Padgett at spadgett@reviewjournal.com or 702-380-4564. Follow @StripSonya on Twitter.